Backyard Escapes with Andrew Richard Designs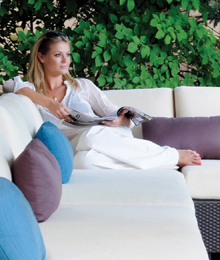 If summertime barbeques and backyard parties are on your menu, don't just settle for the traditional passé plastic of big box store furniture – add some style and comfort. And where better to liven up your alfresco living space than at Andrew Richard Designs (ARD).
Founded by brothers Andrew and Richard Bockner, the team at ARD feels backyards and patios are extensions of the home and should create the same comfortable feelings as any other room in your dwelling. "It's about lounging and enjoying it, having the space to do so, letting your mind go, distressing and relaxing. That's what I believe outdoor living is about," says Andrew Bockner.
Striving to refurnish dated outdoor memes, Bockner crafts furniture for the modern individual who craves tranquil feelings from their outdoor seating. "The way to go is to get some deep seating. Get something comfortable. Grab a sectional and a couple of chairs. There's nothing wrong with doing your barbecue in a more relaxed casual environment. People appreciate that," says Bockner, who also designs furnishings for many commercial projects, including The Ritz-Carlton in Toronto and the Hard Rock Hotel and Casino in Las Vegas.
To keep a mellow mood and bodies at ease, Bockner leans towards larger pieces, like outdoor daybeds, large-scale sofas and massive sectionals. It's about bringing indoor luxuries outside, as he adds, "You can create the comforts of your indoor environment outside with everything from refrigeration to music and stereos."
After all, it's your leisure time so why not indulge? "We work so hard every single day, why not have an oasis to come home to at the end of the day for the three or four months we can enjoy it in this town. I think it's such an important part of life."
Q&A with Andrew Bockner
Q: What's one feature of outdoor furniture customers should always keep in mind?
A: Durability, I think. This is an investment in yourself and in your home. It has to be strong. It has to be durable. Remember: outdoor furniture has to be built much differently than inside stuff because it's going to take more abuse … So the most important thing to do is to buy a few quality pieces that you can have over a period of time … This doesn't have to be 'throw away stuff' after one year.
416.298.4770
www.andrewricharddesigns.com