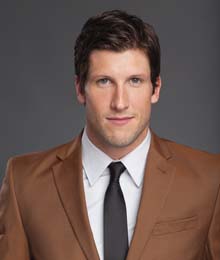 Local figures reveal their favourite New Year's Eve memories.
Brad Smith
Bachelor Canada, Citytv
''I started a tradition about five years ago where I would always go back home to my parent's place in Montreal for New Year's Eve and cook them dinner. So every year since then I've spent it subsequently with my brother, my sister and the kids, and we'd just have everybody over to celebrate. The most memorable one was 2009. I made six pounds of mussels in a spicy tomato marinara sauce, Swiss chard and collard greens with diced bacon, and goat cheese smashed sweet potatoes. We also had about seven bottles of wine. Whenever I go back to Montreal I love doing the same thing, which is just trying to get my entire family under one roof because we're just absolute crazies! This year I think Bianka and I are actually going to be in Mississauga for New Year's. We're going to my parent's from December 21st to the 25th and then we'll head to her parent's for Christmas night probably through to New Year's."
Read more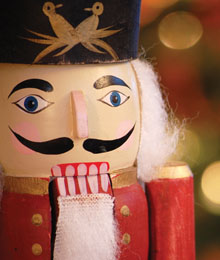 There's no need to hibernate — oodles of winter activities are calling your name, and they're all just around the bend.
Black Creek Pioneer Village
Step back in time and discover the rustic simplicity of a pioneer Christmas. Black Creek Pioneer Village invites you to celebrate with traditional candlelit dinners, Victorian-style ballroom dances, taffy pulls and more.
www.blackcreek.ca
Uplands Ski Centre
Hit the Alps — without leaving town! Uplands Ski Centre, Vaughan's hidden winter wonderland, gives families a safe environment to make a day of dashing through the snow.
www.uplandsgolfandski.com
Supervised Outdoor Skating Rinks
It's like a scene from The Bishop's Wife: skates laced, scarf wrapped and hands clasped to your significant other's. Give your holiday a playful spin by hitting the ice at Nathan Phillips Square or Woodbridge's Chancellor Park.
www.toronto.ca

Read more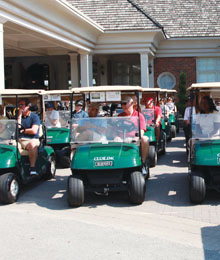 The Greater Toronto Marketing Alliance hosted its third successful Celebrity Golf Tournament: A Celebration of GTA Communities at the picturesque King Valley Golf Club in King City on Sept. 13, 2012. Over 100 guests participated and helped raise funds for the GTMA's regional efforts in attracting foreign investment and its internship program in the GTA. The GTMA thanks all tournament attendees and sponsors for their support.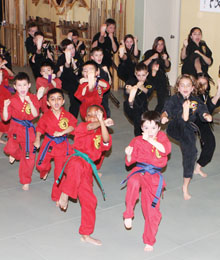 Northern Karate Schools (NKS) celebrated its 40th anniversary with students, supporters and staff who are all a part of a four-decade success story on Nov. 24, 2012. With 10 locations across the GTA, including Maple, Richmond Hill, Woodbridge and Thornhill, NKS has sharpened the body, mind and spirits of people of all ages. "A lot of places change for the sake of change. While we continue to adapt and expand our curriculum, we've always stayed true to our founding principles," says NKS Rutherford director Kyoshi Cos Vona. "I think that's the main reason we've had staying power."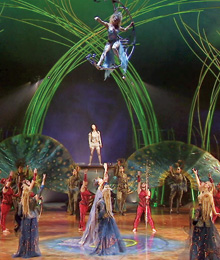 A stage is subtly illuminated with dreamy, oceanic colours; posing in its midst is a sparkling glass bowl of water. Above, an intricate web of ropes and harnesses sway lightly in mid-air, and off to the side, an acrobat stretches her muscles in quiet preparation.
This is the unusually still, silent stage of Amaluna, Cirque du Soleil's latest sensation. In a matter of days, the theatre will be brought to life with marvels beyond onlookers' wildest imaginations. For now it waits; a fantasy world undiscovered.
The term Amaluna means "mother moon" — a title that certainly fits the out-of-this-world show, which sports mind-bending acrobatic feats and tantalizing visuals. Director Diane Paulus brings the performance back down to earth with acts deeply inspired by Shakespeare's The Read more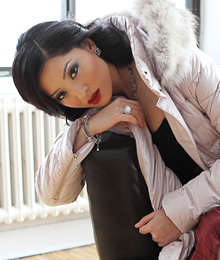 Johnny Yiu Handmade in Canada, Johnny Yiu jackets are filled with goose down to withstand harsh weather. Available in an array of cuts and colours, this fall/winter must-have is cinched with style. www.johnnyyiu.com
Anthropologie Bracelet Designed by Athens-based designer Dimitriadis and handcrafted in Greece, this canary yellow bracelet sparkles with porcelain roses and Swarovski crystals. www.anthropologie.com
Cottonfield From Cottonfield's autumn 2012 collection, this navy blue sweater is a great addition to a fall wardrobe. Wear a plaid shirt underneath to give your look a touch of sophistication. www.iccompanys.com Read more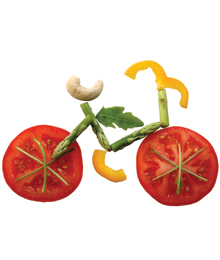 1: There are so many different ways to take our workouts to the next level but we seem to get stuck in the same routine. Take some time to really explore all that your health club has to offer. Why not try a new kind of exercise that you don't usually do to get different muscles working? A little push can make a big difference. www.elementsfitnesstoronto.com
2: In-home personal training could be a fast and effective way to get results. Having someone come to you means a hassle-free, no-excuses solution to your workout woes. www.puremotivationfitness.com
3: The most common mistake made by most trainees is under-eating. Muscle needs to be fed the proper nutrients. Skipping meals or not eating at least your basic metabolic requirements Read more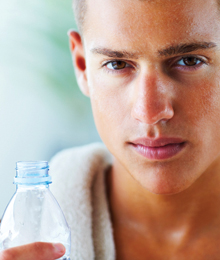 The myriad fitness regimes and supplements on the market, combined with frantic schedules, can make it difficult to find safe and effective, personalized health products.
A name that has provided the public with many of their healthcare needs over the years has now introduced the latest in innovative fitness. Shoppers Drug Mart has teamed up with Bodylogix to unveil a comprehensive line of healthy supplements that are tailored to busy businessmen, businesswomen, and parents on the go.
Bodylogix helps bring fitness into the future. By purchasing Bodylogix supplements at any Shoppers Drug Mart location, you also gain free access to www.bodylogix.com, where an online personal trainer and nutritionist will start a customized health and Read more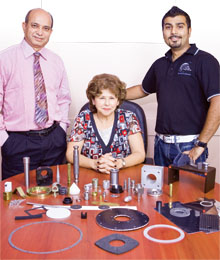 A time-honoured tradition of treating their customers like kin is what has made family-owned D&D Specialty Components Ltd. a machining industry front-runner for more than 20 years. A pledge of satisfaction and an emphasis on using only the highest graded equipment on the market are the nuts and bolts of their solid reputation. Offering advanced services in the manufacturing of custom CNC machining, screw machine parts and custom die cutting, D&D – an acronym for husband and wife duo Ganu and Dora Desai – are grateful for the relationships they have built. "We try to make long-lasting impressions and create relationships that are based on our customers' needs," says Ganu. This rapport has been built on trust. Trade workers all across North America put their safety in the hands of D&D. Producing hard hats that protect construction workers, tradespeople and high-rise window cleaners during perilous activities and making vital components Read more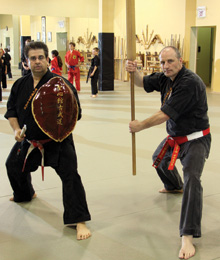 The ancient practice of the martial arts has transcended time, becoming a respected discipline and a leader in today's health and fitness market.
A great way to gain strength and agility, martial arts can have a life-altering effect on both young and old, instilling the invaluable virtues of respect, commitment, and perseverance.
"Karate is much more than just kicking and punching; it takes ordinary people and shows them how to do extraordinary things," says Cos Vona, a director of Northern Karate Schools. Read more