Northern Karate Schools: Taking Karate to a Whole New Level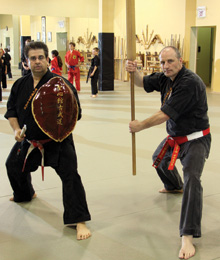 The ancient practice of the martial arts has transcended time, becoming a respected discipline and a leader in today's health and fitness market.
A great way to gain strength and agility, martial arts can have a life-altering effect on both young and old, instilling the invaluable virtues of respect, commitment, and perseverance.
"Karate is much more than just kicking and punching; it takes ordinary people and shows them how to do extraordinary things," says Cos Vona, a director of Northern Karate Schools.
With 10 locations serving the GTA, Northern Karate Schools help thousands of students enjoy the physical, mental and spiritual benefits of karate and kobudo (ancient weapons practice), through many multi-faceted programs that are available seven days a week, year-round. Following the mantra of "strong mind, strong body and strong spirit," Northern Karate integrates each aspect into its curriculum, granting its students resilient inner and outer strength.
In addition to its self-defence benefits, karate can also improve concentration, which in turn can boost school performance in youth, and work productivity among adults. "When you're on a treadmill, your mind is still running through your problems, but martial arts requires you to be there in the moment, and to be completely focused," says the 6th degree black belt.
Founded in 1972, by international champion, author, lecturer and 9th degree black belt Cezar Borkowski, Northern Karate Schools continues to provide men, women and children with the opportunity to maximize their potential through martial arts study. The schools have highly trained and qualified instructors with decades of experience, ready to impart their vast knowledge onto their eager students. www.northernkarate.com
FITNESS & HEALTH TIPS
By incorporating an aerobic warm-up, calisthenics and explosive anaerobic techniques, martial arts is considered the "#1 calorie burning activity," according to the summer 2009 edition of Fit Parent magazine's Top 10 exercise activities.
The mind receives stimulation as constant concentration, and focus is required to perform various self-defence, stretching and breathing techniques.
Finally, the student acquires a sense of accomplishment, stress release and peace of mind, which benefits the spirit.
LOCATIONS
4350 Steeles Ave. W.
905.856.4047
steeles@northernkarate.com
11160 Yonge St.
905.508.5811
richmondhill@northernkarate.com
3883 Rutherford Rd.
905.265.7777
rutherford@northernkarate.com
130 Racco Pkwy
416.999.9345
thornhill@northernkarate.com
14800 Yonge St.
905.726.8886
aurora@northernkarate.com
2077 Rutherford Rd.
905.303.5202
maple@northernkarate.com