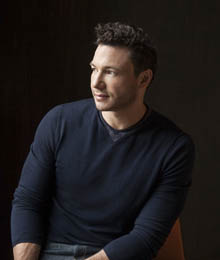 There's a sizzle of spirit spilling through a Vaughan Chapters, and of its endless rows and stacked tables of literature, the open book is Rocco DiSpirito. He's walking in brown leather shoes and fitted in an olive zip-up, weaving through a fidgeting crowd. A woman brazenly shouts out a dinner invitation to him, and he presses a mic to his mouth. "Buy a book or give me a hug," he deadpans. A shameless grin spreads across her face as he wraps his arms around her. The audience inches close.
The American celebrity chef and bestselling author from New York City is in town to promote his latest cookbook, and while expounding the virtues of healthy food, he's unabashed when confessing an erstwhile sweet tooth for saccharine cinnamon rolls. "I had an addiction to Cinnabon — it was harder to break than my crystal meth habit," he jokes, the crowd doubling over in a fit of laughter. Continuing to quip and cajole and lightheartedly lecture on Japanese kale and kamut, he concludes his visit with personalized autographs and photos that stream through the Twitterverse.
However comfortable he appears to be in his own skin, DiSpirito surprisingly had difficulties achieving a level of assuredness that leaves audiences enraptured.
A few meals before, at Alimento Fine Food Emporium in Toronto, he's sipping on espresso at a table tucked away from the lunch crowd. Vividly recalling his early days, the cordon bleu cook, food show host and former culinary judge was once gripped by self-consciousness. "I have to tell you of the days I was frightened over my own shadow. I used to practise Today segments in the private dining area of my restaurant: a host would play Matt Lauer and a hostess would play Katie Couric. When you have to be yourself on TV, the anxiety of worrying whether that self is the self everyone will like just gets to you." He moderates the disclosure with a bon mot, his modus operandi. "I take medication now, so it's much better." At 46, his charm braises in a drum of alacrity.

Read more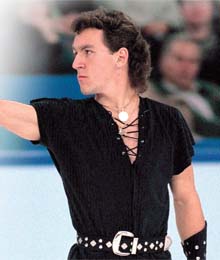 Elvis Stojko is peering out of his office window, directing his gaze towards Mexico's shimmering Lake Chapala. Surrounded by lush Sierra Madre mountains in the town of Ajijic, Jalisco, the Canadian-born ice icon has found his home in a hacienda-style estate that's more than 5,000 feet above sea level. "You pretty much see the sun every single day," he says over the phone, revelling in the dry heat he's become acclimatized to over the last 11 years. In the cottage country community of 15,000, Stojko has found the warmth and seclusion he's always craved. "Living life here is very relaxed in a way," says the three-time world figure skating champion, who savours the anonymity his celebrity rarely sanctioned on the streets of Toronto. It's been a decade since Stojko officially left the competitive realm, but as he reflects on his remarkable career and the personal and professional spin-offs it elicited, there's a sense the word retire will never be in his lexicon.
The 40-year-old, whose blades first sliced the ice when he was four, captured Canadian audiences with his unconventional charisma and outspoken opinions, yet he can't aim a dart at just one bull's-eye benchmark that stands out as his most memorable. "Oh my gosh," he says, sweeping the corners of his mind to find the right feat. "Making the world team back in 1990 was huge because I was only 17 and I came out of nowhere," he begins, segueing to the clean program he delivered at the Canadian championships that same year: "I'll always remember that skate in Sudbury." One stride at a time, he started seizing world titles and Olympic medals, breaking records in-between by landing the first-ever competition quad-double and quad-triple combinations in '91 and '97. "It was crazy, it was just so intense and I just put it all on the line," he says of the latter accolade, which he nailed at the sold-out Grand Prix finals in Hamilton. "I could have just went for the win because I was first after the short program, but I said, 'no, let's do this, let's risk it all.'"
Read more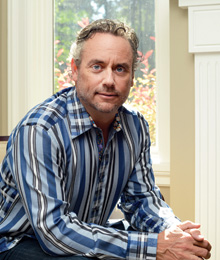 Decades ago, the Bhutanese government developed the concept of Gross National Happiness (GNH), which measures the vitality and well-being of its population and encourages economic growth balanced by other priorities, such as the country's spiritual values.
The idea of GNH captured my imagination while I was travelling through Bhutan last summer as it's in such sharp contrast to our traditional Western thinking. We tend to measure success against material goals rather than focusing on what we really value. My own story is a familiar one: I spent years working around the clock in pursuit of "success." My single-minded pursuit of wealth and power got me what I thought I wanted, but I eventually lost what really mattered to me. I was facing cancer, a failing marriage and barely-there relationships with my kids. That's why I actively Read more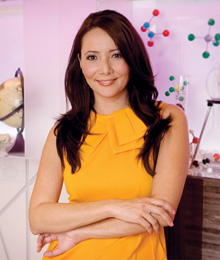 Ziya Tong and I have been forced to seek refuge in the last bastion of safety at CTV's studios: the set of Canada AM. Dan Riskin, the mad scientist sophomore that he is, is concocting some volatile experiment, and the results point to explosive. We can only pray for the well-being of the Daily Planet set and take cover where Beverly Thomson serves up the day's headlines over coffee.
OK, so that's a bit of a stretch. But there's enough pyrotechnic business brewing that we've been instructed to steer clear. That, and they're filming. So a dimly lit corner and two comfy armchairs beside a faux fireplace will just have to do.
While certainly not ideal, these circumstances are actually unsurprising. This "intelligent insanity," as Tong describes it, is just business as usual on, Daily Planet, Discovery Channel Canada's flagship series. One day they're learning to fight forest fires with fans, the next they're meeting an artist who created "bulletproof skin" out of spider silk and goat milk. Today, it just Read more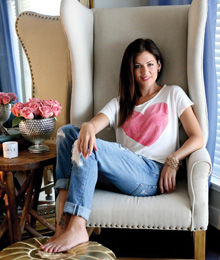 Interior designer and former Bachelorette star Jillian Harris lives life by love and design.
Q: What led you to pursue a career in interior design?
A: My family has always been very crafty and into design — well, my mom, mostly. She owned a few home décor and design stores when I was a kid and I always remember being so fascinated with moving my furniture around, decorating my room and thinking of fun colour schemes. Growing up in a small town in northern Alberta, a career as an interior designer wasn't really an option. It wasn't until I moved to Calgary and was juggling a waitressing job at Cactus Club and a retail job at Caban that I fell in love with the idea of being a designer. Shortly after, I applied to be the executive assistant to the creative director of Cactus Club and it was then that my career in design was born. Read more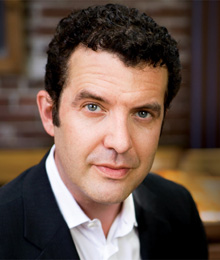 Rick Mercer is an enigma. This might not seem apparent through his playful on-air antics, but behind all the cheeky banter, commercial parodies and in-your-face ranting, there's more to this unadulterated Canadian than meets the eye. It's a lesson I learned early on during our midday sit-down at Allen's in Toronto, one that shines a light on a side of this political satirist that's rarely captured by cameras.
It's Mercer's choice, Allen's, and an excellent one at that. The Irish-American pub on Danforth Avenue, known for its à la carte burger and willow tree-shaded patio, gives a nod to the Emerald Isles via a bar lined wall-to-wall with a generous selection of spirits. Where better to interview a good ole islander like Mercer?
He mentions he likes to pop by for the odd Guinness, but he's ordered an ice water — he's a professional, after all. And, as it turns Read more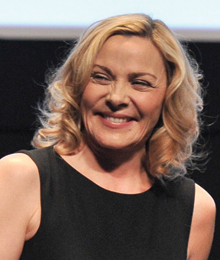 In the dusk of Toronto's King Street West, the TIFF Bell Lightbox stands aglow as guests hurry in from the cold and into a packed auditorium. The impending event emits a palpable energy that runs between every cushioned seat of the Allan Slaight playhouse.
Within moments, a rapturous applause announces the arrival of Kim Cattrall, who at 55, is no less radiant than when she first began acting as a teenager. She joins the evening's "In Conversation With … Kim Cattrall" host and CBC senior business correspondent Amanda Lang onstage to partake in a tribute to her career co-presented by TIFF and the Canadian Film Centre. The crowd is soon eating from the palm of her manicured hands. "I can't believe we're going to do this in such a short amount of time – I've had such a long, long career," she says with a laugh. "And I remember every single moment." Read more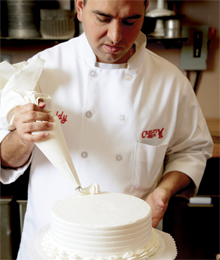 If there's one thing fans of the hit reality TV show Cake Boss will attest to, it's that there are cakes, and then there are Cake Boss cakes. The difference? A Cake Boss cake is layered, shaped and coloured with such whimsical novelty they're almost too pretty to cut – but too delicious to resist.
It's the artistic hand of Bartolo "Buddy" Valastro Jr. – a man who speaks with such Joe Pesci-like bravado that he may seem more street tough than master baker – that produces this lip-smacking beauty. "We really enjoy using our creativity to design custom cakes," says Valastro, a fourth generation baker who heads the kitchen at Carlo's Bake Shop, his family's bakery in Hoboken, New Jersey. "It's a merger of traditional methods of decorating and using new technologies to do things like make them spin or light up." Read more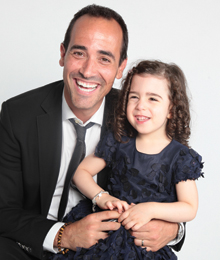 It's one of those dog days of summer, when humidity is hard to deal with and precipitation doesn't help your case, that celebrity chef David Rocco arrives at a Toronto studio. He's breathless and clammy after having had to circumnavigate a tricky maze of staircase and hallway before reaching his intended destination.
Slightly dishevelled but intact from his journey, Rocco reminds us that sometimes life isn't all apple pie and sunshine – even if others wistfully think you're living the sweet life uninterrupted. "Are you kidding? Yesterday, on my birthday, I had one of the toughest days at work – we're doing a new series – and there were some issues that came up. I have a business, a production company, and like any entrepreneur or business person, you have challenges," says the eponymous host and producer of David Rocco's Dolce Vita. "Nothing's easy. The harder you work, the luckier you Read more
If it makes you healthy, it can't be that bad. Singer-songwriter Sheryl Crow was living the typical rock star life – on the road touring the world as she promoted her latest hits. Her influence on the music industry became undisputable, with nine Grammy awards and other accolades confirming her talent. During that time, though, she was eating on the run, ordering off hotel room service menus, and snacking on chips and Diet Coke in her dressing room. When jolted with the shocking news of breast cancer in 2006, Crow quickly changed her tune. "My cancer diagnosis was a real game changer for me … Never once in my life had I really considered what I put into my body as having a direct connection to my wellness," she writes in her season-inspired cookbook If it Makes you Healthy (St. Martin's Press, 2011). Co-authored by produce lover and chef Chuck White, their guide to good food is packed with vitamin and Read more