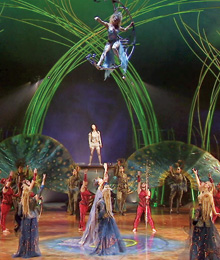 A stage is subtly illuminated with dreamy, oceanic colours; posing in its midst is a sparkling glass bowl of water. Above, an intricate web of ropes and harnesses sway lightly in mid-air, and off to the side, an acrobat stretches her muscles in quiet preparation.
This is the unusually still, silent stage of Amaluna, Cirque du Soleil's latest sensation. In a matter of days, the theatre will be brought to life with marvels beyond onlookers' wildest imaginations. For now it waits; a fantasy world undiscovered.
The term Amaluna means "mother moon" — a title that certainly fits the out-of-this-world show, which sports mind-bending acrobatic feats and tantalizing visuals. Director Diane Paulus brings the performance back down to earth with acts deeply inspired by Shakespeare's The Read more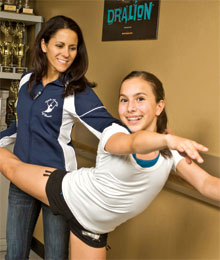 Dance is an incredible pastime for children, it really teaches dedication, commitment, and the perseverance to achieve goals," says Ginette Guimond, owner of Maple Academy of Dance.
At this outstanding studio in Vaughan, dance is a way of life. Led by a highly skilled team of instructors headed by Guimond, the students of Maple Academy of Dance learn the basics and then thrive, becoming confident, talented dancers, ready to reach any goal they set. Offering a fun recreational program and a competitive curriculum in all streams of dance, including ballet, hip hop, musical theatre, jazz, tap and acrobatics, students are able to find the route that's right for them. Read more