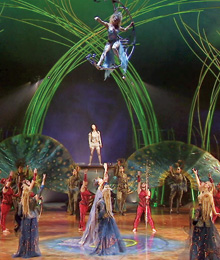 A stage is subtly illuminated with dreamy, oceanic colours; posing in its midst is a sparkling glass bowl of water. Above, an intricate web of ropes and harnesses sway lightly in mid-air, and off to the side, an acrobat stretches her muscles in quiet preparation.
This is the unusually still, silent stage of Amaluna, Cirque du Soleil's latest sensation. In a matter of days, the theatre will be brought to life with marvels beyond onlookers' wildest imaginations. For now it waits; a fantasy world undiscovered.
The term Amaluna means "mother moon" — a title that certainly fits the out-of-this-world show, which sports mind-bending acrobatic feats and tantalizing visuals. Director Diane Paulus brings the performance back down to earth with acts deeply inspired by Shakespeare's The Read more
Sitting in the passenger seat of a 2011 Infiniti IPL G37 Coupe with Formula One World Champion Sebastian Vettel behind the wheel is an indescribable feeling. It quickly becomes clear that racing is less of a career and more of an infatuation for the 23-year-old pole leader. "I'm excited to start and to go racing," says Vettel, while drifting around Montreal's Circuit ICAR during Infiniti's exclusive F1 media event that took place on June 8, Read more
Dane Cook is staring at cover art for his Greatest Hits album. He's narrowed the title choices down from 15 to three and his deadline is today. The creative process has caused the sandy haired star comedian to take a scenic route down Memory Lane – long before his Forbes list fortune and arena-filling fame. He's spent the last few weeks listening to grassroots routines and discovering edits of CDs that he didn't even know existed. "It's interesting – watching and listening to the evolution of myself. It's very, very strange." He pauses. In that brief silence you can hear the deafening authenticity behind Cook's quiet confidence.
Ankle-deep in conversation, it becomes refreshingly apparent that one of Time magazine's 100 Most Influential People hasn't let sold-out stadiums and Hollywood movie roles alongside Kevin Costner, Kate Hudson and Steve Carell Read more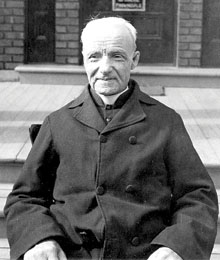 The Catholic Church has become a punchline. People hear 'priest' and they interpret 'pedophile.' Through scandals of corruption and an estimated worth of somewhere between one and two billion dollars, the Vatican is despised by many, including a lot of Catholics.
It is time to get creative and dig a little deeper for the truth that can supposedly set us free. Jesus said in John 8:31 and 32 that, "If you hold to my teaching, you are really my disciples. Then you will know the truth, and the truth will set you free."
Is the Vatican really holding God's teachings? Are the priests acting like true disciples? Maybe not, but there are still role models scattered throughout Catholicism that can teach us universal maxims that can help us discover true happiness. Read more
An established designer taking the fashion-forward cities of Toronto, Vancouver and New York by storm, Nadya Toto is a cool breath of fresh air for fall fashion.
Describing her line as "ultra feminine with an edge," Toto puts a little piece of her personality into every one of her designs. "It's like me as a woman," she explains. "I'm very strong, and at the same time, I can be like a little girl sometimes." This contrast in her personality is reflected in her clothing. Harmoniously combining her signature lace embroidery with deep, mysterious colours, this designer ensures that every piece hailing from her collection makes a bold statement. Read more