D&D Specialty Components Ltd.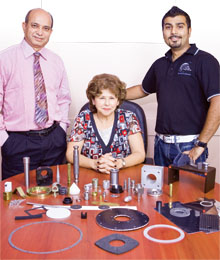 A time-honoured tradition of treating their customers like kin is what has made family-owned D&D Specialty Components Ltd. a machining industry front-runner for more than 20 years. A pledge of satisfaction and an emphasis on using only the highest graded equipment on the market are the nuts and bolts of their solid reputation. Offering advanced services in the manufacturing of custom CNC machining, screw machine parts and custom die cutting, D&D – an acronym for husband and wife duo Ganu and Dora Desai – are grateful for the relationships they have built. "We try to make long-lasting impressions and create relationships that are based on our customers' needs," says Ganu. This rapport has been built on trust. Trade workers all across North America put their safety in the hands of D&D. Producing hard hats that protect construction workers, tradespeople and high-rise window cleaners during perilous activities and making vital components like screws used in safety harnesses are a few of the ways D&D helps prevent injuries on-site.
When Dora and Ganu founded the company in 1988, they did so with the dream of pursuing their passion, satisfying their customers and covering their costs. "The opportunity came knocking on our door and we grabbed it," says Ganu, who had worked as a machinist for several years in America prior to coming to Canada. "In the beginning we just hoped to pay our bills and eventually grow bigger," adds the modest machinist; and bigger they quickly became.
Today, D&D boasts more than 30 regular clients that routinely take advantage of their 10 custom CNC milling and turning machines and other quality services. These customers belong to an array of lucrative industries like safety, water purification, telecommunications, golf, fitness, health, electrical and more. One of their current die cutting projects is a seat cover for a winter luge that is set to be sold in major department stores across Canada. "The list of what we do here is endless. What makes our company stand out is our quality, service and pricing. All three go hand-in-hand," says Ganu, adding that D&D has been ISO 9001:2008 certified since 1996, a recognized standard of quality. "We certify everything here, top to bottom, so that our customers know exactly what they're buying."
"The list of what we do here is endless. What makes our company stand out is our quality, service and pricing. All three go hand-in-hand." – Ganu Desai
Because of the domino effect inherent in most Canadian markets, D&D's Specialty Components is only as strong as its partners. The economic impact of free trade and the recession has given D&D even more incentive to adopt a philosophy of business-business compassion. "We want to see other companies succeed, so we lower our costs to make sure that they can stay in business. You can't have one without the other," says D&D's procurement engineer, Roberto Desai, son of Dora and Ganu. "It's much more worthwhile for us to create a lasting relationship rather than something simply fleeting," he ads.  Having the ability to charge exceptionally low rates is one of the intrinsic benefits of owning a family-operated business. With advanced, modern and automatic CNC machines, D&D's overheads are extremely low, allowing them to save money and focus on quality. "We're fortunate enough to have a family business where everyone cares about the company," says Ganu.
It is worth noting that at D&D, the word 'care' means more than just getting the job done. It means going the extra mile to satisfy customers. Sometimes, that even means staying up late to meet a seemingly improbable deadline. "My job is to help my customers get the parts they need on time, even if it seems unfeasible," says Ganu. While this isn't a common scenario, it's something that happens when you have a family that aims to please and strives to stay competitive.
One more item on the long list of diverse and exclusive services offered at D&D is Advance Safety World Ltd., a partnered retail store run by Roberto and Dora that sells an array of specialized safety products tailored to just about every trade. Anything from protective footwear, traffic gear, head protection and much more can be purchased at extraordinary prices. "We're fortunate to be able to get our products at very low prices so we can sell them for much less than what's out there," says Roberto.
The authenticity, expertise and sincerity that Dora, Ganu and Roberto boast are the fundamental components of their success. Fusing a forthcoming philosophy with a wealth of advanced machinery is what makes D&D so distinct. "At the end of the day we strive to work as a team to make sure that our customers get exactly what they came in for," says Ganu. When it comes to running a business, the Desai family has truly hit the nail on the head.
www.ddspecialtycomponents.com, www.advancesafetyworld.com, 416.675.0255