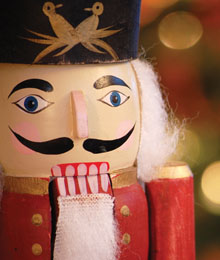 There's no need to hibernate — oodles of winter activities are calling your name, and they're all just around the bend.
Black Creek Pioneer Village
Step back in time and discover the rustic simplicity of a pioneer Christmas. Black Creek Pioneer Village invites you to celebrate with traditional candlelit dinners, Victorian-style ballroom dances, taffy pulls and more.
www.blackcreek.ca
Uplands Ski Centre
Hit the Alps — without leaving town! Uplands Ski Centre, Vaughan's hidden winter wonderland, gives families a safe environment to make a day of dashing through the snow.
www.uplandsgolfandski.com
Supervised Outdoor Skating Rinks
It's like a scene from The Bishop's Wife: skates laced, scarf wrapped and hands clasped to your significant other's. Give your holiday a playful spin by hitting the ice at Nathan Phillips Square or Woodbridge's Chancellor Park.
www.toronto.ca

Read more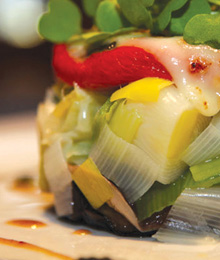 Find your cool from this list of hot destinations and must-haves.
1. HAVE A BALL Bowl, dine and celebrate at The Ballroom, Toronto's entertaining social hub. www.theballroom.ca
2. PETITE ITALY Primo & Secondo brings a zap of art, culture and superb cuisine to Montreal's Little Italy. www.primoesecondo.ca
3. PUMPED-UP KICKS Add a splash of colour to your step with these brilliant Converse sneakers. www.shopcaster.com
4. A PEEK IN THE PAST This Baroque-style mirror adds a touch of rustic charm to any décor scheme. www.shopcaster.com
5. TIME TRAVEL Add some funk to your morning wake-up call with Read more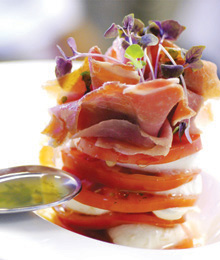 FIRST PLACE: T2 LOUNGE This resto-lounge has given our readers the best of both worlds. With delicious dishes made by award-winning chef Domenic Chiaromonte, and an appealing bar-like atmosphere, T2 Lounge received an overwhelming response and came out on top as Vaughan's Best Restaurant! Year-round, this front-runner caters special events. Many private areas are nestled into this spacious restaurant, such as the decadent dining room that overlooks the bar and dance floor. The heated patio features live entertainment and mingling patrons, changing the pace after diners have enjoyed an impressive Chiaromonte creation.
The Italian fusion cuisine may be one reason our readers have named T2 their favourite place to wine and dine. Owner Enzo Commisso recommends sharing an appetizer platter with friends. The innovative Italian sushi starter made with risotto, prosciutto, bocconcini, basil olio and spicy sriracha crema has people coming back for more. Unsurprising after years of experience, Chiaromonte's dishes are complimented daily. "He has basically travelled the world and he's won many awards," says Commisso of his business partner. "He's a fantastic chef. The food presentation and plating is phenomenal."
Since its doors opened almost three years ago, T2 has been giving clients an unparalleled experience. An astonishing 650 people attended the restaurant's grand opening, which was a big indication of the success that would follow. "It was an accomplishment," says Commisso of the turnout. From that day forward, T2 continued to offer good food, a good time and good music.
"A common compliment is that people think they're downtown," he says. Romantic interior décor, including mirrors and chandeliers, adds a luxurious element to the restaurant. T2's atmosphere is what sets it apart from the rest. Unlike regular restaurants, it keeps its doors open and the party going until 2 a.m. The lavish lounge makes people feel right at home. "We're not big on turning over tables — once you're here, we don't want you to leave," says Commisso, who was born and raised in the restaurant industry.
Expanding their business, Commisso and Chiaromonte have opened up a sister company called C2 Catering Couture with Jeff Berg and Alison Kadlovski of Double Chocolate Fountain and Fun Foods. Now crowned Vaughan's Best Restaurant by our readers, T2 will continue to impress Vaughan residents with impeccable food and irresistible festivities.
905-850-9990
www.t2lounge.com
---
SECOND PLACE: MOTORINO ENOTECA For our readers, Motorino is that home away from home. With a convenient and cosy location, this Italian restaurant has touched the hearts of Vaughan residents and become a popular dining destination. The enthusiastic staff at Motorino describes the atmosphere as relaxed and European. Sitting in a restaurant category of its own, Motorino creates classic Italian food in a young and trendy environment.
Authentic cuisine, which includes stuffed focaccia, wood-fired Neapolitan pizzas and handmade ricotta gnocchi have made this eatery a family favourite. "We sponsored our chef from Italy," says Nancy Babochian, who has been around the restaurant business since she was a young girl. "It doesn't get anymore authentic than that." Motorino only opened its doors a year and a half ago, and since then, has seen clientele fall in love with its cuisine.
Motorino brings classic Italian dishes to a homey environment in Vaughan. Patrons are often impressed with the wine list and the freshness of each dish. "Everybody loves the food," says Babochian. "We'll be changing the menu every year." Keeping Vaughan residents interested with new dishes and satisfied with old favourites, Motorino has been awarded the position of first runner-up by City Life readers and loyal customers.
905-264-1911
www.motorinoenoteca.com
---
THIRD PLACE: ZIZI TRATTORIA This rustic Italian restaurant prides itself on friendly service and traditional dishes. "We're not pretentious at all," says Ara Iskender, co-owner of Zizi Trattoria. "I treat people the way I want to be treated when I go to a restaurant." This business approach, along with the delicious cuisine by chef and co-owner Bill Zaya, has won over many City Life readers. Known for its gnocchi, veal marsala, homemade pasta and daily fish specials, Zizi uses quality ingredients and knows what it takes to satisfy its customers. "There's a big Italian community [in Woodbridge], and they appreciate good food, good Italian meals." Heartfelt tradition and authenticity is felt throughout this establishment.
After a decade in Toronto, owners Iskender and Zaya decided to move north to a neighbourhood they knew and loved. Now in business for 17 years, Zizi has made a mark in the restaurant industry. As a family-oriented trattoria with a great reputation in Vaughan, it was voted second runner-up in this contest. Zizi has made an impression on customers, new and old. "I would say the best compliment we ever received was from an 80-year-old man," says Iskender. "He said our tomato sauce is better than his wife's." Let's hope she's not reading this.
905-850-9875
www.zizi.ca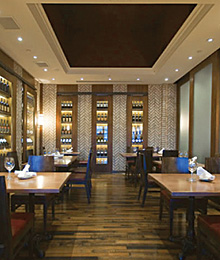 1. SARPA Becoming a local favourite for York Region foodies, Sarpa's relaxed atmosphere and phenomenal entrees are the perfect blend for a great evening. Its décor is a modern interpretation of more traditional, rustic features, while the cuisine is stacked with succulence. Savour the Pan-Seared Veal Tenderloin, sink your teeth into the Grilled Lamb Chops 'Scottadito', or relish the seafood mix of the classic Zuppa di Pesce. www.sarparestaurant.com
2. Harbour Sixty There are few Toronto dining establishments that offer the pure, unadulterated level of class that Harbour Sixty so elegantly exudes. The food is premier. The décor: stunning. If you're looking to celebrate a milestone anniversary, impress a client or simply dine like royalty, Harbour Sixty will not disappoint. Read more
Mario Batali
Chef, restaurateur, author, television star – Mario Batali has done it all. Critically acclaimed for his culinary exploits, Batali is one of the most recognizable and respected personalities in the world of cooking. If you're ever in New York, stop by his renowned restaurant, Otto Enoteca Pizzeria.
www.mariobatali.com
212.995.9559
Catering by Mario
With over 20 years of superb culinary experience, Mario Vena applies his successful dining formula to the world of catering. With service available for corporate, wedding, social events and romantic catering for two, Catering by Mario offers a wide variety of delectable cuisines ideal for any occasion. Read more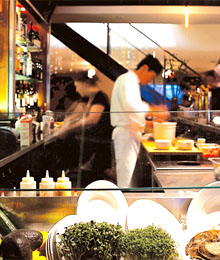 Turn your average night into a unique experience with this brilliant selection of food, drinks and restaurants.
Lit Espresso Bar 416.519.1884
Enjoy a fine cup of coffee in a hip part of the city. With two locations in Toronto, Lit Espresso Bar creates the ideal atmosphere to relax and socialize and is a trendy spot to enjoy a perfect latte or macchiato. Read more
We've scoured the city yet again to bring you places that will excite your taste buds, spruce up your home and enrich your life. Read more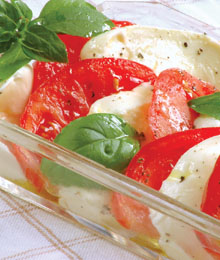 Rich and creamy, strong or intense; whichever way you slice it, cheese is a blissful indulgence. As the companion to the cracker and the soulmate of wine, cheese enhances the taste of other foods, and is simply delectable – even when enjoyed alone.
In an age of after-dinner cheese platters and wine parties, artesian cheeses have become a symbol of culture, refinement and eminence. Whether you're rubbing elbows at a fundraiser or fine dining in the city, there's a good chance that cheese will be part of the big night. And of course, there's no doubt that you just can't throw the perfect gathering without it. Read more