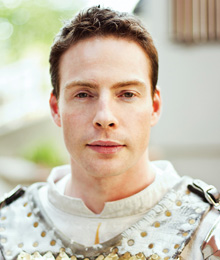 When we were children, we looked at the world with enchantment in our eyes. We wore gowns, crowns and capes and imagined ourselves as pretty princesses and noble knights. Now, years later, we have traded those imaginations for steady jobs and serious-looking suits. Breaking away from this norm is Sean Delaney. He has chosen a path that still allows him to play dress-up.
Ever since Grade 10 drama class, Delaney knew he was passionate about performing. "I liked working on plays and just entertaining others." With this same motivation, Delaney went on to study theatre in university and is now head knight at Medieval Times. "One of the things that I love about performing is that every day I'm given the chance to take people out of the humdrum of their daily lives," says the 35-year-old actor. Read more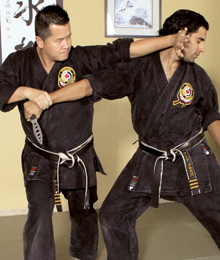 Looking for a great physical workout that also develops discipline and mental focus? Do you want an activity ideal for the whole family? Then Northern Karate Schools has the answer.
Established in 1972 by internationally renowned martial arts champion Cezar Borkowski, Northern Karate maintains a traditional philosophy of respect for others, and a practice of self-discovery and positive change. "It's not just about punching and kicking. We're about personal development. Once they start, our students are far more focused and tend to do better in school," explains instructor and sixth-degree black belt Kyoshi Cos Vona. "I've had many, many families tell me they see a huge difference in their kids after just six months of karate." Read more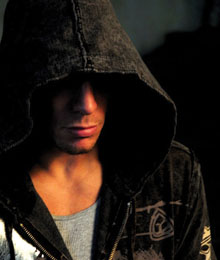 If you're not already enrolled in a fitness program or don't have an established mantra of how to love your life, City Life magazine kicks up its gears to show you what you need to do and where to go. Leading the game is UFC legend Georges St-Pierre.
The sculpted body and chiselled mind of this Canadian-born fighter is the embodiment of fight over flight, proving that success tastes so much sweeter when you've had to work hard to achieve it.
Whether it's an exciting outdoor boot camp or a lesson to be learned from Buddha, your summer will start to move once you engage all your senses in a lifestyle change that will transform your very essence.
Gurus of the body, masters of the mind, and experts of the soul, their secret tips to health are revealed for your awakening. Read more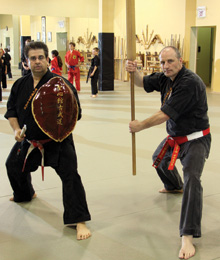 The ancient practice of the martial arts has transcended time, becoming a respected discipline and a leader in today's health and fitness market.
A great way to gain strength and agility, martial arts can have a life-altering effect on both young and old, instilling the invaluable virtues of respect, commitment, and perseverance.
"Karate is much more than just kicking and punching; it takes ordinary people and shows them how to do extraordinary things," says Cos Vona, a director of Northern Karate Schools. Read more