An Enchanting Tempest: Amaluna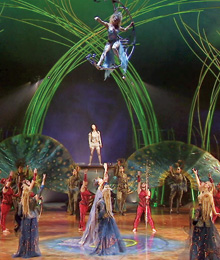 A stage is subtly illuminated with dreamy, oceanic colours; posing in its midst is a sparkling glass bowl of water. Above, an intricate web of ropes and harnesses sway lightly in mid-air, and off to the side, an acrobat stretches her muscles in quiet preparation.
This is the unusually still, silent stage of Amaluna, Cirque du Soleil's latest sensation. In a matter of days, the theatre will be brought to life with marvels beyond onlookers' wildest imaginations. For now it waits; a fantasy world undiscovered.
The term Amaluna means "mother moon" — a title that certainly fits the out-of-this-world show, which sports mind-bending acrobatic feats and tantalizing visuals. Director Diane Paulus brings the performance back down to earth with acts deeply inspired by Shakespeare's The Tempest, bringing out the main theme of the show: femininity.
"This show has definitely gotten recognition for being a show that recognizes the beauty and the strength of women and all that we contribute to life," says Amy McClendon, who plays the Peacock Goddess in Amaluna.
Toronto is Amaluna's third stop after premiering in Montreal earlier this year, and as it is riding in on a wave of rave reviews, the show promises to dazzle. After months of body-crunching work, the mesmerizing beauty of Amaluna is a well-deserved result for the performers.
"It's pretty amazing … to go through the ups and downs, the good and bad, of something that's just being born," says McClendon. "I'm excited to see where it goes in years and years to come."
www.cirquedusoleil.com