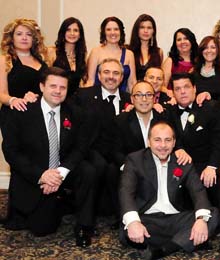 The Smiles of Innocence Memorial Charity is an organization of caring individuals dedicated to promoting awareness and raising funds through various activities in the community. On Nov. 10, 2012, its Annual Gala attracted over 1,000 attendees at Le Parc Dining and Banquet hall in Markham, where guests enjoyed an entertainment-filled evening with performances by Sensations, Blue Soul and Brass Transit. The charity event also hosted silent and live auctions, as well as many raffles, including a $5,000 shopping spree prize at Radiant Fine Jewellers. The Smiles of Innocence Memorial Charity is an organization that supports high-priority programs at the Hospital for Sick Children. To date, it has raised over $2.5 million for the SickKids Foundation.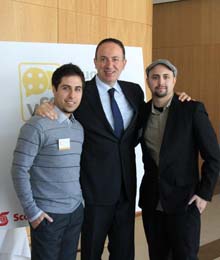 Toronto, Cannes, Vaughan! The magic of the movies hit Vaughan this year when the city announced its first Vaughan Film Festival. Established by local filmmakers Antonio Ienco and Mark Pagliaroli, the VFF will celebrate local and international artists by selecting 20 to 30 short films to screen and crowning the Best Picture, Best Actor, Best Actress and Best Director with Golden Reel Awards.
When the women and children at Red Door Family Shelter in Toronto awoke last Christmas morning to find nearly 200 shoeboxes stuffed with thoughtful presents from local women, they were shocked. "It's a real gift to see that the community cares about them and cares about the crises they're going through," says Bernnitta Hawkins, Red Door's executive director. What stemmed from a generous gesture has become a national initiative to spread joy over the holiday season to those who need it most. "It's not a huge thing, but I do believe in it," says Caroline Mulroney Lapham, co-founder of The Shoebox Project.
After a conversation in mid-November 2011, Mulroney Lapham was inspired to help her sister-in-law Jessica Mulroney extend her mother's philanthropic mission to the streets of Toronto. "Her mother would put together shoeboxes filled with small items that women really enjoyed — little splurges — and she would ask her friends to do the same and deliver them all to a local shelter in Montreal. Jessica said she wanted to bring it here and I thought it's such a nice idea." So they banded together with fellow sisters-in-law, Vanessa and Katy Mulroney, and sent an email out to family and friends inviting them to participate. "We were worried for a while that we wouldn't even get 100 shoeboxes, and low and behold, we got almost 400 without any kind of marketing," says Mulroney Lapham, who was delighted to be able to share the shoeboxes with other local shelters across the city.
Read more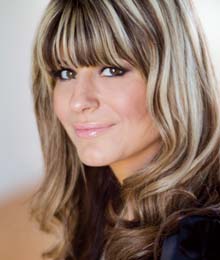 Tease the season for amped-up eyes and angelic complexions. Makeup artist Rita Stirpe shows us how.
1. Express your eyes with a seductive stare using Infallible Never Fail Eyeliner by L'Oréal
2. Kiss your cupid's bow with a stroke of MAC's Subculture lip liner
3. Blend Lise Watier's Couleur Folle Mineral Loose Powder Eyeshadow in Folie D'or for a star-studded wink
4. Create a sultry smokescreen with the Black Pearl Eye Palette from Bobbi Brown
Read more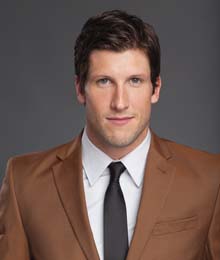 Local figures reveal their favourite New Year's Eve memories.
Brad Smith
Bachelor Canada, Citytv
''I started a tradition about five years ago where I would always go back home to my parent's place in Montreal for New Year's Eve and cook them dinner. So every year since then I've spent it subsequently with my brother, my sister and the kids, and we'd just have everybody over to celebrate. The most memorable one was 2009. I made six pounds of mussels in a spicy tomato marinara sauce, Swiss chard and collard greens with diced bacon, and goat cheese smashed sweet potatoes. We also had about seven bottles of wine. Whenever I go back to Montreal I love doing the same thing, which is just trying to get my entire family under one roof because we're just absolute crazies! This year I think Bianka and I are actually going to be in Mississauga for New Year's. We're going to my parent's from December 21st to the 25th and then we'll head to her parent's for Christmas night probably through to New Year's."
Read more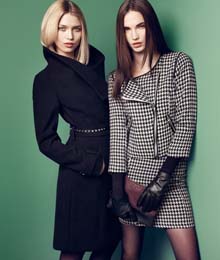 Whether you're standing under the mistletoe or the office glow, these outfits will ensure you're always in the spotlight. One of the perks to imperfect weather is the plush, patterned fashion that tends to trend this time of the year. Add a little spice to your wardrobe with these haute holiday pieces.
1. Zippers, studs and houndstooth coats make the coldest winter months worth it.
www.soakedinluxury.com
2. This beaded miniskirt gives Tinseltown new meaning. An unexpected biker jacket kicks this look into full gear.
www.zara.com
3. Shake up the classic holiday ensemble by sporting a sequined, embroidered cardigan over an oriental print chiffon blouse. Slip into seamed jeans and go get your jollies.
www.zara.com
Read more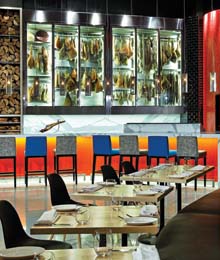 When it comes to the palate of the experienced epicurean, ambiance is a distinct necessity. It involves an unabashed drive to beautiful design, a commitment to exceptional service and an irresistible selection of gastronomic creations. For the seasoned restaurateur, it's a road map to raising the roof for those that crave the wow factor. "This is an urban restaurant for the suburban patron — someone searching for a downtown feel without leaving home," says Luigi Beccati, owner of A1 Autostrada in Vaughan. "And it's all about family and good food."
A restaurateur and chef with over 20 years of experience, Beccati's unending search to reinvent the dining experience has culminated in an innovative concept that began two and a half years ago. Guests are immediately welcomed into a sublime setting that ingeniously simulates the adrenaline rush of riding in a supercar. Designed by the award-winning firm II BY IV DESIGN, the spacious interior is awash with pops of colour, subway-inspired graphics, marble fixtures and a pizza oven blazing with a mosaic of red-orange tiles. A wine cellar and trendy prosciutto bar displaying market-style charcuterie are among the restaurant's favoured features. A glance at the sunken dining area in the heart of Autostrada reveals a table for eight embraced by a mesh fabric scrim. The centrepiece showcases a sentimental print of Italian people gathered in tradition. Speeding along the wall of the main dining area is a customized Pirelli tire tread, achieved by individually placed, luminescent tiles that result in a stunning 3D feature. In 2011, Boutique Design Awards praised Autostrada with a Best Restaurant award.

Read more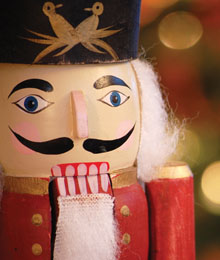 There's no need to hibernate — oodles of winter activities are calling your name, and they're all just around the bend.
Black Creek Pioneer Village
Step back in time and discover the rustic simplicity of a pioneer Christmas. Black Creek Pioneer Village invites you to celebrate with traditional candlelit dinners, Victorian-style ballroom dances, taffy pulls and more.
www.blackcreek.ca
Uplands Ski Centre
Hit the Alps — without leaving town! Uplands Ski Centre, Vaughan's hidden winter wonderland, gives families a safe environment to make a day of dashing through the snow.
www.uplandsgolfandski.com
Supervised Outdoor Skating Rinks
It's like a scene from The Bishop's Wife: skates laced, scarf wrapped and hands clasped to your significant other's. Give your holiday a playful spin by hitting the ice at Nathan Phillips Square or Woodbridge's Chancellor Park.
www.toronto.ca

Read more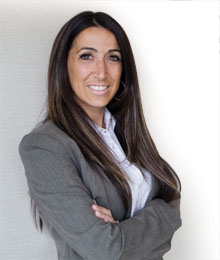 1. If I have mortgage default insurance do I also need mortgage life insurance?
Yes. Mortgage life insurance is a life insurance policy on a homeowner, which will allow your family or dependants to pay off the mortgage on the home should something tragic happen to you. Mortgage default insurance is something lenders require you to purchase to cover their own assets if you have less than a 20 per cent down payment. Mortgage life insurance is meant to protect the family of a homeowner and not the mortgage lender.
2. What steps can I take to maximize my mortgage payments and own my home sooner?
There are many ways to pay down your mortgage sooner that could save you thousands of dollars in interest payments throughout the term of your mortgage. Most mortgage products, for instance, include prepayment privileges that enable you to pay up to 20 per cent of the principal (the true value of your mortgage minus the interest payments) per calendar year. This will also help reduce your amortization period (the length of your mortgage). Another way to reduce the time it takes to pay off your mortgage involves changing the way you make your payments by opting for accelerated biweekly mortgage payments, which will not only help you pay off your mortgage more quickly but will also save you a significant amount of money over the term of your mortgage. Visit me to find out which strategy suits your specific needs.

Read more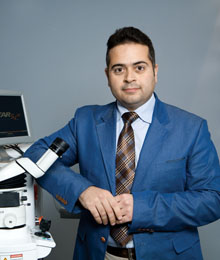 There's more to Dr. Mark Fava than meets the eye. Educated in prestigious universities across Canada and taking the road less travelled to the U.S. to further pursue his passion for eye health, the born-and-raised Vaughan native is now a leading authority in ophthalmology. And where better to cultivate his homegrown skills than the place where he first envisioned a future in medicine. "My roots are here," explains Dr. Fava, who recently left Boston to debut an innovative, full-service practice in Vaughan. "Eyes Above Toronto represents my homecoming."
Introducing a new generation of eye care to the city, Eyes Above Toronto fuses a patient-driven approach with state-of-the-art procedures. Fitted with the most advanced diagnostic equipment and medical technologies to treat the tertiary stage of eye disease, the clinic welcomes patients with friendly staff members and a warm, comforting environment. Among its star technologies is the iLASIK platform, a revolutionary bladeless procedure in laser vision correction that reshapes the cornea to correct your vision. Safe and painless, the sophisticated procedure is also efficient, requiring about 10 minutes per eye and one weekend of recovery time. "We're giving patients not just the freedom from glasses, but the ability to see the world," says Dr. Fava, who coedited Cornea and Refractive Atlas of Clinical Wisdom (2011), a medical book that shares invaluable clinical experience from authoritative voices in cornea and refractive surgery. "It's quite an amazing experience to wake up in the morning and not scramble to find your glasses because you can now see."
Read more