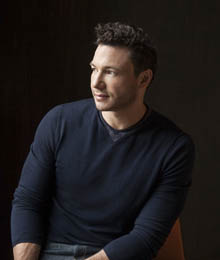 There's a sizzle of spirit spilling through a Vaughan Chapters, and of its endless rows and stacked tables of literature, the open book is Rocco DiSpirito. He's walking in brown leather shoes and fitted in an olive zip-up, weaving through a fidgeting crowd. A woman brazenly shouts out a dinner invitation to him, and he presses a mic to his mouth. "Buy a book or give me a hug," he deadpans. A shameless grin spreads across her face as he wraps his arms around her. The audience inches close.
The American celebrity chef and bestselling author from New York City is in town to promote his latest cookbook, and while expounding the virtues of healthy food, he's unabashed when confessing an erstwhile sweet tooth for saccharine cinnamon rolls. "I had an addiction to Cinnabon — it was harder to break than my crystal meth habit," he jokes, the crowd doubling over in a fit of laughter. Continuing to quip and cajole and lightheartedly lecture on Japanese kale and kamut, he concludes his visit with personalized autographs and photos that stream through the Twitterverse.
However comfortable he appears to be in his own skin, DiSpirito surprisingly had difficulties achieving a level of assuredness that leaves audiences enraptured.
A few meals before, at Alimento Fine Food Emporium in Toronto, he's sipping on espresso at a table tucked away from the lunch crowd. Vividly recalling his early days, the cordon bleu cook, food show host and former culinary judge was once gripped by self-consciousness. "I have to tell you of the days I was frightened over my own shadow. I used to practise Today segments in the private dining area of my restaurant: a host would play Matt Lauer and a hostess would play Katie Couric. When you have to be yourself on TV, the anxiety of worrying whether that self is the self everyone will like just gets to you." He moderates the disclosure with a bon mot, his modus operandi. "I take medication now, so it's much better." At 46, his charm braises in a drum of alacrity.

Read more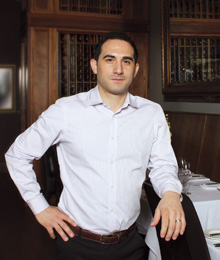 Nothing caps off a long week like a decadent evening out at a first-class restaurant. But what really makes a great dining experience? Is it the mouth-watering cuisine? The relaxing and welcoming atmosphere? The exceptional service from a maître d' who inspects each plate before it's served? Or a seemingly endless wine list with world-class vintages from top vineyards? At Vinsanto Ristorante, each of these things is an integral part of the whole package.
Much like the delectable baked oyster mushrooms from its popular antipasto Funghi di Bosco, this is just the start of the Vinsanto Ristorante experience. "My motto is passion, ambience and decadence," says John Di Vittorio, owner of Vinsanto Ristorante. "That's what I've strived for from Day 1." It's this uncompromising dedication to the perfect dining experience that has Read more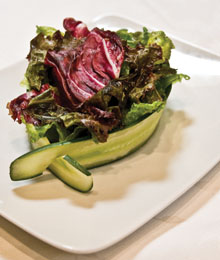 If its authentic Italian décor doesn't catch your eye at first, the enchanting aromas of its superb cuisine will surely lure you into this fine restaurant for a bite.
The elegant Castello Ristorante Antico, owned by Attilio and Maria Polsinelli, holds home to an intimate eating establishment that provides all its visitors with a genuine Italian taste and romantic atmosphere.
As you're seated by one of the warm and welcoming staff members the candles, dimmed lighting, beautifully set tables and vines sprawling on the sides of the walls around you will all catch your attention. Read more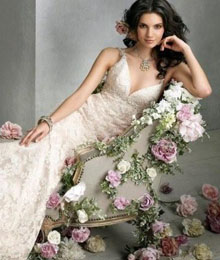 1. Dave & Charlotte Rely on cute and quirky photography duo Dave Biesse and Charlotte Leonard to capture every smile, tear and kiss on your wedding day. Their photographs aim to reflect the personality of each couple. www.daveandcharlotte.com, 416.824.3238
2. L&J BRIDAL With over 30 years of experience, L&J Bridal has the expertise to outfit even the most challenging of bridezillas with the perfect gown. www.landjbridal.com, 905.459.9370
3. Ti Amo Decorating Create an ambience that is your very own with the help of special event decorating company Ti Amo Decorating. This establishment offers a sumptuous collection of linens, napkins, chair covers and table runners and also provides customized back drops and head tables. www.tiamodecor.com, 905.264.0771 Read more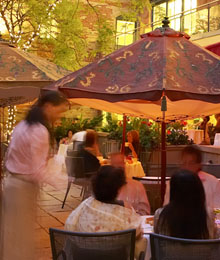 We've all had meals out that have involved upset stomachs, empty pockets or disappointing service. The unfortunate experience makes you wish you had just scrubbed your hands, sharpened your knives, threw on a floral apron and prepared the meal yourself! Turn to these reliable restaurants, which have garnered positive reviews all across the city. Read more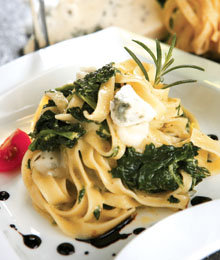 Finding a delicious meal in a friendly urban atmosphere has just become easier. If you're up for an experience that transcends the average date with your local trattoria, it's worth taking a trip uptown. This summer, the opening of Di Manno Ristorante will offer a savoury piece of Italy and a touch of Mediterranean fusion to patrons throughout the city. The upscale eatery is set to unleash some of the freshest and finest gourmet cuisine, combined with an unbeatably warm encounter.
Specializing in preparing heavenly meals is not something the establishment takes lightly. "It's more than just food; it's something social and comforting," says co-founder Nancy Di Manno. "Dining is a great way to unwind with a good glass of wine Read more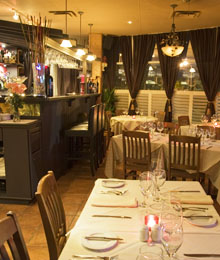 Stepping through a doorway to visit a piece of Italy is not usually the case, but the experience is more than possible at Il Cavallino Ristorante. A place where visitors truly discover cultured cuisine; the establishment has been nourished for over 19 years with a long line of European experience. "I had a place in Toronto for 12 years, after working in Switzerland, Germany, and France, says owner Franco Poletti. "I always worked in the hospitality and hotel industry." Growing up in the restaurant business, Poletti has been surrounded by food his entire life, which is the reason why he knows how to please the palate. Read more