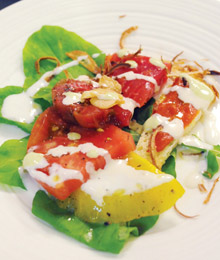 One of summer's greatest pleasures, and something we grow so well in Ontario (and in our backyards), is fresh tomatoes. Here's a recipe for Jamie Kennedy's delicious tomato salad.
Serves Six
For the Dressing:
2 egg yolks
1 tbsp/15 ml fresh lemon juice
1 tsp/5 ml white wine vinegar
1 tsp/5 ml Dijon mustard
2 tbsp/30 ml fresh basil leaves
5 tbsp/75 ml sunflower oil
2 tbsp/30 ml 35% whipping cream
Salt and freshly ground black pepper to taste Read more
Toronto transformed into Hollywood this past September as hundreds of celebrities filled the streets of the largest city in Canada during the 35th annual movie movement Toronto International Film Festival. For 10 star-studded days, Yorkville, King Street West and the downtown core of Toronto exploded with action as enthusiastic crowds gathered around the legendary actors and filmmakers that revealed their latest projects.
At sundown, A-list celebrities scoured the city's hot spots to celebrate their films and mingle with fans. The Roosevelt Room Supper Club was a staple stop for famous film stars like Edward Norton, Robert De Niro, Hayden Christensen, David Schwimmer, Milla Jovovich and a bevy of others who were seen socializing at the sophisticated site.
To kick off the 10 days of TIFF, web portal citylifeTV Read more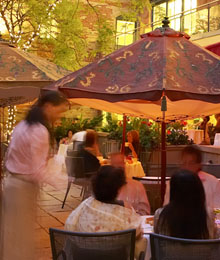 We've all had meals out that have involved upset stomachs, empty pockets or disappointing service. The unfortunate experience makes you wish you had just scrubbed your hands, sharpened your knives, threw on a floral apron and prepared the meal yourself! Turn to these reliable restaurants, which have garnered positive reviews all across the city. Read more