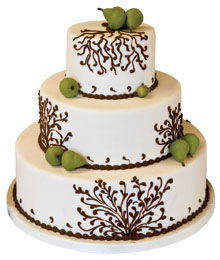 An emporium of yummy goodness, Toute Sweet beckons all sweets aficionados, tempting them to indulge in delectable confections with its wide array of homemade fresh and frozen cakes and pastries. Bursting with colour and creativity, each is a miniature work of art almost too beautiful to eat.
Garnering over 50 years of bakery experience, this cake expert mass-produces cakes of all shapes and sizes from inside its 14,000 sq. ft. plant. Able to accommodate almost any request, Toute Sweet is always happy to take part in any special occasion with a custom-made cake or even just to satisfy your sweet tooth with one of its signature pastries. "Our years of experience really do set us apart," says owner Guy Bonofiglio. Read more
MBCo
Upon entering MBCo (Montreal Bread Company), you'll feel as though you've just stepped off a plane and walked into a European establishment. This restaurant and bakery offers customers flair from abroad with rustic dishes. Hand-carved sandwiches, fresh salads and sweet indulgences are all on the menu. www.mbco.ca, 416.961.6226
ROM
The Royal Ontario Museum presents "Vanity Fair Portraits: 1913 – 2008," from Sept. 26, 2009 – Jan. 3, 2010. The exhibition, which celebrates the iconic magazine's history, documents almost 100 years of popular culture and features 150 portraits. The ROM is the exhibition's only Canadian venue, so be sure to check it out. www.rom.on.ca, 416.586.8000 Read more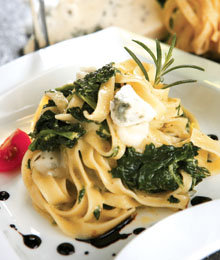 Finding a delicious meal in a friendly urban atmosphere has just become easier. If you're up for an experience that transcends the average date with your local trattoria, it's worth taking a trip uptown. This summer, the opening of Di Manno Ristorante will offer a savoury piece of Italy and a touch of Mediterranean fusion to patrons throughout the city. The upscale eatery is set to unleash some of the freshest and finest gourmet cuisine, combined with an unbeatably warm encounter.
Specializing in preparing heavenly meals is not something the establishment takes lightly. "It's more than just food; it's something social and comforting," says co-founder Nancy Di Manno. "Dining is a great way to unwind with a good glass of wine Read more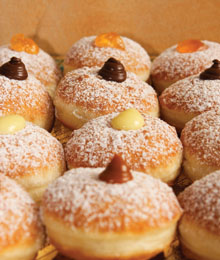 If you've ever wondered what an explosion of heavenly sweetness tastes like, you might want to sink your teeth into Dolce Bombe's exclusive dessert. The boutique bakery is well-received across the city for its round cream-filled bombe, resembling exactly what the name means – sweet bombs. "I travelled to Italy and learned first-hand from the person who does them the right way," says owner Mauro Sarracini, pointing out his pastries are often imitated but not duplicated. Being careful not to give away his special recipe, Sarracini admits to making them, "by hand, using cream from scratch with imported ingredients." Read more