Il Cavallino Ristorante: Serving up Gourmet Tradition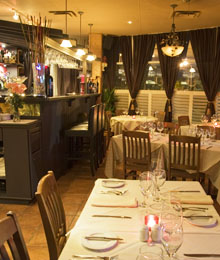 Stepping through a doorway to visit a piece of Italy is not usually the case, but the experience is more than possible at Il Cavallino Ristorante. A place where visitors truly discover cultured cuisine; the establishment has been nourished for over 19 years with a long line of European experience. "I had a place in Toronto for 12 years, after working in Switzerland, Germany, and France, says owner Franco Poletti. "I always worked in the hospitality and hotel industry." Growing up in the restaurant business, Poletti has been surrounded by food his entire life, which is the reason why he knows how to please the palate.
baccala
. "Not too many people make cod, but we seem to do a great job because people love it." After two decades, Il Cavallino's clientele is experiencing a rebirth, as customers' grown-up children now flock to the gourmet eatery. It's the sign of a business that knows the meaning of
bon appétit
.
www.ilcavallinoristorante.com
905.850.3629
8077 Islington Ave. Woodbridge, ON