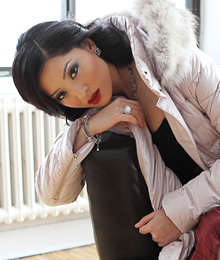 Johnny Yiu Handmade in Canada, Johnny Yiu jackets are filled with goose down to withstand harsh weather. Available in an array of cuts and colours, this fall/winter must-have is cinched with style. www.johnnyyiu.com
Anthropologie Bracelet Designed by Athens-based designer Dimitriadis and handcrafted in Greece, this canary yellow bracelet sparkles with porcelain roses and Swarovski crystals. www.anthropologie.com
Cottonfield From Cottonfield's autumn 2012 collection, this navy blue sweater is a great addition to a fall wardrobe. Wear a plaid shirt underneath to give your look a touch of sophistication. www.iccompanys.com Read more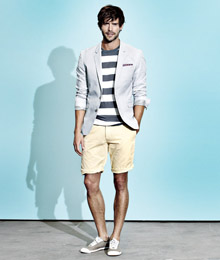 Dress Up
Your little man in a plaid bow tie that's fun for him and classy for you.
www.etsy.com
Heeling Power
You can accomplish anything in these hot pink heels. Pair them with orange or blue for a colour block effect, or with a neutral outfit for a pop of colour.
www.zara.com
Brace Yourself
This sterling silver Scott Kay bracelet is not for the faint-hearted. Show off your wild side with this eye-catching accessory.
www.cupidodesigns.com
Read more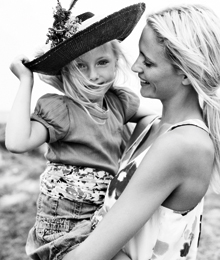 Shower your mom's special day with tokens of love.
1. Let this little light of yours shine bright with Pier 1 Import's Seashell Exhibit Lamp. www.pier1.com
2. Splash some colour into the room with Pier 1 Import's gorgeous lustre-finished, turquoise mermaid tail dish. This season's vintage femme collection bursts with wonderful gift ideas touched with vibrancy. Try pairing this adorable plateau bowl with a seashell set or collected corals from your tropical travels. www.pier1.com
3. Fly away with this adorable earthy leather strap bag. www.unique-vintage.com
4. Etsy sends hemp hugs and kisses her way. Read more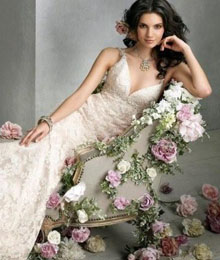 1. Dave & Charlotte Rely on cute and quirky photography duo Dave Biesse and Charlotte Leonard to capture every smile, tear and kiss on your wedding day. Their photographs aim to reflect the personality of each couple. www.daveandcharlotte.com, 416.824.3238
2. L&J BRIDAL With over 30 years of experience, L&J Bridal has the expertise to outfit even the most challenging of bridezillas with the perfect gown. www.landjbridal.com, 905.459.9370
3. Ti Amo Decorating Create an ambience that is your very own with the help of special event decorating company Ti Amo Decorating. This establishment offers a sumptuous collection of linens, napkins, chair covers and table runners and also provides customized back drops and head tables. www.tiamodecor.com, 905.264.0771 Read more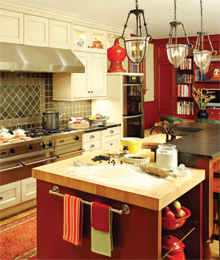 Dorothy professed her love for the home in the iconic film The Wizard of Oz for a reason. Home is the one place you can truly be and feel like yourself, so adorn it with items that you treasure. Discover a few home décor ideas that we fancy. Selecting pieces that reflect your personality and style will create a space that you will feel comfortable in.
1. Irpinia Kitchens: Preparing a meal will no longer feel like a monotonous chore in this custom kitchen, courtesy of Irpinia. The trifecta of red, cream and black is accented with sturdy, silver hardware. You'll feel so content in this charming space that tears will cease to exist while chopping onions! www.irpinia.com, 905.780.7722 Read more