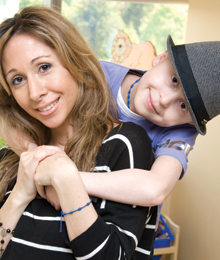 When he was seven, Joey Mazzucco's life was turned upside down by cancer. At an age when play is a child's biggest concern, Joey was placed at the foot of an ominous mountain and told to climb. It was a demanding trek, but Joey refused to judge the journey as a tragedy. There was no time for self-pity, no use in lamenting. He donned his favourite fedora, embraced the power of optimism and climbed. Why? Because there was simply no other choice.
When Joey's right shoulder began shooting with pain in the summer of 2009, a torn rotator cuff was thought to be the source. A visit to the Hospital for Sick Children (SickKids), however, revealed the tumour causing his duress, and Joey was diagnosed with Ewing's sarcoma, a rare and aggressive form of bone cancer. Read more
The name Terry Fox has become synonymous with hope, perseverance and goodwill. His determination to fight cancer and prove that every dream is a step away from reality makes him a symbol of strength for Canadians and citizens of the world.
Losing his leg to bone cancer in 1977 at 18 didn't deter Terry Fox from striving to raise money for cancer research and inspiring people with his 143-day Marathon of Hope, in which he ran more than 5,000 kilometres. Fox's race ended when cancer was found in his lungs, but his legacy continues to this day through those that participate in the annual Terry Fox Run around the globe. September 18, 2011 marked the 31st run; to date more than $550 million has been raised. Read more