The memory is all-too-familiar: sitting in the backseat of the family car with your elders, listening to them reminisce about the past while proudly pointing to residential or commercial areas that were once plains of nothingness. Press the fast-forward button to the near future and you'll soon be extending your hand towards the unprecedented growth of Vaughan: towering skyscrapers, an integrated subway network and a bubbling metropolitan centre. "The generations coming up are going to drive their kids around and say, 'you know, when we were younger, this was just fields and no buildings,' which is sort of the same thing my dad did with me when he drove to some of the sites he was developing," says Peter Cortellucci, deeply involved in the development industry since he was a teenager. As vice-president of the Cortel Group, a diversified development firm building sustainable residential communities across the GTA, Cortellucci, 25, is palpably young, but somehow formulates words of Read more
We've scoured the city, chatted with prominent people and examined the evidence, all in our attempt to unearth the source of Vaughan's allure. This is what we found.
Green Initiatives
With numerous green initiatives in place such as the Greening Vaughan program and an impressive 740 hectares of parks and acres of land ensured by the Woodlot Protection Strategy, Vaughan is committed to painting the city green. "The woodlots that you see that are speckled through our subdivisions are going to be there through perpetuity. Vaughan is one of the first municipalities in the province of Ontario to do this," says Vaughan Mayor Linda Jackson. Read more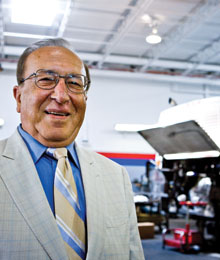 For a man who has successfully conquered the competitive industry of transportation, Vahe "Cy" Tokmakjian emanates bashful charm. He's dressed in a light-coloured suit and dress shirt of a royal blue. Sipping on his morning coffee, Cy's face is never without smile or nostalgic expression, as he delves into the storied past of his domestic and international conglomeration, Tokmakjian Group, a prodigy in the transportation business.
Headquartered in Ontario's industrial community of Concord, Tokmakjian Group was conceived from childhood dreams and born via skilled experience. During a time when deals were sealed with a handshake, Cy set out solo at 29, unbeknown to what the future had in store for him. "I remember shaking hands with Tony DeGasperis, when we were both small businessmen beginning our journeys," Cy, 69, reflects. Read more