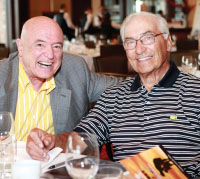 On June 22, 2010, over 200 guests celebrated la famiglia italiana at the Villa Foundation Father's Day Golf Classic and Dinner Celebration. Golfers were kept busy at the porchetta station, Miss Martini sampling tent and the espresso stop, giving their swings an extra kick. In the evening, NHL legend Andy Bathgate was a guest speaker at the Father's Day Dinner Celebration. Raising approximately $70,000, Villa Charities continues to provide social assistance and cultural development for the Italian community. It was a successful day with help from sponsors, Joseph Fusco, chair Rudy Bratty, and the organizing committee. www.villacharities.com
FROM LEFT: Rudy Bratty, chair of Villa Foundation, shares a laugh with NHL legend Andy Bathgate, at the Villa Foundation Father's Day Golf Classic and Celebration Dinner, June 22, 2010 at Eagles Nest Golf Club.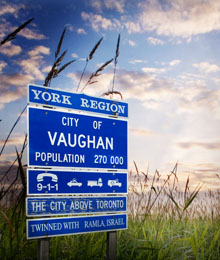 A Toronto Life magazine feature disheartens the Vaughan community, whose major accomplishments are clouded with claims of corruption and scandal.
Every time I'm asked where I'm from I hesitate. I pause because I want to avoid the know-it-all smirk. I equivocate because I don't want to hear the toxic and discriminative comments that fall from ignorant lips. That's not fair to me or any other resident of Vaughan who lives life according to the law.
I'm not naive, but Vaughan is primarily a city full of heart, ­not villains. So why do cantankerous mediums continue to pollute our clean air with what appears to be anti-Italianism and acrimonious sound bites? Read more