John Paul Adamo's Hockley Valley Resort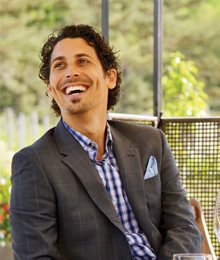 My passion for food began at an early age. Whenever I was allowed in the kitchen, I would help prepare family meals. My traditional Italian family continuously instilled an old-world culinary philosophy of simple, ingredient-driven food. Fresh pasta with seasonal vegetables from the garden tossed in a Tuscan olive oil was the start of many nights shared around our kitchen table. My culinary education took me across Europe and North America, and in 2006, I came home to Hockley Valley Resort.
We have worked very hard over the past five years to turn Hockley Valley into a top Ontario culinary destination. One of the biggest changes was the installation of our on-site, four-acre organic fruit and vegetable garden.
Investing in the garden has been such a worthwhile feat on so many levels — from helping to reduce our carbon footprint, to increasing guest satisfaction and enriching the property's esthetic pleasure. From a culinary standpoint, the garden has also proved invaluable. There is nothing quite like hand-picking a carrot in the garden one minute, then preparing a meal for a guest with it the next.
Last year, we set our sights on producing sparkling wine, and planted nearly 1,000 vines of Riesling, Vidal, Pinot Noir and Chardonnay in our new vineyard right next to the garden. This spring, another 6,000 vines of these varietals were planted, with an additional 6,000 vines planned per year for the next three years until the first vines start to mature. If all goes well, we are considering converting space right on the property into a winemaking facility by 2015.
While the garden supplies as much as 80 per cent of all our menu's ingredients, we nurture relationships with nearby farmers and local food merchants to ensure that a majority of the restaurants' other ingredients — wine produce, cheese, meat — are locally sourced.
The most exceptional culinary experiences are those that are authentic, and I carry that philosophy into all aspects of hospitality. It is just as important to offer our guests a casual glass of wine and a wood-fired pizza in the garden as it is to offer a seven-course tasting menu. My hope is that the old-world traditions of the past and our focus on local and sustainable food will continue to create leading culinary tourism destinations in Ontario.
---
Wild Salmon Ingredients
(Serves 4)
1 roasted red pepper
5 ml (1 tsp) capers
8 ea cherry tomatoes, oven-roasted
1 oz niçoise olives, pitted
1 sprig flat leaf parsley, chopped
250 ml (1 cup) chicken or vegetable stock
6 oz. salmon filets seasonal and local vegetablesextra-virgin olive oil white wine
Directions
1. Roast and char pepper, peel and set aside. Bake tomatoes with olive oil, salt, pepper, thyme and garlic at 176 C (350 F) for 30 minutes. Set aside.
2. Reduce chicken or vegetable stock by half, add capers, crushed olives, roasted peppers, tomatoes, and salt and pepper if needed. Keep warm and set aside.
3. Heat a cast-iron skillet or heavy bottomed sauté pan. Season both sides of salmon and skin side down to pan. Crisp skin, flip and bake at 176 C (350 F). Cook to medium or desired temperature, deglaze pan with white wine and let fish rest.
Vinaigrette Ingredients
1 lemon
1 grapefruit
45 ml (3 tbsp) sherry vinegar
45 ml (3 tbsp) red wine vinegar
250 ml (1 cup) grapeseed oil
5 ml (1 tsp) Dijon mustard
Salt and pepper to taste
Directions
1. Combine acids, mustard, salt and pepper. Add oil, blend, and set aside.
To Plate
Add sautéed local seasonal vegetables to the base of each plate. Spoon sauce over vegetables, and place fish on top. Add vinaigrette around plate and finish with olive oil.