Chefs need routine, and when they are taken out of their habitat (the kitchen) to an off-site location without the proper equipment to execute their dishes, it causes immediate panic. Catering is all about preparation. Sometimes caterers may be viewed as second-hand cooks when compared to restaurant chefs, but that's certainly not the case, especially with The Food Dudes. After opening our first restaurant concept, I know now more than ever that high-level catering is just as challenging as cooking at a fine dining establishment.
Read more
During our childhood in northern Italy, my brother Dante and I were brought up on our mother's homemade cooking. Her version of Italian food was simple and healthy, always using fresh and local ingredients. When we first opened Piola restaurant in 1986, our goal was to share our mother's style of cooking in an environment that showcased Italy's cultural esthetic.
From the very beginning, we wanted Piola's kitchens to duplicate the way we cook at home with our family and friends. Our mother always told us, "Simple is best," and I think too many chefs these days are complicating Italian cuisine. When we eat at home we don't have excessive garnishes on the plate, so why would we do that in a restaurant? Cooking should be simple. We use the best produce straight from local farms, with the least amount of intervention before presenting it to customers. Read more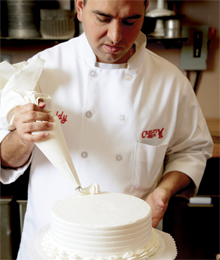 If there's one thing fans of the hit reality TV show Cake Boss will attest to, it's that there are cakes, and then there are Cake Boss cakes. The difference? A Cake Boss cake is layered, shaped and coloured with such whimsical novelty they're almost too pretty to cut – but too delicious to resist.
It's the artistic hand of Bartolo "Buddy" Valastro Jr. – a man who speaks with such Joe Pesci-like bravado that he may seem more street tough than master baker – that produces this lip-smacking beauty. "We really enjoy using our creativity to design custom cakes," says Valastro, a fourth generation baker who heads the kitchen at Carlo's Bake Shop, his family's bakery in Hoboken, New Jersey. "It's a merger of traditional methods of decorating and using new technologies to do things like make them spin or light up." Read more
If it makes you healthy, it can't be that bad. Singer-songwriter Sheryl Crow was living the typical rock star life – on the road touring the world as she promoted her latest hits. Her influence on the music industry became undisputable, with nine Grammy awards and other accolades confirming her talent. During that time, though, she was eating on the run, ordering off hotel room service menus, and snacking on chips and Diet Coke in her dressing room. When jolted with the shocking news of breast cancer in 2006, Crow quickly changed her tune. "My cancer diagnosis was a real game changer for me … Never once in my life had I really considered what I put into my body as having a direct connection to my wellness," she writes in her season-inspired cookbook If it Makes you Healthy (St. Martin's Press, 2011). Co-authored by produce lover and chef Chuck White, their guide to good food is packed with vitamin and Read more
1. City to Country This conference brought participants from across the GTA to explore challenges, opportunities and solutions for our food systems. www.sustainontario.com
2. Colavita Authentic Italian extra-virgin olive oil –  it doesn't get any better than this. www.molisana.com
3. Numi Organic Tea These first-class, organic, handpicked teas are both soothing and delicious. www.numitea.com
4. Panera Pink ribbon bagels help raise money for Breast Cancer Awareness Month; they taste great, too. www.panerabread.com
5. Mini Italia You'll melt over Asiago, a sweet cheese from northern Italy. Read more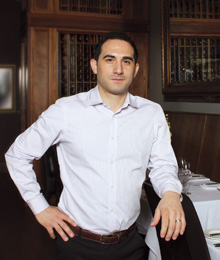 Nothing caps off a long week like a decadent evening out at a first-class restaurant. But what really makes a great dining experience? Is it the mouth-watering cuisine? The relaxing and welcoming atmosphere? The exceptional service from a maître d' who inspects each plate before it's served? Or a seemingly endless wine list with world-class vintages from top vineyards? At Vinsanto Ristorante, each of these things is an integral part of the whole package.
Much like the delectable baked oyster mushrooms from its popular antipasto Funghi di Bosco, this is just the start of the Vinsanto Ristorante experience. "My motto is passion, ambience and decadence," says John Di Vittorio, owner of Vinsanto Ristorante. "That's what I've strived for from Day 1." It's this uncompromising dedication to the perfect dining experience that has Read more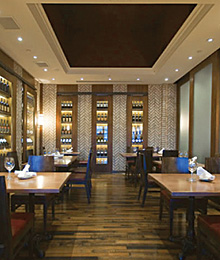 1. SARPA Becoming a local favourite for York Region foodies, Sarpa's relaxed atmosphere and phenomenal entrees are the perfect blend for a great evening. Its décor is a modern interpretation of more traditional, rustic features, while the cuisine is stacked with succulence. Savour the Pan-Seared Veal Tenderloin, sink your teeth into the Grilled Lamb Chops 'Scottadito', or relish the seafood mix of the classic Zuppa di Pesce. www.sarparestaurant.com
2. Harbour Sixty There are few Toronto dining establishments that offer the pure, unadulterated level of class that Harbour Sixty so elegantly exudes. The food is premier. The décor: stunning. If you're looking to celebrate a milestone anniversary, impress a client or simply dine like royalty, Harbour Sixty will not disappoint. Read more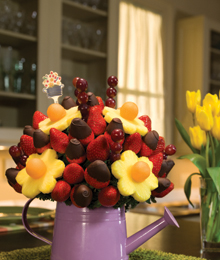 When you hear a knock on your door, a rainbow of fruit is the last thing you're expecting. A dozen roses may be nice. But what about something you can enjoy with friends and family, that is as delicious as it is eye-catching? Having an Edible Arrangements delivered to your doorstep is bound to put a smile on your face.
Whether it's for a birthday, anniversary or engagement, a bouquet of colourful fruit is the perfect gift. "It's always being sent to someone with the intention that they can share with the people around them," says Tiziana Cannella, storeowner of the Vaughan location. "People are always excited to receive it." In addition to the obvious health factor that makes a gift like this so appealing, Cannella stresses that unlike most deliveries, Edible Arrangements is something that can be enjoyed with your loved ones. Read more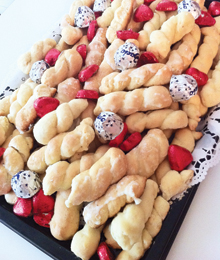 Good food and drink are necessities when creating an inviting atmosphere for any occasion. Bring warmth to your home, and delight your guests with the help of these new appetizing finds.
Hugs, Hearts and Cookies
Follow Strawberry Lane for all of your entertaining essentials, and choose from trays of sweets starting from only $29. Whether you're gathering for a festive event or just want to share a special treat with your family, Strawberry Lane will fill your home with the feel-good smell of freshly baked goods.
www.strawberrylane.ca
Express-o Yourself
The Breville® Barista Express Espresso Machine will turn your kitchen into an Italian café, making delicious Read more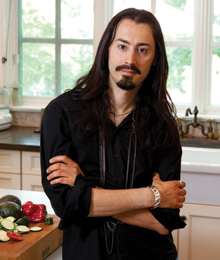 Like most Italians, Francesco Comito was born into a family of kitchen connoisseurs where food wasn't just appreciated, but celebrated. "I was always trying to help her," he says, reminiscing about his mother's culinary exploits, "asking if I could do this or that. And then I would start to feel calm and relaxed around food and that is where my passion began."
In 2000, Comito journeyed west to try his luck on the Canadian dining scene, and soon landed a sous chef position at a happening restaurant in Vaughan. Health issues, however, began to stifle his progress; issues he attributed to an imbalanced diet lean with fruits and veggies and weighted with pastas and meats. Read more