Vaughan Cupcakes – Cupcake Craze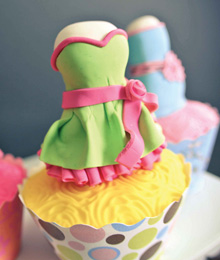 Red velvet, classic vanilla and chocolate are all flavours we're familiar with, but when you venture into one of these boutiques, you'll experience the craze that's hit North America. With a history rooted in the late 18th to early 19th century, the treats aren't new to the sweet scene, but as of late, specialty cupcake shops have been popping up across Toronto and the GTA, prompting competition that has inspired some of the most intriguing of new flavours. From clever options like s'mores and blueberry champagne, we've found Vaughan's most delicious spots to satisfy your cupcake cravings.
We Bake in Heels
A need for change brought two friends together to open We Bake in Heels. With Catherine (Cat) D'Agostino developing recipes, and Adrienne D'Amico handling operations, it's been a match made in cupcake heaven since the shop opened in 2009. "We make
everything from scratch and only use quality ingredients," says D'Amico. You only have to take one bite of their delicious treats for a mouth-tingling experience.
www.webakeinheels.com

Lavish Cupcakes
"The thing I love most about my job is how excited and happy my cupcakes and cakes make our customers," says Lavish Cupcakes owner Crissy De Masi. Her keen business eye and love of her mother's baking sparked an online business, which eventually flourished into a boutique, Lavish Cupcakes, in Woodbridge. Within the first two hours of launching her website it gathered 63 hits – a number that continues to grow each day as the shop heads into its fifth year.
Enchanted Cupcake
"Cupcakes make people happy," says Diana Aravena. The attention to detail and unique names given to these cupcakes show the creativity and imagination that goes into Aravena's hard work. With peanut or nut-free options, her gourmet sweets are custom-made and use superior ingredients. Most exclusive: Pain D'Ore French Toast cupcake
www.enchantedcupcakeboutique.com

Sweet Lady Manpreet
A cake-decorating class turned a hobby into a full-blown love affair for Manpreet Bhogal. Delighting in this newfound outlet, her passion for baking turned a few odd orders into a booming business. Of her yummy creations, Bhogal explains that her commitment to quality has given her a taste of success. "Sweet Lady Manpreet is dedicated to making both the best-tasting and finest looking cupcake, all while incorporating healthy ingredients."
Call 416-843-3335
Call Me Cupcake
A fun activity between a mom and her children developed into requests from family and friends, and finally resulted in a cupcake shop for everyone to enjoy. Expect Madagascar vanilla beans, premium chocolate and real butter in these cupcakes, showing a dedication to presentation and uncompromised flavour. "I am always in the kitchen. Nothing leaves without my approval, so I can personally guarantee the best quality," says storeowner Diana Ponte. Try out: Call Me Colada cupcake
www.callmecupcake.ca

Juicy Desserts
At this dessert boutique, owner Josie Bancheri takes pride in her unique creations. With everything made fresh to order, be sure to make an appointment for a cake tasting. "My desserts are designed with whimsy and creativity in mind," says Bancheri, who was crowned a winner last year in a Food Network Challenge. Customer favourite: Chocolate Caramel Toffee Crunch
www.juicydesserts.com
Pink Lemon Bakeshop
The birth of her daughter inspired Enza Torchia to endlessly bake until her husband suggested they open a shop to house all of her delicious recipes. With three storefronts and over 2, 000 followers on Facebook, their freshly baked sweet treats are loved by everyone who experiences them. "The majority of our cupcakes are filled. That extra element of surprise makes everyone smile," says Torchia. Bite into: Blueberry Champagne cupcake
www.pinklemonbakeshop.com