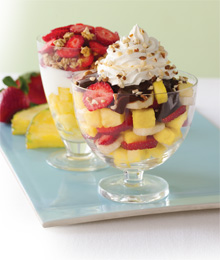 According to Canada's Food Guide, women between the ages of 19 to 50 should be eating seven to eight servings of fruits and vegetables a day, while men should be consuming between eight and 10. By choosing the right foods, people can enjoy increased energy levels, look more vibrant, and feel better overall. But with our busy schedules, it's often hard to make healthy choices. That's where Edible To Go comes in.
Expanding on its existing niche of deluxe fruit arrangements, Edible Arrangements is implementing a new product line that will enrich your everyday meal choices. Offering fresh fruit smoothies, juices, parfaits and salads, the Vaughan location of Edible Arrangements is the first and only store in the GTA to offer these delicious and healthy treats. With bikini-body season upon us, Edible To Go couldn't have come at a better time. "This is a healthy twist to the products that we
Read more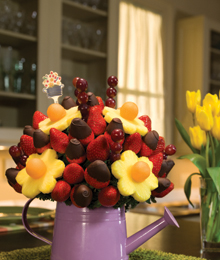 When you hear a knock on your door, a rainbow of fruit is the last thing you're expecting. A dozen roses may be nice. But what about something you can enjoy with friends and family, that is as delicious as it is eye-catching? Having an Edible Arrangements delivered to your doorstep is bound to put a smile on your face.
Whether it's for a birthday, anniversary or engagement, a bouquet of colourful fruit is the perfect gift. "It's always being sent to someone with the intention that they can share with the people around them," says Tiziana Cannella, storeowner of the Vaughan location. "People are always excited to receive it." In addition to the obvious health factor that makes a gift like this so appealing, Cannella stresses that unlike most deliveries, Edible Arrangements is something that can be enjoyed with your loved ones. Read more