Salad Recipe – Celebration of Tomatoes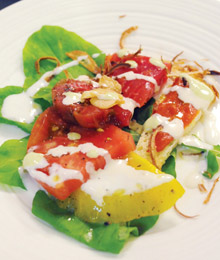 One of summer's greatest pleasures, and something we grow so well in Ontario (and in our backyards), is fresh tomatoes. Here's a recipe for Jamie Kennedy's delicious tomato salad.
Serves Six
For the Dressing:
2 egg yolks
1 tbsp/15 ml fresh lemon juice
1 tsp/5 ml white wine vinegar
1 tsp/5 ml Dijon mustard
2 tbsp/30 ml fresh basil leaves
5 tbsp/75 ml sunflower oil
2 tbsp/30 ml 35% whipping cream
Salt and freshly ground black pepper to taste
For the Celery Root:
1/2 cup/120 ml julienne of celery root
1 cup/240 ml sunflower oil
Salt to taste

For the Tomatoes:
6 fresh tomatoes of different heirloom varieties
12 fresh cherry tomatoes
12 arugula leaves
Salt and freshly ground black pepper to taste
Use a food processor to make the dressing. Process the egg yolks, lemon juice, vinegar, and mustard. Add the basil leaves and continue processing. Slowly add the sunflower oil. Season with salt and pepper. Trickle in the cream. Set aside the dressing.
Heat the oil for the celery root to 165 C (325 F) in a small saucepan. Fry the celery root until crispy and golden. Remove from the oil with a slotted spoon. Season with salt. Reserve on a piece of paper towel.
Wash the tomatoes and slice into thick rounds. Season with salt and pepper and place on a tray.

Presentation:
Pour a little pool of dressing on each of the six plates. Arrange the tomato slices in a pleasing pattern. Sprinkle with fried celery root. Garnish each plate with two leaves of arugula. Enjoy!
---
Chef Jamie Kennedy
Jamie Kennedy has been instrumental in shaping our culinary landscape with his commitment to sustainable agriculture and advocacy of local food. His leadership was rewarded at the inaugural Governor General's Awards in Celebration of the Nation's Table in 2010, and he soon became a recipient of the Order of Canada. He cooks up his innovative approach at Gilead Café + Bistro, Jamie Kennedy Event Catering, Jamie Kennedy at the Gardiner Café, and Windows by Jamie Kennedy in Niagara Falls.
www.jamiekennedy.ca