The telltale ting of the sitar provides the soundtrack to my first meditation class. A wooden flute weaves its way through the track and already I feel like my preconceived notions about meditating are being met. The sounds are coming from a stereo in a simple meeting room at the North York Public Library. I make my way to the back to avoid standing out in a crowd of about 20 presumed masters that seem far more attuned.
Despite my cavalier best efforts to camouflage myself, I am quickly discovered. Someone hands me an informative diagram for beginners on how to raise the Kundalini (a dormant, corporeal energy at the base of the spine viewed as a motherly spirit) and a biography on the founder of Sahaja Yoga meditation. A gentle-looking Russian man stands at the helm of the room, anxious to begin. He introduces Read more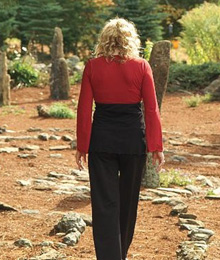 Seven years ago I watched an Oprah Winfrey interview with David Bach, bestselling author of Smart Women Finish Rich. He was a top financial advisor on Wall Street and described how his stress-ridden life had become divided into "15-minute units". One morning he arrived at the office, looked at his calendar and found he had one 'unit' unfilled. He went into a mild form of a panic attack. This, followed by a big 'ah hah' moment, changed his perspective of life and his destiny forever.
It is very easy for most of us to fill up every 'unit' of our day with work, commitments, emails, and now, for many, frenetic text messaging. But when and if we finally get a little break, we immediately look to fill up that space and find something else to occupy our mind.
Read more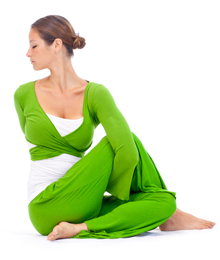 What is it about yoga that appeals to many people from a variety of backgrounds, ages  and lifestyles?  These days, yoga is as popular as any type of physical activity, such as running, spinning, weight training and boot camp. As such, yoga's popularity is a result of a feeling one is left with at the end of a class.  Like all good physical activity, one experiences freedom from stress as endorphins release to create a feeling of ease and relaxation; however, yoga also strives to bring peace and tranquility. Through a combination of poses, breathing and meditation, yoga teaches us how to access the peace and joy that at times is buried deep. Yoga not only provides a fantastic physical workout, but also delves deeper into the mind and spirit by promoting a union of these three elements. In Sanskrit, yoga means to yoke or unify; therefore the objective of yoga is to bring harmony and balance to the mind, body and spirit. Read more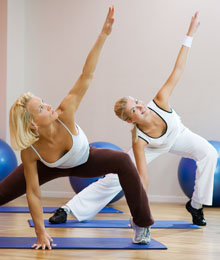 The Holidays can be a stressful time of year, for many reasons, so an invigorating but relaxing hot yoga class can be just the thing to smooth out some of that anxiety and tension. What many people don't realize is that hot yoga is also an excellent full-body workout that improves posture, tones muscles and builds immunity.
The recent popularity of yoga may make it seem like simply the latest in a long line of passing trends. However, this combination of discipline for the mind, body and spirit has been around for thousands of years. That is a lot longer than spinning classes or the South Beach Diet, so the ancient combination of meditation and physical exercise must be doing something right. Of the many varieties of yoga, the one that is heating up in Toronto is Read more