A Night to Remember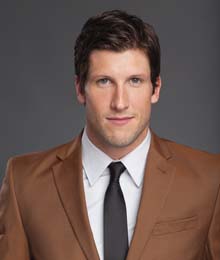 Local figures reveal their favourite New Year's Eve memories.
Brad Smith
Bachelor Canada, Citytv
''I started a tradition about five years ago where I would always go back home to my parent's place in Montreal for New Year's Eve and cook them dinner. So every year since then I've spent it subsequently with my brother, my sister and the kids, and we'd just have everybody over to celebrate. The most memorable one was 2009. I made six pounds of mussels in a spicy tomato marinara sauce, Swiss chard and collard greens with diced bacon, and goat cheese smashed sweet potatoes. We also had about seven bottles of wine. Whenever I go back to Montreal I love doing the same thing, which is just trying to get my entire family under one roof because we're just absolute crazies! This year I think Bianka and I are actually going to be in Mississauga for New Year's. We're going to my parent's from December 21st to the 25th and then we'll head to her parent's for Christmas night probably through to New Year's."


Matthew Jocelyn
Artistic and General Director of Canadian Stage
''Winter 1980: Break after my first term at Oxford. I am at the tail end of a two-week trip hitchhiking around Corsica with a Canadian friend, except that he has just flown off to Geneva for a conference about saving the whales. Advice: while Corsica is undoubtedly one of the most beautiful islands in the world, do not plan a hitchhiking trip there. We had been reduced to waving cars down, had been escorted by police out of town(s); we had scavenged, camped by force and were very poorly equipped — I had not felt a trickle of hot water in 10 days.
Dec. 31, 6 p.m.: I walk up the steps of the Benedictine Convent in Erbalunga on Cap Corse and knock on the door. The sister on service affrightedly lets me in and miraculously shows me to a little cell in an abandoned wing. There is a shower at the end of the hall. I have a piece of Camembert, a bit of bread and some pâté from my bag. By 9 p.m. I am asleep. At 6 a.m. I awake and walk down to the beach to watch the sun rise over the Mediterranean. It is Jan. 1, 1981. A new life begins."
Matthew Jocelyn will be directing a new production of THIS by Canadian playwright Melissa Jane Gibson, which will run from March 18 to April 13, 2013.
Tony Aspler
Wine Expert
''My most memorable New Year's Eve was Dec. 31, 1996. My partner Deborah and I were celebrating it at The Metropolitan Hotel in downtown Toronto. I was in a dinner jacket and she wore a gown. The evening, for some reason, was excruciatingly boring. To compensate, I had been consuming copious quantities of Pol Roger champagne just to make it until midnight when I decided to liven up the occasion by proposing to Deborah (it had been my intention to ask her to marry me in the new year). So, in the middle of the dining room, I got down on one knee and popped the question. The room went nuts and suddenly the party came alive and everybody came over to congratulate us. I kid her now that as a result of the champagne I had slid off the chair and said, 'Will you carry me?' She heard, 'Will you marry me?'"
Ainsley Kerr
Co-chair of Boobyball Fundraiser
''Since my sister and I have left the nest and she has moved across the pond to London, we rarely get a chance to spend time together during the holidays with our immediate family. Two years ago we were just so lucky. We all happened to be in town, so my parents booked a reservation at Scaramouche Restaurant in Yorkville, which I have had fond memories of ever since I was a little girl. The atmosphere at Scaramouche is very special. There are no hats or whistles, just patrons who love being there, particularly at this time of year. It also offers the most incredible view of our city as it is perched high on a hill. My dad brought out some extra special wines because we were also celebrating the news that my sister was expecting! It was the last time it would just be the five of us and we were so excited to celebrate the arrival of our plus one in the new year."
Maurizio Bevilacqua
Mayor of Vaughan
''Where does one start! I have always viewed New Year's Eve as a time to reflect upon the past year with gratitude and to look ahead with much hope and optimism. There were many wonderful New Year's I spent with family and friends — in New York City, welcoming the new millennium in Ottawa, awaiting the birth of my first child born on Jan. 4th — but a very memorable one I want to share happened in 1970. In 1966, my father Azeglio left his homeland Italy to seek greater opportunities in a beautiful country called Canada. His dream was to build a brighter future for his family. He made the choice and left my mother Filomena, my brother Emidio, my newborn sister Anna and myself behind, seeking a better tomorrow for us all. We didn't see my father for four years while he worked as a labourer and later as a small businessman in North York. I was 10 years old when I finally saw my father and we all truly enjoyed our first New Year's Eve in Canada as a reunited family. That night, the Asti Spumante tasted particularly sweet as we rejoiced in all of our blessings. A new country, a new home and, yes, a new beginning, just like a New Year's Eve. The choice my father made was the right one. I have been able to enjoy every New Year's Eve since then and have had much to celebrate. Salute! Cheers to a great 2013!"