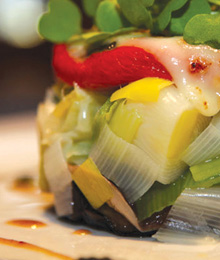 Find your cool from this list of hot destinations and must-haves.
1. HAVE A BALL Bowl, dine and celebrate at The Ballroom, Toronto's entertaining social hub. www.theballroom.ca
2. PETITE ITALY Primo & Secondo brings a zap of art, culture and superb cuisine to Montreal's Little Italy. www.primoesecondo.ca
3. PUMPED-UP KICKS Add a splash of colour to your step with these brilliant Converse sneakers. www.shopcaster.com
4. A PEEK IN THE PAST This Baroque-style mirror adds a touch of rustic charm to any décor scheme. www.shopcaster.com
5. TIME TRAVEL Add some funk to your morning wake-up call with Read more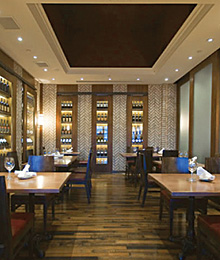 1. SARPA Becoming a local favourite for York Region foodies, Sarpa's relaxed atmosphere and phenomenal entrees are the perfect blend for a great evening. Its décor is a modern interpretation of more traditional, rustic features, while the cuisine is stacked with succulence. Savour the Pan-Seared Veal Tenderloin, sink your teeth into the Grilled Lamb Chops 'Scottadito', or relish the seafood mix of the classic Zuppa di Pesce. www.sarparestaurant.com
2. Harbour Sixty There are few Toronto dining establishments that offer the pure, unadulterated level of class that Harbour Sixty so elegantly exudes. The food is premier. The décor: stunning. If you're looking to celebrate a milestone anniversary, impress a client or simply dine like royalty, Harbour Sixty will not disappoint. Read more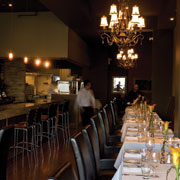 Fresh off its recent renovation, Vinsanto Ristorante unveils an extended seating area just in time to celebrate its fifth anniversary. Now, even more patrons may enjoy decadent first-generation Italian entrees, dinners and desserts, all artistically arranged in a unique and surprising fashion that's rarely seen on Vaughan's dining scene. www.vinsanto.ca
Left – A recent addition allows for extra seating so even more guests can enjoy Vinsanto's mouth-watering Italian delights.
From fine dining on a Saturday night, to a relaxing brunch Sunday morning, City Bites offers an exquisite selection of local Vaughan and GTA restaurants.
1. Carmelina Restaurant
Transport yourself into an exotic Mediterranean atmosphere with rich Roman cooking and superior wines from around the world. Carmelina's enticing entrées, fresh, crisp salads, gourmet pizzas and lavish pastas fused with classic décor has something that will make everyone's dining experience spectacular. 905.754.0558
2. Spacco
You can finish off a plate of authentic Italian cooking by choosing from a long list of tasty appetizer and meal options, including coconut shrimp, battered calamari, steamed mussels, Read more
Invite-only grand opening celebrations for Oasi Restaurant and Lounge were held Nov. 14 ­– 15th, 2008. An array of champagne, wine and hors d'oeurves sent a waft of flavourful aromas in the grand dining room, Read more