City Vibe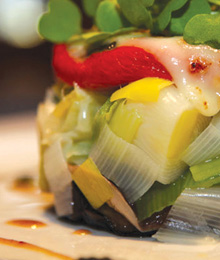 Find your cool from this list of hot destinations and must-haves.
1. HAVE A BALL Bowl, dine and celebrate at The Ballroom, Toronto's entertaining social hub. www.theballroom.ca
2. PETITE ITALY Primo & Secondo brings a zap of art, culture and superb cuisine to Montreal's Little Italy. www.primoesecondo.ca
3. PUMPED-UP KICKS Add a splash of colour to your step with these brilliant Converse sneakers. www.shopcaster.com
4. A PEEK IN THE PAST This Baroque-style mirror adds a touch of rustic charm to any décor scheme. www.shopcaster.com
5. TIME TRAVEL Add some funk to your morning wake-up call with this retro alarm clock. www.shopcaster.com
6. INSPIRED WRITING Jot your notes and get motivated with this quirky YOLO notebook. www.ecojot.com

7. ENTRE-NEWS Have an idea in mind for a book or a business? IdeaMensch will help spark your idea to life. www.ideamensch.com
8. COLOUR SHOCK Jay Enzi's bewitchingly colourful creations will amplify your space's "wow factor." www.enziart.com

9. PILLOW TALK
Rest your head on this adorable cushion, and you're sure to have sweet dreams.
www.shopcaster.com
10. HIGH STEAKS At Jacobs & Co. Steakhouse in Toronto, quality meats and delicious dining are an art form. www.jacobssteakhouse.com
11. MOD BLOCK This Pawn Stool from Style Garage proves that less is more when it comes to décor. www.stylegarage.com

12. WELL FEATHERED You'll be happy as a bird at the Crow's Nest Barber Shop, where skilled hands will perfect your locks. www.crowsnestbarbershop.com