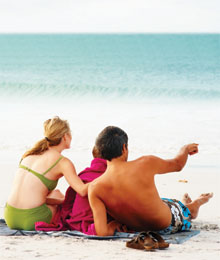 Imagine yourself sprawled by the oceanside, sipping on an icy margarita while the warm sun beats down on your skin. Miles away from your troubles, the only sound you hear is the spellbinding waves that crash against a pristine shore. The best part? You're much closer to home than you'd think.
Nestled in the heart of Naples, Florida, rests the gorgeous LaPlaya Beach and Golf Resort. With an inspired landscape and inviting suites, this hidden gem gives its guests the secluded, far-off feel of an island oasis with all the comforts and amenities of a familiar five-star resort.
Reflecting the contemporary lifestyle and easygoing attitude of South Florida, the ambiance of LaPlaya makes guests feel instantly at home. An updated twist to Florida's classic Read more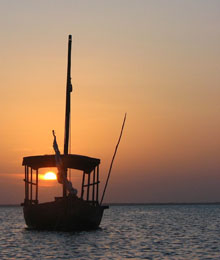 There is nothing to worry about. I know many people in Kipumbwe,' says Mr. Iddy, looking at us the way you look at a child who is worried about their first night away from home, 'I will come with you. Everything will be fine, yes?'
After a month in Pangani spent teaching English and slowing down to the rural pace of life, my wife Jane and I feel ready for a change of scene. Pangani is a lazy fishing town on the Tanzanian coast, with a beautiful beach that welcomes the warm waters of the Indian Ocean. On a clear day you can catch a glimpse of Zanzibar, perched on the horizon. Most tourists fly there from the mainland or take the big fast ferry from Dar es Salaam but those options are too expensive for us. Mr. Iddy, our Pangani expert on everything, recommends the sailing boat from Kipumbwe, a remote village further down the coast. Read more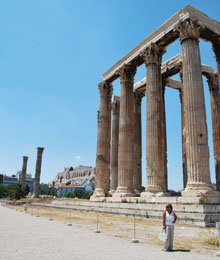 The heated days of a Grecian getaway climb and fall with ancestral beauty; burning with secrets from eras past, etched in age with epic verse, dumbfounding with archaeological mystery. Having jet and boated across the grandeur of Greece, interior designer Marina Khajetoorian is now one with Greek art, allowing her to fuse her illustrious firm, MK Interior Designs, with enhanced artistic design plans for your home.
From its rocky inclines, ships speck ocean vistas as Doric columns dot villages scarcely trodden by tourists' feet. Sculptures and sketches, pottery and frameworks flourish and flabbergast with romantic influences, inspired by revolutionary apotheosis and the Bronze Age born on the island of Crete. Read more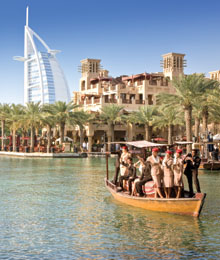 Picture the experience that comes with a first-class ticket on a giant cruise ship. Luxurious amenities span throughout your stateroom, allowing for a blissfully comfortable voyage. Now imagine the same lavish surroundings aboard a plane – exactly what Emirates offers. The airline's Airbus A380, the largest commercial aircraft in the world, has some of the most lush features for the refined flyer. Touching down for the first time in Toronto this June, media and VIP guests got a sneak peek at the double-decker, four-aisle aircraft which holds over 500 people.
Starting in economy class, each seat features more surrounding space, deeper recline, and a 23-inch widescreen television with more than 1,000 channels of on-demand movies. Read more
In the 1953 movie Roman Holiday, Audrey Hepburn inspires audiences with her Vespa trip through Italy. Now, Italy by Vespa founders Stanley and Patsy Gallery from Denver, Colorado, bring that on-screen fantasy to life with a first-rate guided tour, where you can discover the beauty of a Tuscan countryside while cruising on a Ferrari-red Vespa ET4 over a seven-day span. Promising an unforgettable journey into the historical epicentre of Italy, your every sense will race from the passionate culture, cuisine, art and vestiges of Tuscany.
Most  often enough, couples looking to celebrate their love escape to the warm climate and laid-back atmosphere of a tropical resort. But in my case, commemorating my wedding anniversary with my husband demanded a bit more adventure, mixed in with Read more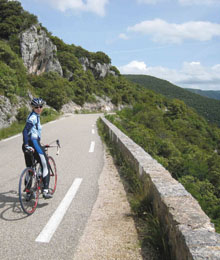 As the health and wellness industries boom, coupled with rising concerns for our planet's well-being, vacations are taking a turn for the explorative.
No matter where you spend it, a run-of-the-mill beach vacation is loosing its allure. With physical activity and eco-awareness on the rise, people are seeking new routes when it comes to the ultimate getaway. It's a trend that's picking up speed, as travellers combine bicycling with voyages to distant lands, provided by first-rate tour companies.
Whether you seek to explore the Hawaiian volcanoes or venture along Croatia's Dalmation Coast, Backroads can help. As one of the world's largest active travel companies, Backroads specializes in feature bike tours all over the globe. "I simply Read more
On a comforting  chaise lounge facing a pale blue sea, I reach my hand out to accept a pina colada, a velvety sweet texture of rum, coconut cream and pineapple juice that cools me from the sultry Caribbean heat. Music spills at just the right volume behind me, mixing with the fragrantly sweet air and salty mist that whispers gently off the sparkling ocean. I exhale and smile, thinking back to how eager I was to peel off my sweater just a few short hours ago. The small plane I was on smoothly touched the landing strip of Donald Sangster International Airport, as the verdant mountainous terrain and turquoise coastline of Jamaica's Montego Bay unfolded below me. After quickly gathering my luggage and clearing customs, the humid air and jostling vibe of Jamaica embraced every inch of me with warmth as I stepped outside. Read more