It happens somewhere between a storied London street and a subterranean society that intimidation sets in. I'm studying an intricate map of colour-coded lines, linking and crossing each other like a game of Snakes and Ladders. Choosing dogged pursuit over walking away with my tail between my legs, I duck into a service station to join bobbing tourists on a nexus of travel and history.
England's London Underground, widely referred to as the Tube, is the oldest of its kind and the busiest in Europe after Moscow and Paris. Much like the octopus of the New York City Subway, the sophistication of the Tube services hundreds of stations across England's Greater London Area, albeit in a cleaner fashion. Its world-class transit network is the second largest in the world, and like an old, lumbering friend, screeches to a halt for underground visits with Big Ben and St. Paul. Read more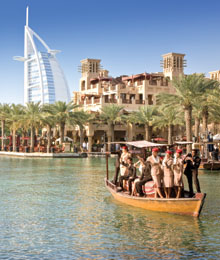 Picture the experience that comes with a first-class ticket on a giant cruise ship. Luxurious amenities span throughout your stateroom, allowing for a blissfully comfortable voyage. Now imagine the same lavish surroundings aboard a plane – exactly what Emirates offers. The airline's Airbus A380, the largest commercial aircraft in the world, has some of the most lush features for the refined flyer. Touching down for the first time in Toronto this June, media and VIP guests got a sneak peek at the double-decker, four-aisle aircraft which holds over 500 people.
Starting in economy class, each seat features more surrounding space, deeper recline, and a 23-inch widescreen television with more than 1,000 channels of on-demand movies. Read more