Pedals of Incomparable Adventure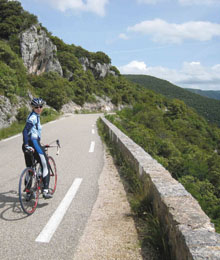 As the health and wellness industries boom, coupled with rising concerns for our planet's well-being, vacations are taking a turn for the explorative.
No matter where you spend it, a run-of-the-mill beach vacation is loosing its allure. With physical activity and eco-awareness on the rise, people are seeking new routes when it comes to the ultimate getaway. It's a trend that's picking up speed, as travellers combine bicycling with voyages to distant lands, provided by first-rate tour companies.
Whether you seek to explore the Hawaiian volcanoes or venture along Croatia's Dalmation Coast, Backroads can help. As one of the world's largest active travel companies, Backroads specializes in feature bike tours all over the globe. "I simply can't imagine a better way to immerse yourself in the life of a region; to explore hidden corners and appreciate nuances while travelling under your own power," says founder and president Tom Hale. Since the company's first biking trips 30 years ago, Backroads now offers a variety of exotic getaways, including excursions to the Incan town of Ollantaytambo in Peru and the Chorten Nebu Monastery in Bhutan.
The spirit of exploration is a key driving force behind another expedition leader like Discover France. When it comes to cycling, clients quickly discover it's the business' savoir-faire. Featuring self-guided bike tours throughout the country, Discover France provides a full network of local expertise and support to make every trip a pleasurable escape. Travellers can pedal back in time and visit the beaches of Normandy, once invaded by Allied forces in the Second World War. For the royal-minded, outings to the Loire Valley's many Renaissance-era castles promises a majestic experience. Recognized by publications like Maison de la France, the company remains one of Europe's pristine providers of adventurous retreats.
The best of both worlds comes together when explorers discover Pedal and Sea Adventures. An ultimate cycling quest unfolds with the company's imaginative guided bike and cooking tours in Atlantic Canada and Europe. "You'll encounter camaraderie, fresh air, great cuisine, wonderful inns, and if you're lucky – wildlife, too," says founder and co-owner Dana Gallant. Destinations include the snow-capped Canadian Rockies, complete with pines, elk and mountain goats. "Of course, our most challenging tours are the Viking Trail in Newfoundland and the Cabot Trail in Cape Breton," Gallant says. For buccaneers seeking extra European flair, Pedal and Sea offers tours through Galway – Ireland's cultural heart – and Sicily, a haven of Greek temples and Phoenician ruins.
With a never-ending list of places yet to be explored, the Earth remains an open field of adventure.
www.backroads.com
www.discoverfrance.com
www.pedalandseaadventures.com