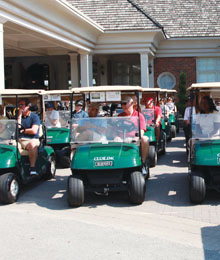 The Greater Toronto Marketing Alliance hosted its third successful Celebrity Golf Tournament: A Celebration of GTA Communities at the picturesque King Valley Golf Club in King City on Sept. 13, 2012. Over 100 guests participated and helped raise funds for the GTMA's regional efforts in attracting foreign investment and its internship program in the GTA. The GTMA thanks all tournament attendees and sponsors for their support.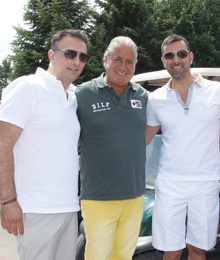 Over 20 years ago, Peter Eliopoulos, founder of byPeterandPauls.com, created Care for Kids, a charity golf tournament to raise much-needed funds for the Hospital for Sick Children and New Leaf. This year's event once again took place at the Carrying Place Golf and Country Club and it was a tremendous success, with over $1 million raised to date. Read more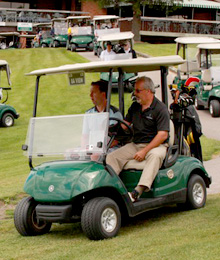 On May 31, 2012, the seventh annual ShareLife Charity golf tournament for Immaculate Conception Parish took place at the beautiful Nobleton Lakes Golf course. The sun-filled day was made brighter by the smiles and excitement of 150 golfers that joined the tournament. The lovely volunteers, amazing staff at Nobleton Lakes, a delicious barbequed lunch, special dinner and prizes made this day a huge success. This event is a great opportunity for the parish community to get together to raise funds for ShareLife, while having fun volunteering, golfing and sponsoring the event. This year's tournament raised over $30,000.
Read more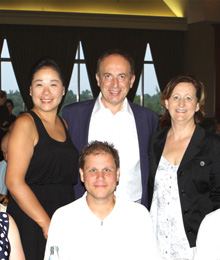 Mayor Maurizio Bevilacqua's Annual Charity Golf Classic was an overwhelming success, with more than 200 golfers raising thousands of dollars for not-for-profit and community organizations. "It is an incredible feeling to be the mayor of a city where the spirit of generosity defines its very essence," says Vaughan Mayor Maurizio Bevilacqua. Taking place at Copper Creek Golf Club on July 17, 2012, the double shotgun tournament featured hole-in-one, closest to the pin and longest drive contests, as well
as a silent auction.
www.vaughan.ca
Read more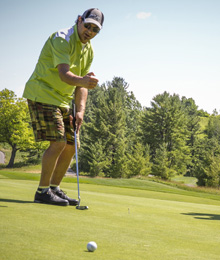 A day at Eagles Nest Golf Club was filled with friendly competition, networking and enjoyable tee stops along the way. Course stops included porchetta, spiducci, Pravda Vodka, Molson Coors, Mombacho Cigars and Pizza Nova. Each year, proceeds raised from this special event go towards assisting Villa Charities' family of organizations. The funds raised this year will benefit culturally sensitive programs for seniors at two long-term care facilities and community programs, individuals with intellectual and mental disabilities at group homes, as well as the general community via sports and cultural arts programs.
www.villacharities.com
Read more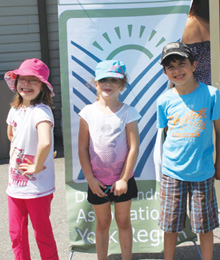 The 11th annual Rebel Golf Tournament in support of the Down Syndrome Association of York Region was a huge success, thanks to perfect weather, Glen Eagle Golf Club's amazing service, over 40 sponsors and a tireless crew of volunteers. More than 120 golfers helped raise over $10,000, bringing the grand total to almost $100,000 in 11 years. This wouldn't have been possible without organizers Aurelio Calabretta and Claudio Chiappetta.
www.dsayr.on.ca
Read more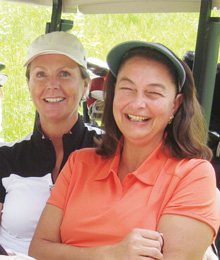 The 17th Annual Charity Golf Tournament of the Business and Professional Women's Club of Brampton was held at the Caledon Country Club this year, with over 100 participants raising funds for three charities: the Salvation Army's Honeychurch Family Life Resource Centre, Walk with Me, a human trafficking survivors program, and Buddys 'N Bows, which supports the Caring Companion Program at Brampton Civic Hospital. BPW Brampton raised over $6,000 this year for the worthy causes.
www.bpw-brampton.com Read more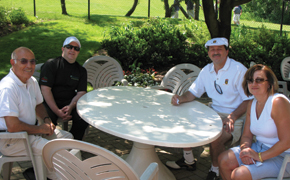 Following its 12-year trend, the Annual Monte Carlo Inns Golf and Spa Tournament was a huge success. Taking place at Hockley Valley Resort on June 8, 2011, the event raised an astonishing $22,000 for the Darling Homes for Kids – a palliative care hospice centre for children. Thanks to the generous hearts of suppliers, customers, and guests, Monte Carlo Inns is making a difference in the lives of many families. Read more
The weather was perfect for a day on the greens at Glen Eagle Golf Course in Bolton. With the help of dedicated volunteers, the first-ever shotgun start tournament was hosted. With 110 players, 22 corporate hole sponsors, and over 30 raffle prizes, $15,000 was raised for the Down Syndrome Association of York Region. This brings the grand total of fundraising to an inspiring number of almost $90,000. Read more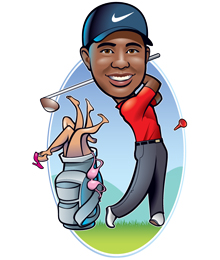 The media has successfully intertwined itself into the DNA of professional sports, an arena where previous athletes that stood tall above their sport were not as aggressively marketed as they are today. Find out how the business side of sports has broken the loyalty of the game, while influencing individuals to follow the legacy of its given leaders.
Tiger Woods
Golf is an experience that has been highlighted by many great players over the years. This refined game is the kind of experience that can take six hours out of your busy schedule without regrets. Tiger Woods has motivated new groups across the world to tap into this skilled pastime, and tune into televised golf like never before. Woods wasn't simply good for golf, for a while he was golf. Without him, the sport will never be the same. Read more