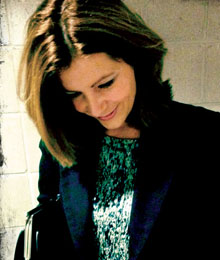 An experience that evokes agony or ecstasy, regret or satisfaction, shopping for clothes is something we all have to do. After decades of dressing people for a living, I've learned a few things that can help to heighten your experience while keeping you sane.
Define your needs. What essential piece(s) are you missing from your wardrobe, and how much are you willing to pay for it? Ask yourself what shop or boutique would most likely carry what you're looking for.
Know your body type. Sometimes this is tricky because some of us tend to focus entirely on our flaws, which leads to a distorted sense of our shape. But knowing how to wear what's right for your body type is essential to making it look its best. Attend a workshop or catch a fashion makeover show to learn the basics. Read more
Photo 1: Klaxon Howl's Queen Street West shop has managed to achieve commercial success while maintaining its Canadian roots with vintage and military menswear pieces. www.klaxonhowl.com
Photo 2: Inspired by New York City's club culture, Sid Neigum shows a dark, avant-garde collection this SS12 season. www.sidneigum.com
Photo 3: Proving that home décor and haute couture go hand-in-hand, Korhani shows off a Canadian Made Innovation SS12 indoor rug in Rabbit print. www.korhani.com
Photo 4: Korhani continues to sweep us off our feet with its innovative rug runway fashion show. Model is wearing Korhani's SS12 reversible outdoor patio rug in China Flower print. Read more
Country Strong
This V-neck cotton dress is proof that you don't have to compromise style for comfort. Jackpot's Giany dress wins big with a floral print piece that's a jean jacket away from out West. www.iccompanys.com
Sundial
Nothing to wear? Add Anthropologie's Oval Stack Necklace to your little black dress and you're ready to head out the door. The muted simplicity of this chunky piece presents the perfect solution to any wardrobe dilemma. www.anthropologie.com
From Heel to Toe
Known for creating outside-the-box pumps, renowned footwear designer Brian Atwood opens up this fall with studded peep-toe pumps. Don these delicious heels in Fuxia Suede Read more
City Life magazine helps you prepare before stepping out into in the brisk fall air.
A COG IN THE MACHINE
In a world where self-improvement is ubiquitous, author Max Barry elevates us to the wryest pinnacle with Machine Man. www.maxbarry.com
PLAY THE FIELD
Blue like the sea, this polyamide Cottonfield Marston_H jacket will look hot on those ice-cold days. www.iccompanys.com
I WANT YOU
Travel luggage that takes you through the terminal in style. Want Les Essentiels de la Vie's Da Vinci 72 HR Carry-On Read more
'Tis the season for jewel tones, velour, velvet, faux fur and mid-length skirts. Everybody wants to feel luxurious, and there is no better time than now. Textures and colour schemes of blue, purple and burgundy run the season … what else could be better?
1. The leather jacket is edgy and spontaneous – one of the most versatile items of clothing to accommodate everyone's individual taste.
2. Faux fur is a must-have in your closet. A fur vest adds such luxury to a simple look.
3. Welcome to the '40s. The mid-length-to-long skirt dresses up your legs for a soft, feminine look. Pair with a tucked-in blouse and the season's best boots. Read more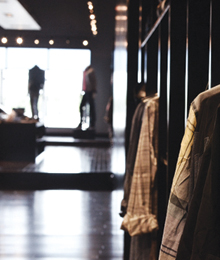 As stylish youngsters growing up in Toronto, three long-time friends knew that they often stood apart from the rest. They were the kids that were fashion-forward, the ones that people didn't quite understand. After years of experimenting with style, Asif, Arafat, Steven Nhem and Sufyan Qureshi are now the co-owners of a Vaughan boutique that caters to the sophisticated and fashion-driven male who understands that style doesn't have to be sacrificed in a world of mass-produced looks.
Named after a word that means beautiful thinking, Eunoia Jeans carries an eclectic collection of contemporary chic to vintage heritage pieces from international quality brands. Trademarks of premium clothing include the rare denim of Naked and Famous, the craftsmanship of Raleigh Denim, classic Fred Perry footwear, and favourites such as Citizens of Humanity, Read more
Get in on the fashion scene with the latest must-haves.
Colour
The fall season is looking bright – as bright as fall can be. Orange is the colour of the season, along with coffee, cedar, phlox (eggplant for the vegetarians out there), and bamboo. There's a whole range of colours to complement orange – have fun with it!
The Jean Jacket
The season's must-have item. Not the boxy kind from back in the day but a more tailored blazer-esque fit to accentuate your silhouette. Opt for a shorter crop to streamline your body and longer tapered sleeves to make this look even sexier. What's perfect about this look is its versatility – dress it up, dress it down, layer it, wear it Read more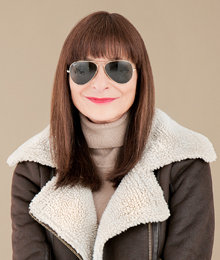 Whether we're looking at the fashion world through our televisions, computer screens or up-close-and-personal at LG Fashion Week, we often feel like we're universes away. Jeanne Beker, fashion journalist and television personality, has made the fashion realm more relatable, more understandable, and definitely more enjoyable. "The lifestyle that I lead may look enigmatic," says Beker, "but I'm always stressing how there are so many situations in my life that really have nothing to do with the high life."
Her down-to-earth persona is flawlessly translated into her very own clothing line – EDIT by Jeanne Beker.  A working mom herself, Beker understands the need for clothes that "aren't really that fussy, but still make a style statement." Her collection features clothing staples that can be mixed and matched, including her Jeanne Jeans, that now come in three different cuts and colours – deep plum Read more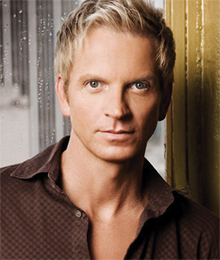 Known for elaborate beading and Swarovski-encrusted gowns, Tony Bowls continues to create dresses that turn girly girls and lovely ladies into stars. He opts for feminine designs that play with beautiful colours and flattering silhouettes.
American Idol runner-up Lauren Alaina wore his designs on the show, proving that he continues to flawlessly create for the young female consumer. This summer, Bowls will be launching his first shoe and accessory line. Looking towards celebrities like Lady Gaga and Twilight's Ashley Greene for style inspiration, Bowls has set out to create fashion-forward pieces. "It's like a whole new generation of young social customers out there," says Bowls. "They make it challenging, which is why I love it." Read more
Contagious Attitude
He's best known for his cheeky role on America's Next Top Model, but most recently he has turned the tables for his own chance to take on the catwalk. Jay Manuel debuted his premier collection as creative designer for Sears' private label Attitude Jay Manuel. He had a dose of his own medicine, and it tasted nice. Attitude rocked the runways, showcasing versatile and tailored wardrobe basics with a hint of Manuel's own attention-grabbing approach. Read more