Since the turn of the 20th century, one car company has been at the forefront of the Italian automotive industry; a manufacturer at the grassroots of Italian car racing; the enterprise that brought the Lancia name to fame; the brand that tamed Ferrari, Alfa Romeo and Maserati, and pulled Chrysler from the abyss of bankruptcy. An acronym for "Fabbrica Italiana Automobili Torino," that brand is Fiat, and with the Fiat 500 once again rolling onto North American asphalt, Canadians can finally grip the wheel of this revived iconic ride.
"The car was made to really appeal to the public, and that's what it did," says Remo Ferri, president of The Remo Ferri Group of Automobiles, regarding the original Fiat 500 that launched in 1957. "And of course, the car made so much history, in movies and so on, that it became part of the Italian style in life … It's part of the Italian heritage." Read more
Moët & Chandon champagne bottles pop as gourmet gastronomy tantalizes taste buds to the sound of a DJ pumping beats during Montreal's exhilarating Grand Prix. Infiniti certainly has a track record for hosting hot parties, adding a splash of Red Bull for a bash that takes the trophy. The global luxury automotive brand and its official partner, Red Bull Racing, invited Dolce Vita Magazine to experience the Canadian Grand Prix from a whole new perspective at the Red Bull Paddock. "I felt like I was part of the team. We had the exclusive privilege of walking the pit lanes, exploring the Red Bull Racing garages and listening in on Sebastian Vettel as he chatted with engineers," says Dolce Vita Magazine's publisher, Fernando Zerillo. Amidst the weekend events, Infiniti also hosted an intimate dinner featuring Red Bull Racing's Christian Horner and Helmut Marko at Montreal's posh La Queue de Cheval.  Read more
Mention the name Mitsubishi and most folks won't take any notice as the maker's car lineup is nondescript and essentially aims at Mr. and Mrs. Middle-of-the -Road. Mention the magical name 'Mitsubishi EVO' or 'Evolution' and suddenly ears perk up – especially from the car enthusiast crowd. This is a special car that has been designed to excel in one thing only, which is to go extremely fast from corner to corner! Here's a car that earned its street cred competing in the World Rally Championship (WRC) and has four world titles on its belt, thanks to rally driver Tommi Mäkinen.
Now in its fourth generation, the EVO is packed with the latest go-fast hardware that allows it to compete in a rarified crowd that includes Porsche 911, BMW M3, Mercedes AMG, and other supercars. Its main rival with similar performance and pricing is the Subaru STI, which is also built off a humble Read more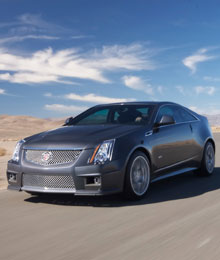 Now that the worst of the recession is behind us and consumer confidence is looking up, automakers are starting to see a recovery trend in their sales. It was widely assumed that Japanese juggernauts Toyota and Honda would be in a ripe position to capture a large chunk of new car buyers when the economy did its turnaround. These two companies have earned a solid "can do no wrong" reputation that is the envy of the industry, with products that essentially sell themselves. At the same time, the American carmakers were in crisis mode, dealing with survivability before filing Chapter 11 bankruptcy. Read more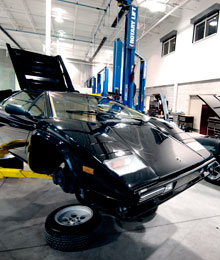 Ahead of the curve in a fast-paced market, Engineered Automotive is an invigorating alternative to traditional dealerships and maintenance centres. With its fresh, forward-looking approach, this seasoned Vaughan-based business is focused on steering consumers in the right direction.
For more than 25 years, Engineered Automotive has been providing premier service in the high-end auto segment, specializing in a large spectrum of services from body repair, upgrades, sales and tuning, to dynamometer services (torque testing), detailing, vehicle storage and corporate events. With founding partner Billy Smilovsky behind the wheel, the company has fine-tuned its customer-geared philosophy of ensuring that quality, integrity and cleanliness Read more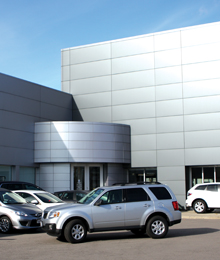 In the heart of Richmond Hill there is a dealership fuelled by a passion for automotives and reinforced by a transparent, customer-first philosophy. This dealership is Avante Mazda. And under the compassionate guidance of owner Frank Serpa, Avante Mazda has grown into one of the most trusted dealerships in Canada, and is certain to have the right car for you.
Serpa has been in the auto industry all his life. Starting in 1977, at age 15, he worked his way up the ladder from a simple clean-up boy to mechanic, parts and service manager, and eventually to owner in 1995. Raised in the industry, Serpa fostered a resolute desire for customer satisfaction. "After being in the business from '77 to now – 34 years – when a customer leaves my dealership with a car, whether new or used, and are extremely happy, I still get those little goosebumps that make it all worthwhile." Read more
In today's quest of lessening one's carbon footprint on the automotive landscape, most manufacturers tend to shy away from the full-size SUVs and offer instead downsized and improved fuel-efficient vehicles. Infiniti on the other hand, continues to play in the premium full-size body on-frame SUV segment with its second generation QX SUV. Larger and more imposing than before, the all-new QX56 boasts loud styling, big power, lots of bright work and high-end equipment to satisfy the most discerning buyers. This niche segment is made up of players from Cadillac with its Escalade, Lincoln Navigator, Lexus LX570 and the luxuriously appointed military grade-style Mercedes G-Wagon. There's other large SUVs, like the Mercedes GL and Audi Q7, which are more car-like thanks to their unibody type construction. Read more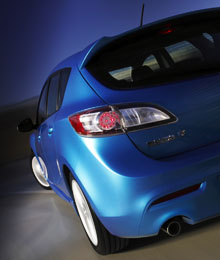 All it takes is a drive around the parking lot to know that the Mazda3 is not your usual compact econobox. The car in question is the 2.5-litre sedan with six-speed manual transmission. The snug driver's seat, sporty controls and direct steering give out clues that the Mazda3's chassis is more substantial. Well, a quick banzai run through some twisty roads reveals the true nature of the Mazda3: it's a driver's car and it enjoys an enthusiastic drive.
The steering has just the right amount of feel and feedback from the front tires and combined with the taut suspension, allows the chassis to be entertaining and fun in the corners. There's very good body control, which gives lots of confidence to the driver. Even the brakes have a nice feel for easy modulation when driven hard. Equally enjoyable is the smooth-revving 2.5-L four-cylinder that makes a nice racy growl at high revs. The throttle pedal Read more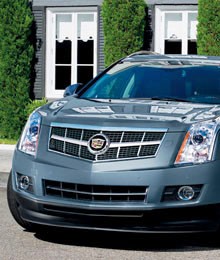 Cadillac's latest entry in the hugely competitive crossover luxury segment is the SRX five-seater crossover SUV. The mid-size luxury SUV segment includes competitors such as the Lexus RX350, Lincoln MKT and Buick Enclave. There's also the smaller Mercedes GLK and Audi Q5 to add to this group. Newly released in 2009, the Cadillac SRX designers thoroughly revised the entire vehicle from its seven-seater predecessor. Heavyset, the overall length has been reduced a parking-lot friendly 4.6 inches.
Continuing Cadillac's art and science design theme among its model lineup, the polarizing SRX crossover SUV gets noticed thanks to its sharp creases and angles that boldly stand out. Hard to miss is the huge chrome grille punctuated by a large oversized Cadillac badge resting between two huge headlights, giving the front-end a look that is unmistakably Cadillac. It looks like the stylists Read more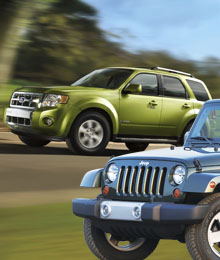 Ford Escape hybrid
SUV practicality without fuel consumption worries.
With the fuel efficiency gains of gas electric hybrid power, it wasn't long before SUVs started adopting this green technology. Ford was one of the early adopters, after Toyota, to equip its popular Escape compact SUV with a hybrid system. Ford launched the Escape Hybrid early in the decade and since then the model has been updated and modernized to its current form. Having driven the Escape on an extended trip, the 177-combined horsepower of the 2.5-litre four-cylinder gas and electric hybrid motor feels energetic and gives surprising acceleration. At one point, with no highway traffic and the gas pedal floored, the Escape impressed by reaching "hello, officer!" speeds effortlessly. The only downside was the aural whine of the engine as the continuously variable transmission Read more