Engineered Automotive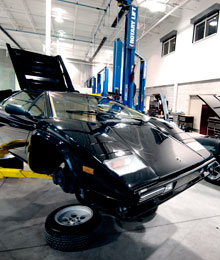 Ahead of the curve in a fast-paced market, Engineered Automotive is an invigorating alternative to traditional dealerships and maintenance centres. With its fresh, forward-looking approach, this seasoned Vaughan-based business is focused on steering consumers in the right direction.
For more than 25 years, Engineered Automotive has been providing premier service in the high-end auto segment, specializing in a large spectrum of services from body repair, upgrades, sales and tuning, to dynamometer services (torque testing), detailing, vehicle storage and corporate events. With founding partner Billy Smilovsky behind the wheel, the company has fine-tuned its customer-geared philosophy of ensuring that quality, integrity and cleanliness are at its core.
"Today, my vision of what Engineered Automotive should be is as close as it has ever been. I've always wanted a facility where everything happens under one roof: total efficiency, total value and my key beliefs applied on a daily basis in a warm, comfortable environment," says Smilovsky. As a licensed mechanic certified to work on small engines at 14 and a former crew chief for Porsche Motorsport racing, Smilovsky has always had an innate spiritedness for all aspects of the auto industry. "He's constantly thinking and expanding his knowledge and I think that our success really comes from his passion, which he passes along to his employees here," says Mark Wilkins, who oversees the company's marketing department and racetrack events.
Complementing an impassioned staff, Engineered Automotive uses advanced automotive diagnostic software that enhances proficiency and affirms that all vehicles receive outstanding service in any situation, whether it's collision repair, automotive restoration or body and tuning enhancements. "We have a very consumer-centric focus. We're well-aware of how busy people's lives are and how time-consuming it can be to get their cars maintained, so our goal is to really make the process as smooth as possible and their lives a little easier," says Wilkins, adding that every car that enters the facility receives a complimentary car wash.
To better serve the needs of Engineered Automotive's clientele, Condor Properties and Angelo DeGasperis designed and built a state-of-the art automotive facility at 355 Confederation Parkway, exclusively for Engineered Automotive. It is here that licensed technicians have the knowledge and expertise to perform upmarket maintenance across a diverse spectrum of vehicles. "We are extremely passionate about perfection when it comes to servicing vehicles. My direction is to focus on quality work, attention to detail and the confidence our customers have in us when they leave with their vehicle," says service manager Dave Tomassetti.
Along with unparalleled attention to detail, the Engineered Automotive team brings a little more exhilaration to its customers' lives annually, by hosting track events across Ontario at Mosport International Raceway, Toronto Motorsports Park and Calabogie Motorsports Park. "Engineered Automotive is your one-stop automotive facility where all of your needs can be met, in addition to always finding an exciting project on the go," says Smilovsky.
www.engineeredautomotive.com
905.660.1884