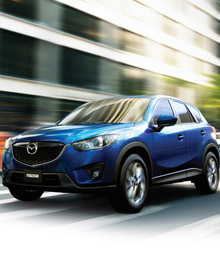 It seems like every automotive maker is racing towards the compact SUV segment as of late. It's become a crowded party, but arguably not the most exciting. Mazda is looking to change all that by tossing some "zoom zoom" into the mix with its brand new CX-5.
This compact SUV is Mazda's attempt at breathing life back into the tired Tribute, and the Japanese are giving it their all. It's the first Mazda fitted with the entire range of the automaker's new SkyActiv Technology, which includes new engine, transmission, body and chassis designs that are meant to increase fuel efficiency while strengthening safety and maintaining a dynamic, fun-to-drive feel.
Under the hood, the SkyActiv-G, 2-Litre engine powering the CX-5 delivers a modest 155-horsepower and 150 lb-ft of torque. But what really cranks heads is the engine's impressive 13:1 compression Read more
Anticipation hovers over the crowd at Maranello Fiat's grand opening celebration. Guests mingle, sip spirits and ogle the new 500s occupying the showroom floor. But it's not a car this party is waiting for – it's the man who saved Fiat, who reintroduced the beloved 500 to the world, that's on their minds. And as he's ushered through the doors of Fiat's Canadian flagship dealer, the crowd's response says it all: Sergio Marchionne has arrived.
Read more
When taking a look at automotive companies in general, it's easy to see the many ups and downs that are experienced over the years, whether the circumstances are based on economic climate, consumer taste, product appeal or financial health. As can be seen in today's fast-paced auto industry, mighty corporations that appeared invincible can easily be humbled by a variety of issues. The most compelling is when products start to lose appeal, as in the case of the Land Rover Group. Just a few years ago, its product portfolio was starting to look stale and fall behind the leaders in the premium segment. The company realized its shortfall, and has since reinvented the brand, offering appealing premium SUVs that now cover the compact premium crossover, mid-size and large premium SUV segment. The big news is the launch of the radical 2012 Range Rover Evoque premium crossover SUV, which replaces the aging Read more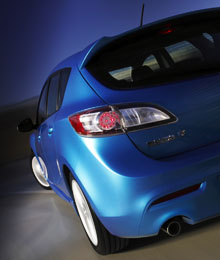 All it takes is a drive around the parking lot to know that the Mazda3 is not your usual compact econobox. The car in question is the 2.5-litre sedan with six-speed manual transmission. The snug driver's seat, sporty controls and direct steering give out clues that the Mazda3's chassis is more substantial. Well, a quick banzai run through some twisty roads reveals the true nature of the Mazda3: it's a driver's car and it enjoys an enthusiastic drive.
The steering has just the right amount of feel and feedback from the front tires and combined with the taut suspension, allows the chassis to be entertaining and fun in the corners. There's very good body control, which gives lots of confidence to the driver. Even the brakes have a nice feel for easy modulation when driven hard. Equally enjoyable is the smooth-revving 2.5-L four-cylinder that makes a nice racy growl at high revs. The throttle pedal Read more