Moët & Chandon champagne bottles pop as gourmet gastronomy tantalizes taste buds to the sound of a DJ pumping beats during Montreal's exhilarating Grand Prix. Infiniti certainly has a track record for hosting hot parties, adding a splash of Red Bull for a bash that takes the trophy. The global luxury automotive brand and its official partner, Red Bull Racing, invited Dolce Vita Magazine to experience the Canadian Grand Prix from a whole new perspective at the Red Bull Paddock. "I felt like I was part of the team. We had the exclusive privilege of walking the pit lanes, exploring the Red Bull Racing garages and listening in on Sebastian Vettel as he chatted with engineers," says Dolce Vita Magazine's publisher, Fernando Zerillo. Amidst the weekend events, Infiniti also hosted an intimate dinner featuring Red Bull Racing's Christian Horner and Helmut Marko at Montreal's posh La Queue de Cheval.  Read more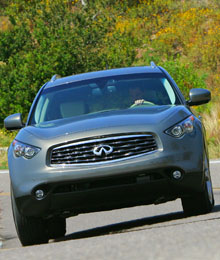 In a league of true contenders, performance matched with style of high artistic valour provides FX with a formula of necessity needed to compete. The "Performance Inspired" design of the 2010 Infiniti FX35 and FX50 is a package of fluid motion, class-leading safety and technological superiority that sets it apart from the competition.
"The combination of no-hesitation acceleration, radical design, and the handling and performance of a sports car has not been achieved by any of the 2010 FX's competitors," says Nader Maher, sales manager of new vehicles at a local Infiniti dealership.
Maher's confident Infiniti pride stems not from a sales perspective but from personal experience. He explains how he (a five-year owner of the FX brand) will be upgrading to the 2010 FX50 in the coming weeks. "You never feel insecure in an FX," he says. Read more