Avante Mazda, Richmond Hill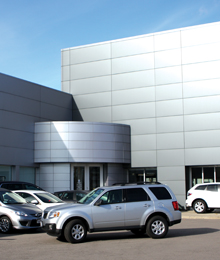 In the heart of Richmond Hill there is a dealership fuelled by a passion for automotives and reinforced by a transparent, customer-first philosophy. This dealership is Avante Mazda. And under the compassionate guidance of owner Frank Serpa, Avante Mazda has grown into one of the most trusted dealerships in Canada, and is certain to have the right car for you.
Serpa has been in the auto industry all his life. Starting in 1977, at age 15, he worked his way up the ladder from a simple clean-up boy to mechanic, parts and service manager, and eventually to owner in 1995. Raised in the industry, Serpa fostered a resolute desire for customer satisfaction. "After being in the business from '77 to now – 34 years – when a customer leaves my dealership with a car, whether new or used, and are extremely happy, I still get those little goosebumps that make it all worthwhile."
A fan of the modern design and meticulous quality control of Japanese automotives, Serpa feels the key to his success stems from repetitive business and client referrals that are based on the company's philosophy of transparency.
Serpa cuts no corners when it comes to satisfying customers. With several great promotions, including an Avante Loyalty Program that gives repeat customers half off their brake pads for life, as well as a three-to-five per cent price reduction for civil workers, Avante Mazda does what it takes to help customers afford the car they desire. "The economy made everybody shift to smaller payments so we accommodated," explains Serpa. "We've approached our banks and communicated with them properly to make sure each customer can
afford their car."
Serpa's company philosophy and phenomenal staff have also garnered the praise of the Canadian Automobile Dealer Association's president and CEO Rick Gauthier as one of the most trusted names in the car industry. "We have always been greatly impressed with him (Serpa) as an individual and with his company," says Gauthier.
"I always say, as a business owner, if I was looking for a car I would buy from my staff," exclaims Serpa. "Our staff will treat your mother the way they treat their own mother; that I can guarantee you." Stop by Avante Mazda for more on the reliable, value-packed automotives they carry, and be treated the way a customer should be.
www.avantemazda.ca
1.888.AVANTE8