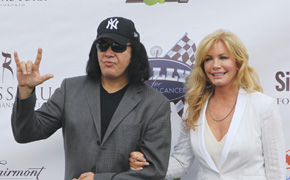 Arguably one of Toronto's most action-packed fundraisers hit the city streets this September, raising more than $3 million for the SickKids Foundation. The fourth annual Rally for Kids with Cancer Scavenger Cup's honorary co-chairs were rocker Gene Simmons and wife Shannon Tweed. "Let's not lose sight of the fact that although this is all glitz and glamour that it really is about kids who are suffering badly, immensely with cancer, and we should all do our parts," says Simmons. Read more
Moët & Chandon champagne bottles pop as gourmet gastronomy tantalizes taste buds to the sound of a DJ pumping beats during Montreal's exhilarating Grand Prix. Infiniti certainly has a track record for hosting hot parties, adding a splash of Red Bull for a bash that takes the trophy. The global luxury automotive brand and its official partner, Red Bull Racing, invited Dolce Vita Magazine to experience the Canadian Grand Prix from a whole new perspective at the Red Bull Paddock. "I felt like I was part of the team. We had the exclusive privilege of walking the pit lanes, exploring the Red Bull Racing garages and listening in on Sebastian Vettel as he chatted with engineers," says Dolce Vita Magazine's publisher, Fernando Zerillo. Amidst the weekend events, Infiniti also hosted an intimate dinner featuring Red Bull Racing's Christian Horner and Helmut Marko at Montreal's posh La Queue de Cheval.  Read more
An exclusive behind-the-scenes interview for City Life's sister publication Dolce Vita took place at the Lamborghini Toronto showroom on June 15th, 2010. President and CEO of Lamborghini Stephan Winkelmann spoke to the luxury-lifestyle magazine about the prestigious car company and the bright future that lies ahead. With these exotic cars still in high demand after an economic downturn, Winkelmann is confident Lamborghini will continue to thrive. "It's very important [to stay innovative] because these people – our customers – are fulfilling a dream when they buy a car," says Winkelmann. Stay tuned for a more in-depth look at Lamborghini in the upcoming issue of Dolce Vita magazine.
FROM LEFT: President and CEO of Lamborghini Stephan Winkelmann and co-founder of City Life and Dolce Vita magazines, Fernando Zerillo
Inventors and entrepreneurs joined in on the excitement and celebrated the launch of IBC on May 19, 2010. Introduced by Canadian entrepreneurs Steven Page and Kevin Harrington, Inventors Business Centre Canada will give businesspeople the tools they need to turn their ideas and inventions into successful new Read more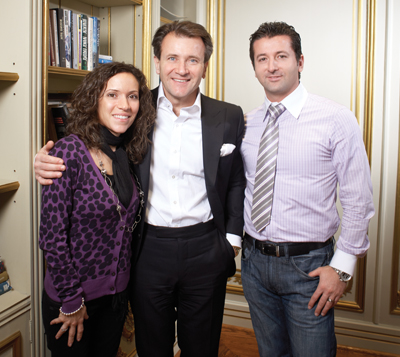 Lights, camera, action! Venture capitalist star of Dragon's Den and Shark Tank Robert Herjavec welcomed Dolce Publishing Inc.'s creative director, Fernando Zerillo, and Angela Palmieri, director of operations, into his home. Candid and refreshing, Herjavec led the Dolce crew through his sprawling Bridal Path estate, which is often the venue of prestigious fundraisers and a place where celebrities retreat. Get the whole story on Herjavec at www.dolcemag.com
Photo: Dolce Publishing Inc.'s Director of Operations, Angela Palmieri, and Creative Director Fernando Zerillo with venture capitalist, Robert Herjavec, centre.
Dolce Publishing Inc. was among the chosen few given the opportunity to test drive the new Bugatti at The Westin Prince Toronto Hotel on Oct. 15th, 2009. A $2.2 million vehicle, which boasts Read more
On your marks, get set, go! The crowd went wild as the checkered flag waved and race cars took off in support of SickKids Foundation, earning an astounding $1.4 million on Sept. 26th in an effort to end Read more
Celebrating the best in produce and organic foods, the Feast of Fields Organization is dedicated to sustaining ecological agriculture for chefs and food professionals alike. Held at the Kortright Centre for Conservation on Sept. 13, 2009, healthy recipes and cooking tips were swapped between chefs and advocates of the organization that for two decades has supported this environmental initiative. www.feastoffields.org
Left: Chef Brad Long. Right: Michael Smith, Dolce Publishing Inc.'s Fernando Zerillo and Angela Palmeri, and Michael Stadlander.