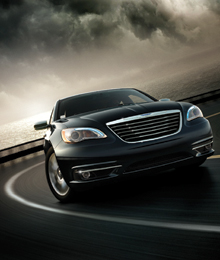 What's the quickest way to erase a past, especially one that brings nothing but bad memories? How about an identity change? Well, it seems that the powers that be at Chrysler felt a need to change the identity of its mid-size sedan and convertible models to '200,' formally known as the Sebring. This gives the heavily made-over model a fresh start with the buying public, especially after coming out of its much-publicized financial woes.
Remember the Chrysler Sebring sedan and convertible? It launched about three years ago unsuccessfully. I had driven one from a rental fleet at the time, and it was certainly clear that some serious re-work was required!
Fast-forward to today and the Sebring gets an extreme makeover in bodystyle, interior design and powertrain, Read more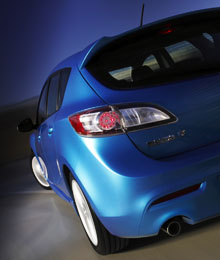 All it takes is a drive around the parking lot to know that the Mazda3 is not your usual compact econobox. The car in question is the 2.5-litre sedan with six-speed manual transmission. The snug driver's seat, sporty controls and direct steering give out clues that the Mazda3's chassis is more substantial. Well, a quick banzai run through some twisty roads reveals the true nature of the Mazda3: it's a driver's car and it enjoys an enthusiastic drive.
The steering has just the right amount of feel and feedback from the front tires and combined with the taut suspension, allows the chassis to be entertaining and fun in the corners. There's very good body control, which gives lots of confidence to the driver. Even the brakes have a nice feel for easy modulation when driven hard. Equally enjoyable is the smooth-revving 2.5-L four-cylinder that makes a nice racy growl at high revs. The throttle pedal Read more
Welcome to the chic, sleek, all-glass showroom of Northwest Lexus, located in Brampton, Ont. Whether you're looking to invest in a gas-efficient, smooth-sailing sedan or an ultra-fast sport coupe convertible, the impeccable sales service at Northwest Lexus can assist and educate you in all areas of the vehicle and pricing. Just drop in and book your appointment to take a luxury vehicle for a spin, with Northwest Lexus's new special offer. www.northwest.lexus.ca
TOP LEFT: The futuristic ladies of Northwest Toronto strike a pose next to an outstanding vehicle of what's to come. TOP RIGHT: Guests and the employees of Northwest Lexus mingle about the posh dealership, ready to network amongst their car-friendly peers. ABOVE: The all-glass showroom of NorthWest Lexus, located at 2280 Queen St. E. in Brampton, Ont.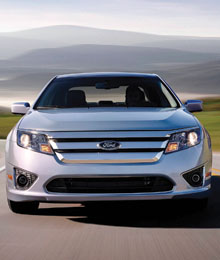 Look at a highway in any city and you'll notice the same thing – a sea of air-polluting machines. But travel doesn't have to be damaging, especially with these environmentally friendly vehicles. Read more