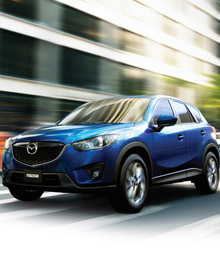 It seems like every automotive maker is racing towards the compact SUV segment as of late. It's become a crowded party, but arguably not the most exciting. Mazda is looking to change all that by tossing some "zoom zoom" into the mix with its brand new CX-5.
This compact SUV is Mazda's attempt at breathing life back into the tired Tribute, and the Japanese are giving it their all. It's the first Mazda fitted with the entire range of the automaker's new SkyActiv Technology, which includes new engine, transmission, body and chassis designs that are meant to increase fuel efficiency while strengthening safety and maintaining a dynamic, fun-to-drive feel.
Under the hood, the SkyActiv-G, 2-Litre engine powering the CX-5 delivers a modest 155-horsepower and 150 lb-ft of torque. But what really cranks heads is the engine's impressive 13:1 compression Read more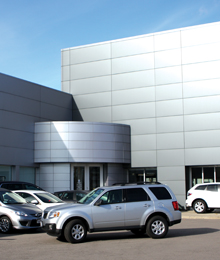 In the heart of Richmond Hill there is a dealership fuelled by a passion for automotives and reinforced by a transparent, customer-first philosophy. This dealership is Avante Mazda. And under the compassionate guidance of owner Frank Serpa, Avante Mazda has grown into one of the most trusted dealerships in Canada, and is certain to have the right car for you.
Serpa has been in the auto industry all his life. Starting in 1977, at age 15, he worked his way up the ladder from a simple clean-up boy to mechanic, parts and service manager, and eventually to owner in 1995. Raised in the industry, Serpa fostered a resolute desire for customer satisfaction. "After being in the business from '77 to now – 34 years – when a customer leaves my dealership with a car, whether new or used, and are extremely happy, I still get those little goosebumps that make it all worthwhile." Read more