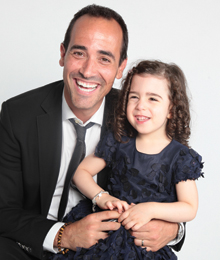 It's one of those dog days of summer, when humidity is hard to deal with and precipitation doesn't help your case, that celebrity chef David Rocco arrives at a Toronto studio. He's breathless and clammy after having had to circumnavigate a tricky maze of staircase and hallway before reaching his intended destination.
Slightly dishevelled but intact from his journey, Rocco reminds us that sometimes life isn't all apple pie and sunshine – even if others wistfully think you're living the sweet life uninterrupted. "Are you kidding? Yesterday, on my birthday, I had one of the toughest days at work – we're doing a new series – and there were some issues that came up. I have a business, a production company, and like any entrepreneur or business person, you have challenges," says the eponymous host and producer of David Rocco's Dolce Vita. "Nothing's easy. The harder you work, the luckier you Read more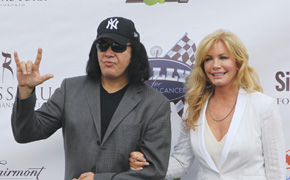 Arguably one of Toronto's most action-packed fundraisers hit the city streets this September, raising more than $3 million for the SickKids Foundation. The fourth annual Rally for Kids with Cancer Scavenger Cup's honorary co-chairs were rocker Gene Simmons and wife Shannon Tweed. "Let's not lose sight of the fact that although this is all glitz and glamour that it really is about kids who are suffering badly, immensely with cancer, and we should all do our parts," says Simmons. Read more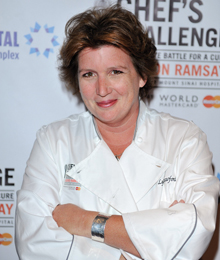 When six culinary masters enter a kitchen arena – cooking utensils at the ready – leading a team of amateurs into gruelling cooking combat, who will walk out the winner? Why, Mount Sinai Hospital, of course.
That's because these cuisine-creating warriors won't be taking up arms against each other, but instead, will be turning their blades towards cancer at the second Chef's Challenge. Six iconic Food Network celebrity chefs will gather at the Metro Toronto Convention Centre on Nov. 26, 2011, to whip up food and funds, all in support of breast and ovarian cancer research at Mount Sinai.
"I feel I have the responsibility to get involved in my community," says David Rocco, host of David Rocco's Dolce Vita, and one of six celebrity chefs competing in the Chef's Challenge. Read more
We've scoured the city, chatted with prominent people and examined the evidence, all in our attempt to unearth the source of Vaughan's allure. This is what we found.
Green Initiatives
With numerous green initiatives in place such as the Greening Vaughan program and an impressive 740 hectares of parks and acres of land ensured by the Woodlot Protection Strategy, Vaughan is committed to painting the city green. "The woodlots that you see that are speckled through our subdivisions are going to be there through perpetuity. Vaughan is one of the first municipalities in the province of Ontario to do this," says Vaughan Mayor Linda Jackson. Read more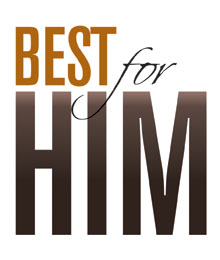 With the days getting shorter and the weather cooling down, warm your spirit with these distinctive, covetable items. Read more
This is devilishly easy. It's one of the first tings I mastered when I was a kid. I'd take my mother's tomato sauce, pour it into a large pan and heat it up. When it started to bubble, I would crack in a couple of eggs, some salt, and throw in whatever cheese we had in the fridge. Being in an Italian household, it was either parmigiano, mozzarella, percornio or (my now favourite) scamorza, which I would either slice up or grate into the pan. And all of them work well. I would turn off the heat, tear up some basil and throw that in, then put a lid over the pan and let the eggs poach in the heat of the tomato sauce. While it was cooking, I'd grab a plate and some bread for scooping up the melted smoky scamorza and tomato sauce. Within five minutes, I was having what is still one of my favourite anytime meals. Read more
Tantalizing his viewers' palates with mouth-watering dishes made with authentic Italian ingredients, David Rocco and his newly extended family escape to the Tuscan countryside for the next season of David Rocco's Dolce Vita.
If David Rocco were a dish, he'd be pasta al forno, because, he tells me, he's crunchy on the outside, and soft on the inside. It's a good comparison, since oven-baked pasta is covered in a crust of gold, which symbolizes the level of success he has received over the years.
Dressed casually in designer jeans, a graphic tee, and military-green jacket, the host/producer of the Food Network's David Rocco's Dolce Vita oozes a boyish charm and electric energy. Read more