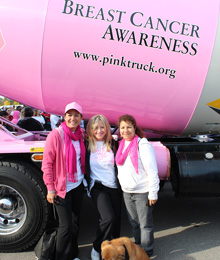 On the last Sunday in September, 62,000 men, women and children joined together at one of 22 run sites in Ontario for the Canadian Breast Cancer Foundation CIBC Run for the Cure. Participants ran for their mothers, grandmothers, daughters, sisters and friends. Their amazing efforts mean that the Canadian Breast Cancer Foundation will continue to invest in relevant and innovative research and continue to support and advocate for the breast cancer community. Together they raised $13.1 million in Ontario and over $30 million nationwide. Next year's run is taking place on Oct. 6, 2013.
Read more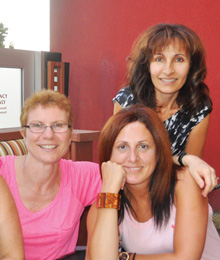 On Thursday, Aug. 23, 2012, WEGZ Stadium Bar in Vaughan rocked out in the colour pink during Rock 'N Boobs, a Plan B Promotions event. Guests enjoyed live rock music delicious food and pink cocktails while showing their support and raising funds for the Breast Cancer Society of Canada. Read more
A private express elevator glides to the 20th storey of a Cumberland Street condo, opening up to Emmanuelle Gattuso's immaculate oasis in the sky. The stark white walls of wonder act as blank canvases for contemporary artists like Tim Whiten and Barbara Steinman, leading the way to a self-fulfilling great room. It's 10 a.m. on a mid-January morning and a thick billow of morning fog is dampening the impact of 11 foot-high floor-to-ceiling windows, which on any given Sunday would offer an unrivalled Yorkvillian view.
What starts to feel like trespassing after-hours at an art gallery is quickly curtailed by the raucous voices of Gattuso's poodles, which protectively ensure that not a single soul slips by. "This is James and this is Stewart," she says, stepping out of her office. It's not what you think. While she may have a wonderful life, the pups Read more
If it makes you healthy, it can't be that bad. Singer-songwriter Sheryl Crow was living the typical rock star life – on the road touring the world as she promoted her latest hits. Her influence on the music industry became undisputable, with nine Grammy awards and other accolades confirming her talent. During that time, though, she was eating on the run, ordering off hotel room service menus, and snacking on chips and Diet Coke in her dressing room. When jolted with the shocking news of breast cancer in 2006, Crow quickly changed her tune. "My cancer diagnosis was a real game changer for me … Never once in my life had I really considered what I put into my body as having a direct connection to my wellness," she writes in her season-inspired cookbook If it Makes you Healthy (St. Martin's Press, 2011). Co-authored by produce lover and chef Chuck White, their guide to good food is packed with vitamin and Read more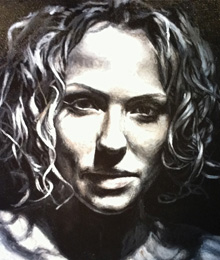 Deep acrylic paint engulfs this intense stare with shadows in Laurence Nerbonne's Les Yeux Noirs IV. This 24-year-old artist focuses on faces to create intimacy with her subjects. www.thompsonlandry.com
How do you "trash" breast cancer? With a pink ribbon garbage bag, of course. These unmistakable bags are available at select retailers throughout October, the month of breast cancer awareness. www.bcsc.ca
Using Rubik's Cubes as an artistic medium, Cube Works Studio employs unique colour combinations to reconfigure the faces of celebrities, like Elvis Presley, Marilyn Monroe and Bob Marley, in vivid ways. Read more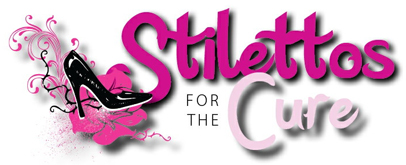 Breast cancer affects hundreds of women around us on a weekly basis. Stilettos for the Cure is an event determined to raise awareness and funds for the Heather Griffith Breast Assessment Centre on June 7, 2011, at the Class Act Dinner Theatre in Whitby, Ont. On May 30 and 31, 2011, be sure to visit the Oshawa Centre and Spare a Pair. All of your shoe donations will be a part of the auction when you attend Stilettos for the Cure. Read more

Like Vivian Maranzan – who lost her mother to breast cancer – we all wish for this disease to be a thing of the past. The Think Pink Event, held in her backyard on Aug. 8, 2009, was in support of Read more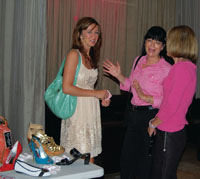 Glasses were clinking on July 16, 2009, at C Lounge, the upscale spa-inspired bar, to celebrate the fight against breast cancer. The first 50 women who wore pink received a free pair of Jessica Simpson flip-flops, along with many great giveaways, silent auctions, love and laughter. www.libertygroup.com
PHOTO: Ladies chatter and anticipate the shoe giveaways from Franco Sarto, BCBG and Jessica Simpson labels, all the while supporting a great cause!
Exposure of the human form through art is what drives photographer Caitlin Cronenberg to expose herself as an artist committed to raising awareness on breast cancer. On April 14, 2009, curious spectators hungry for food, drinks and art joined the photographer at Atelier Rosemarie Umetsu for a silent auction and a celebration of the Poser human nude collection! www.caitlincronenberg.com