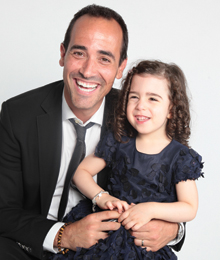 It's one of those dog days of summer, when humidity is hard to deal with and precipitation doesn't help your case, that celebrity chef David Rocco arrives at a Toronto studio. He's breathless and clammy after having had to circumnavigate a tricky maze of staircase and hallway before reaching his intended destination.
Slightly dishevelled but intact from his journey, Rocco reminds us that sometimes life isn't all apple pie and sunshine – even if others wistfully think you're living the sweet life uninterrupted. "Are you kidding? Yesterday, on my birthday, I had one of the toughest days at work – we're doing a new series – and there were some issues that came up. I have a business, a production company, and like any entrepreneur or business person, you have challenges," says the eponymous host and producer of David Rocco's Dolce Vita. "Nothing's easy. The harder you work, the luckier you Read more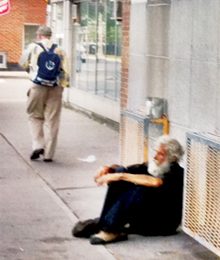 South of Toronto's Queen Street, at Shuter and Jarvis, an elderly man is tickling the ivories to the tune of Freddie Mercury's Bohemian Rhapsody. He isn't singing along, but it's easy to hear the lyrics as he pours his soul into the second floor of The Good Neighbours' Club. Is this real life? Is this just a fantasy? The windows are slightly cracked, letting a grand talent anonymously infiltrate the outside world. Based on the crowd he's garnered, there's a sense that this centre for homeless and marginally housed men over 50 offers a lot more than food and shelter.
The Piano Man is surrounded by some of the city's most imaginative minds: members like Ronald Reeve who joined in 2004 and spends his days drawing cartoons and comics that highlight socio-political issues within his community. His preferred pen is sparkly, but specialty ink is running low these days. Read more
When David Chilton self-published The Wealthy Barber during the economic slump of 1989, he had an unassuming goal of selling 10,000 copies and helping Canadians live fiscally solvent lives. The 25-year-old did slightly better. Chilton's humorous approach resonated with more than two million North Americans by breaking the banal textbook paradigm of personal finance paperbacks. His common sense hit an entire dartboard of demographics, with a novel style that made readers feel like they were having a latte with a financially savvy friend who spoke colloquially about credit cards, real estate and RRSPs.
You can imagine the surreal experience of enjoying that cup of coffee with Chilton a day after the official launch of his long-awaited follow-up, The Wealthy Barber Returns. The conversation coincidentally takes place amongst a backdrop Read more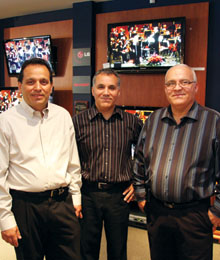 Clusters of plaques and certificates line the walls of Audio One's impressive store, evidence of its audio/video expertise and commitment to staying on top of new trends in home entertainment technology. A charming black and white portrait of the D'Ascanio family also hangs from the wall of a meeting room, alluding to the origins of the company. In the photo, the D'Ascanio brothers, Anthony, Carlo and Gino, are surrounding their late father. The passing of their dad in 1985 acted as inspiration for the brothers to unite and found Audio One, one of Canada's premier specialty retailers. "Audio One has been in business for 23 years, since 1986. We're still a family-run business. And it really came from a passion for audio/video," says Gino D'Ascanio. "I think one of the best things about working with family is that there is a high level of trust and confidence in each other. We've been at it so long, we've each found our own niches within the company." Read more