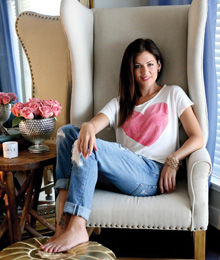 Interior designer and former Bachelorette star Jillian Harris lives life by love and design.
Q: What led you to pursue a career in interior design?
A: My family has always been very crafty and into design — well, my mom, mostly. She owned a few home décor and design stores when I was a kid and I always remember being so fascinated with moving my furniture around, decorating my room and thinking of fun colour schemes. Growing up in a small town in northern Alberta, a career as an interior designer wasn't really an option. It wasn't until I moved to Calgary and was juggling a waitressing job at Cactus Club and a retail job at Caban that I fell in love with the idea of being a designer. Shortly after, I applied to be the executive assistant to the creative director of Cactus Club and it was then that my career in design was born. Read more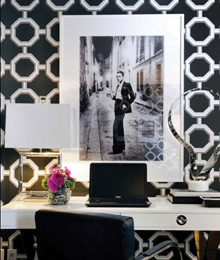 Unwind in a beautiful space full of colour and surrounded by art.
1. HOME IS WHERE THE HEART IS The award-winning firm Atmosphere Interior Design is known across North America for its striking work and visionary team. Using rich textures and bold furniture, designers Trevor Ciona and Curtis Elmy join project manager Heather Whyte to make clients' dreams of a beautiful home come true. www.atmosphereinteriordesign.net
2. A LONG SHELF LIFE Choose a shelving unit that also stands as an art piece. This Chicago 8 unit is available in a variety of hardwood finishes and beautifully complements a modern home. www.urbanmode.com
3. TIME AFTER TIME 1212 Décor in Toronto will give you timeless interior design. Offering home consultations and a spectacular showroom Read more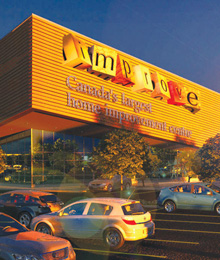 It's not surprising that the man who's spearheading one of Canada's biggest retail projects is in high demand, but the sound of Oleg Chekhter's cell phone ringing for the eighth time in less than an hour solidifies it. Dressed in a pinstriped navy suit, the retail industrialist is relatively relaxed, despite the fact that he's standing on over 300,000 sq. ft. of impending innovation. "We're lucky that we got this place," he says of the Vaughan structure, which sits at the nexus of Highway 407 and Keele Street. Chekhter and his two partners' vision for Improve — the nation's largest home improvement centre — will materialize in the summer of 2013.
What stemmed from Chekhter's personal frustration in renovating his own properties evolved into plans for a full-service centre that will act as a beacon of light for fellow homeowners who lose time and money through improvement ventures. No longer will consumers have to Read more
Our natural landscape is our best resource when it comes to inspiration, especially with colour. Neutrals are often considered exclusively to be white, grey, cream, brown, and even black, but there are other hues nature offers, and it's time to incorporate them back into our spaces.
While decorating with neutrals can be a very chic approach to design, you also need to make sure you don't create a room that feels bland or boring. What if neutral colours didn't have that boring connotation attached to them? What if neutral colours weren't just shades of cream and grey? Can you extend neutrals into other colours? The answer is yes, because a neutral colour helps to balance and create harmony with dominant hues. Read more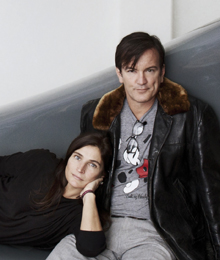 Before a basketball court on a roof of a five-storey home in Lower Manhattan could echo its first slam-dunk, a building in a parking lot was knocked down so that a crane could hoist the quadrangular concept onto the structure's crown. The ambitious project was coined by an eclectic pair of New York-based designers and lovebirds, who gutted the former gun-shop to make room for a renovation of rustic finds, Grecian floors, French doors and their fledging family of nine. Successfully flipping properties for exorbitant profits is nothing new for reality TV stars Robert and Cortney Novogratz, who have re-nested five times in seven years. They have since transformed a motorcycle garage into their new home, an über-hip yet kid-friendly townhouse that doubles as their office. While the lens of a camera has catapulted a family of unique proportion into the public eye, it has also captured the true essence Read more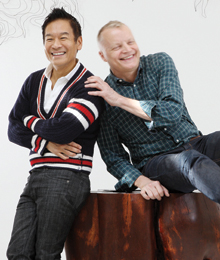 If you've ever had a nightcap at the W Hotel in Times Square New York, sipped a Lipstick Martini at Toronto's Bymark, waltzed into Tiffany & Co. on Wall Street or snagged a bag at Louis Vuitton, Hong Kong, then it's fair to say you've already shaken the figurative hands of George Yabu and Glenn Pushelberg. With their innovative personalities strewn like rose petals across the interiors of international landmarks, this interior duo has become globally known for leaving its 21st century signature on every space. "No matter what type of project it is, interiors should evoke an emotion," says Pushelberg, who speaks for one half of the award-winning Yabu Pushelberg design firm.
There's another reason why their names might ring a bell. The ambitious partners were commissioned to design the entrance lobbies, spa, ballroom, conference facilities Read more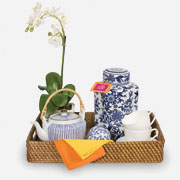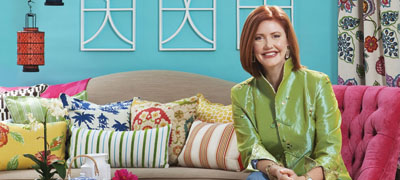 Known to more than two million readers as Canadian House & Home magazine's former editor-in-chief, Cobi Ladner is turning her inherent design adeptness into something slightly more tangible. Read more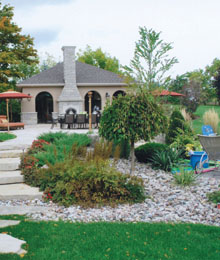 Whether you're hosting a sunset soiree, charming luncheon or lolling the heated days away in a getaway garden, you can release your natural instincts in the privacy of your own backyard. Read more