Elvis Stojko: Ice King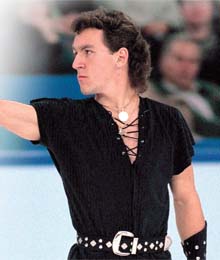 Elvis Stojko is peering out of his office window, directing his gaze towards Mexico's shimmering Lake Chapala. Surrounded by lush Sierra Madre mountains in the town of Ajijic, Jalisco, the Canadian-born ice icon has found his home in a hacienda-style estate that's more than 5,000 feet above sea level. "You pretty much see the sun every single day," he says over the phone, revelling in the dry heat he's become acclimatized to over the last 11 years. In the cottage country community of 15,000, Stojko has found the warmth and seclusion he's always craved. "Living life here is very relaxed in a way," says the three-time world figure skating champion, who savours the anonymity his celebrity rarely sanctioned on the streets of Toronto. It's been a decade since Stojko officially left the competitive realm, but as he reflects on his remarkable career and the personal and professional spin-offs it elicited, there's a sense the word retire will never be in his lexicon.
The 40-year-old, whose blades first sliced the ice when he was four, captured Canadian audiences with his unconventional charisma and outspoken opinions, yet he can't aim a dart at just one bull's-eye benchmark that stands out as his most memorable. "Oh my gosh," he says, sweeping the corners of his mind to find the right feat. "Making the world team back in 1990 was huge because I was only 17 and I came out of nowhere," he begins, segueing to the clean program he delivered at the Canadian championships that same year: "I'll always remember that skate in Sudbury." One stride at a time, he started seizing world titles and Olympic medals, breaking records in-between by landing the first-ever competition quad-double and quad-triple combinations in '91 and '97. "It was crazy, it was just so intense and I just put it all on the line," he says of the latter accolade, which he nailed at the sold-out Grand Prix finals in Hamilton. "I could have just went for the win because I was first after the short program, but I said, 'no, let's do this, let's risk it all.'"


But the juggernaut's adrenaline-drenched tone dilutes as he transitions to the bittersweet Olympic Games of Nagano '98. "There's some point in an athlete's career where they have to go through something pretty traumatic along the way," Stojko says of the severe groin injury that tested his mettle. He persisted despite the pain and found his silver lining with a second-place finish after a gutsy, near-flawless long program that commentator Scott Hamilton deemed "one quad from clean." When he finally made it to the kiss-and-cry area, Stojko clenched his fists, squeezed his eyes shut and doubled over in anguish. "I am content with what I did," he says, "to win it, yeah, that's something that would have been nice but I know in my heart that if I wasn't injured, that was an absolute possibility."
Stojko's best friend and martial arts coach, Glen Doyle, who worked with him during the pivotal '90s, has witnessed the wunderkind's wave of highs and lows. "To skate with a groin injury, that is the most painful, excruciating thing, and for him to do what he did on that leg? I just shake my head, it's unbelievable," says the man who Stojko credits as his secret weapon. "He had that cerebral strength and focus that just pushed him through and it wasn't inhuman but it was probably as close to an inhuman sense of strength that I've ever seen." Limping to the podium to accept his medal, roaring fans brandished Canadian flags and lionized Elvis as king.
His resilient enamel can be traced back to the early years. Growing up as a male figure skater in the '80s wasn't easy for the Newmarket native who was raised in Richmond Hill. "I used to get teased all the time. You're always getting picked on because you're not playing hockey," he says. That was until his high school classmates spotted him on TV and realized they were in the presence of a rising star, someone who had the capacity to become one of the most astonishing athletes in Canadian history. "You start because you want to do it, then later on you realize your coaches and the people working with you are like, 'yeah, you've got talent,' and you start improving and then you see yourself passing people and getting faster and faster, stronger and stronger, better and better and you realize, 'you know what? This is a possibility.'" By the end of his senior year, his entire class surprised him by filling the stands at nationals in Sudbury. "It was amazing," he says, grateful that the sport has grown to better embrace both genders.
Stojko has always viewed success as a perpetual ring — an infinity with no finish line. "He's not a stationary object, he has to be a rolling stone, he has to be in constant motion whether it's mentally, physically or spiritually, that's just the way he's made," says Doyle, Canadian kung-fu champion and founder of Doyle's Martial Arts in Milton. Once his on-ice milestones were etched, Stojko began sharpening his singing, acting and, more recently, racing skills. "Ever since I was a kid, I've loved anything with motors," says Stojko, who heads from the rink straight to the track to practise almost every day. Applying no less pressure than any other enterprise he's pursued, race-car driving is a passion he's mastering at a fast pace and eventually plans to turn into a full-time career.
Switching gears, he gushes about his bride, Gladys Orozco, who ardently supports his endless endeavours. The pair locked eyes nearly four years ago at a competition in Orozco's hometown of Monterrey, Mexico, where she's become a household name for her status as a national figure skating champion. "I saw her and I was like, 'I have to meet her,'" he says of the love-at-first-sight scenario. Later that day he traipsed up to the Juliet balcony to find her again, but before he could, the statuesque brunette tapped him on the shoulder and ignited a conversation that led to dinner that night. "There was an instant connection."
His spontaneous persona was in full swing when he popped the question a year later. "We were at home, already in bed, and he asked me, 'Are you sleeping?' and I said, 'Almost, why, what's up?' and he said, 'Will you marry me?'" recalls Orozco, noting it was 2 a.m. at the time. "It just happened. That's how Elvis is and I love it." That weekend they jetted to Las Vegas and said "I do" in an intimate, impromptu, Stojko-style ceremony.
These days, in addition to the rays, Stojko is soaking up the opportunities that radiate from a post-Olympic existence. Travelling to Ontario this December to kick off a circuit of Stars on Ice shows featuring fellow Canadians Kurt Browning, Joannie Rochette, Jeffrey Buttle and Patrick Chan, he'll be doing what Doyle says the boy wonder does best. "He was always proud that he got so many different types of people watching skating. He didn't mention it a lot, but the fact that he was able to get somebody from a dance instructor to a construction worker to sit down and watch one of his programs, that's his secret gold medal."