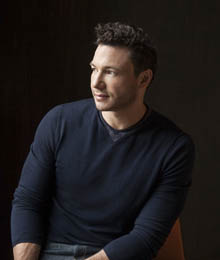 There's a sizzle of spirit spilling through a Vaughan Chapters, and of its endless rows and stacked tables of literature, the open book is Rocco DiSpirito. He's walking in brown leather shoes and fitted in an olive zip-up, weaving through a fidgeting crowd. A woman brazenly shouts out a dinner invitation to him, and he presses a mic to his mouth. "Buy a book or give me a hug," he deadpans. A shameless grin spreads across her face as he wraps his arms around her. The audience inches close.
The American celebrity chef and bestselling author from New York City is in town to promote his latest cookbook, and while expounding the virtues of healthy food, he's unabashed when confessing an erstwhile sweet tooth for saccharine cinnamon rolls. "I had an addiction to Cinnabon — it was harder to break than my crystal meth habit," he jokes, the crowd doubling over in a fit of laughter. Continuing to quip and cajole and lightheartedly lecture on Japanese kale and kamut, he concludes his visit with personalized autographs and photos that stream through the Twitterverse.
However comfortable he appears to be in his own skin, DiSpirito surprisingly had difficulties achieving a level of assuredness that leaves audiences enraptured.
A few meals before, at Alimento Fine Food Emporium in Toronto, he's sipping on espresso at a table tucked away from the lunch crowd. Vividly recalling his early days, the cordon bleu cook, food show host and former culinary judge was once gripped by self-consciousness. "I have to tell you of the days I was frightened over my own shadow. I used to practise Today segments in the private dining area of my restaurant: a host would play Matt Lauer and a hostess would play Katie Couric. When you have to be yourself on TV, the anxiety of worrying whether that self is the self everyone will like just gets to you." He moderates the disclosure with a bon mot, his modus operandi. "I take medication now, so it's much better." At 46, his charm braises in a drum of alacrity.

Read more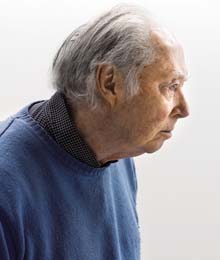 It's tough to keep up with Michael Snow. The 84-year-old juggernaut of art, who over the years has entranced the public imagination with such iconic works as the odyssey of grandiose geese in Flight Stop at the Eaton Centre, the sculptural gazers that toast the facade of the Rogers Centre in The Audience and the landmark film Wavelength, continues to provoke and stretch artistic paradigms in Canada and beyond. Unrelenting in his ability to transform and shape our visual perceptions of art, his current master strokes include "Objects of Vision," an exhibit at the Art Gallery of Ontario (AGO), In This Way, a video installation featured in the National Gallery of Canada's exhibition "Builders," and a glowing canvas display that will climb its way up the Trump Tower in Toronto, illuminating a spectrum of light and Snow's innovation and resilience. With works housed in prestigious galleries the world over, the thriving, decades-long career of Snow is a portrait of his permanence. The pluralist sees beyond single artistic realms, comfortably drifting through mediums, flowing through time with experiential art as new and relevant today as if unveiled decades ago.
What inspired you to create the 14 works that constitute "Objects of Vision," your exhibit on display at the AGO?
It's an assembling of works from various periods. I won the Gershon Iskowitz Prize, and one part of it is that you can have an exhibition at the AGO. And for many years I'd been thinking about attempting to bring together these separate sculptures that had been made at different times. The Gershon Iskowitz Prize was an opportunity to finally bring them all together and see what they kind of said to each other.
Read more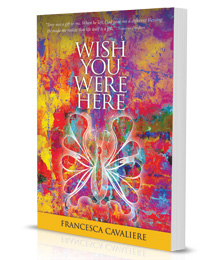 On a winter afternoon in 1998, she slowly climbed the staircase of her Vaughan home and wandered into her son's bedroom. Save for a bed and dresser drawers, the space that surrounded her was bare, the floor once strewn with belongings and the air once ripe with the familiar musk of men's cologne now thick with emptiness. The vacuity of it all and the reality of its perpetuity weighed heavily on her chest, dragging her to the floor in a thunderstorm of tears. Cocooned in despair, all she could do to not fall backwards was to look upwards. And that's when she saw it: a butterfly, on a winter afternoon in 1998, resting its wings on a picture frame fastened to the wall. An inconceivable sight, perhaps, until you learn of the tragic narrative of loss and courage by first-time author Francesca Cavaliere. Wish You Were Here, which will be released in fall 2012, reveals the true story of an ordinary Vaughan family bereaved by suicide, and how hope got them through the days. The photograph inside the frame on the wall was of her son.
Antonio (Tony) Cavaliere was the embodiment of cool at school, a big-brother protector, dutiful but occasionally rebellious. For someone so young he had big dreams: to marry his long-time girlfriend, to invest in real estate, to expand his education and secure a stable job. He'd been a hockey player, his aptitude and sportsmanship awarded with trophies and ribbons. He had been a patient coach to a children's hockey team. He laughed often. At school and at work, he formed deep friendships, and his charm and good looks didn't go unnoticed with the opposite sex. The bond he had with his younger sister Lisa was apparent, strengthened by their shared interests of music and family values. Every December, they looked forward to their annual tradition of selecting a tree to decorate. But Tony wouldn't make it to Christmas in 1997. Despite the love and support of friends and family, and the resources of help available, he suffered in silence. Overcome by major depression, Tony died by suicide in October of that year. He was 24.
According to the Centre for Addiction and Mental Health (CAMH) in Toronto, some form of mental illness will affect one in five Canadians each year, with anxiety or mood disorders, including depression, affecting 12 per cent of the population. Hopeless and helpless, those that turn to suicide see no other way to escape their pain. The Canadian Mental Health Association (CMHA) states suicide as the second leading cause of death in the 15–24 age group.
"After that day, there was a painful, empty air in the house, as though it knew that something was missing. Tony wasn't there, and he was never coming back," writes Cavaliere in her book. The months that ensued brought forth profound stages of grief, causing her to barely attend social functions for close to two years. On the night of Tony's funeral, while sitting on her front porch surrounded by her son's friends, she vowed to take action once she was healed. She turned to the faces of the young men around her and promised to write a book that would raise awareness and acceptance of mental health issues, and offer hope to families coping with what the World Health Organization (WHO) recognizes as a public health problem and a major source of preventable deaths worldwide.
Figures compiled by the coroner's office reveal that the number of deaths due to suicide across Ontario was 1,143 in 2011. Nine of those deaths occurred
in Vaughan.
The release of Cavaliere's book this November comes at a time when families coping with suicide loss are more forthcoming with their experience than they were 15 years ago, and a time when the stigma of asking for support and comfort — which can present a major roadblock to diagnosis and treatment of mental illness — has fallen by the wayside. "We are often afraid to talk about mental health, we are often afraid to talk about suicide. And the reality is that we all have mental health," says Alisa Simon, vice-president of counselling services and programs at Kids Help Phone. While the national, free and confidential 24-hour telephone and online counselling service offers support to youths struggling with their emotional and mental health, it also encourages young people to talk to their loved ones. "We need to know that it is OK, and it is in fact appropriate to have conversations with the people that you love in your life." A recent evaluation measuring the nature of calls to Kids Help Phone received between the years of 2010 to 2012 points to a slight increase of contact surrounding the issue of suicide, adds Simon.
Kids Help Phone recognizes that family, school and societal pressures that increase during adolescence create a stressful environment for a young person with little life experience. When faced with dramatic change and mental health struggles, young people are put at risk for suicide. "If it happened to us, it could really happen to anybody," says Toronto resident Eric Windeler, who lost his bright, well-adjusted 18-year-old son Jack to suicide in 2010 while he was enrolled in his first year of university. "Jack was able to hide it very well when he was at home. I believe that was because he was happy and felt safe at home and he was away from what was giving him that pain, but in talking to some of the people at school shortly after Jack passed, there were signs." The CMHA website includes apathy and withdrawal, depression and hopelessness, a preoccupation with death and a previous attempt at suicide as warning signs to look out for. While women have a higher rate of suicidal behaviour, males die by suicide four times more often.
As the volunteer lead at The Jack Project at the Kids Help Phone, a school outreach pilot program promoting mental health in young adults, Windeler says that parents must delve deep when establishing lines of communication with their children. "If you see a change in behaviour, you need to follow your instincts, and if you can't look into it yourself and get a little more reaction, you need to see what you can do to have someone who is close to that young person have a conversation, and maybe that's a roommate at college or a university [residence] don or maybe it's a favourite uncle or aunt. You really need to take it upon yourself to ensure that those conversations are happening to the best of your ability, so that you can get at what's really happening and allow that young person to share their feelings."
Families that have lost someone to suicide undergo a profoundly different grieving experience due to the intentional and preventable nature of the loss. Seeking professional help or attending a bereavement group proves critical in the healing process, while also providing a safe place to air psychological and emotional issues.
The butterfly resting on her son's picture frame reminded Cavaliere that while Tony was gone, the memory of him would continue to be a part of her life. Windeler describes his life today as one where Jack is always with him. "The presence — if you can call it that — the awareness, is literally always there until the minute you're able to get to sleep. I've often described it as something just out in front of you, just maybe off to the left. That's where it is for me."
"After all these years, I wake up every morning with a heavy sense of sadness … [but] I've learned that we are in control of our days," writes Cavaliere, who hopes the release of Wish You Were Here will encourage readers to open up about a once-taboo topic. "You're the only one who can make it a good day or a bad one, and if you put your mind to it, you'll shape every day into something spectacular."
---
A portion of Wish You Were Here's proceeds will be donated to the Suicide Studies Research Unit, the Mental Health Service, at St. Michael's Hospital in Toronto.
For young adults seeking help and support, or to donate to the community-based national charity, go to www.kidshelpphone.ca
For family education groups offering community resources, mutual support and guest speakers provided by the Canadian Mental Health Association serving York Region, call Central Intake at 905-853-8477
www.cmha-yr.on.ca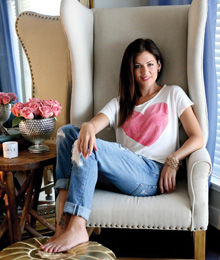 Interior designer and former Bachelorette star Jillian Harris lives life by love and design.
Q: What led you to pursue a career in interior design?
A: My family has always been very crafty and into design — well, my mom, mostly. She owned a few home décor and design stores when I was a kid and I always remember being so fascinated with moving my furniture around, decorating my room and thinking of fun colour schemes. Growing up in a small town in northern Alberta, a career as an interior designer wasn't really an option. It wasn't until I moved to Calgary and was juggling a waitressing job at Cactus Club and a retail job at Caban that I fell in love with the idea of being a designer. Shortly after, I applied to be the executive assistant to the creative director of Cactus Club and it was then that my career in design was born. Read more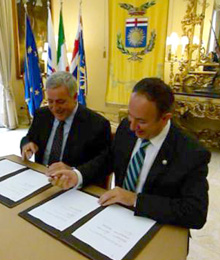 With an objective to establish close relationships with cities that have similar goals, Vaughan Mayor Maurizio Bevilacqua signed a memorandum of understanding with Guido Podestà, president of the Province of Milan, Italy. Effective in three years, the memorandum will promote a mutually beneficial exchange of information, sport and culture. The signing ceremony was held in the capital of Lombardy, marking the beginning of a business relationship between the Province of Milan and the City of Vaughan.
Mayor Bevilacqua looks at Milan as "the gateway for innovation, entrepreneurial activity and business into Italy and the European Union." Because of this positive outlook, he believes the bilateral agreement will benefit Vaughan greatly, giving the city the ability to pursue economic opportunities.
Read more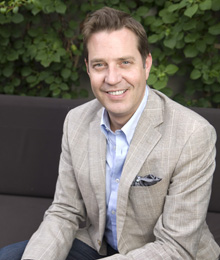 If you ever get the chance to experience an orchestral performance, your perception of what music is supposed to feel and sound like will suddenly be heightened to glorious proportions. Music — every note and bar of it — has always played a part in the life of virtuoso Steven Reineke.
On the rooftop patio at The Spoke Club on King Street West, City Life Magazine sat down with the charismatic symphonic composer, arranger and conductor to discuss what the city of Toronto sounds like, and what he hopes to bring to the mix.
Q: How does it feel to be the Toronto Symphony Orchestra's (TSO) newly appointed, first principal pops conductor?
A: I'm really excited. It kind of feels like we've been dating for about 14 years and just got married: I made my debut here back in 1997, Read more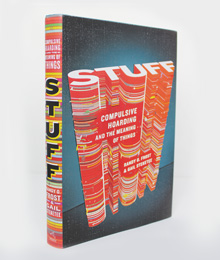 At a Second Cup on the corner of King West and John streets, Carol* sits across from me at a back table in a black blazer and white blouse, her dark jeans pulling the look together in a smart-casual sort of way. She's somewhat tentative, looking down before making eye contact, sipping on the chilled green tea before her while carefully revealing pieces of a story that many are too ashamed to tell. She flips her cellphone intermittingly, taking a call, checking the time, not wanting to be away too long from the design firm where she works as an interior designer with a penchant for simple spaces. And yet herein lies the disparity: this shipshape woman – blond hair bordering flushed cheeks and an emerald gaze, lined precisely with eyeliner, framed with dainty eyeglasses – can't do for herself what she does for others. Her home instead is a blueprint for an underground psychopathological design: Read more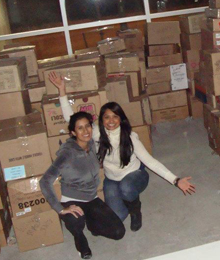 Rena Sangha and Pawan Sahi of Project India rejoice after packing clothing items at a storage space in Brampton. A group of volunteers spent their holidays with Sangha and Sahi to organize and complete the collection of clothing items, which will be shipped to those living in India who are in need of these donations.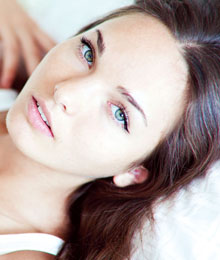 Branché – Pillow Talk
Smother unsightly facial lines and bad hair days with a Branché silk pillowcase. Infused with amino acids and copper, this gentle-to-the-touch beauty aid minimizes skin damage and frizzy morning hair. www.aulitfinelinens.com
L'Occitane – Bright-Eyed Girl
Gently pat this luxurious balm around your eye area before going to bed and when you rise. Dark spots, puffiness and the inevitable crow's feet don't stand a chance.
ca.loccitane.com
Read more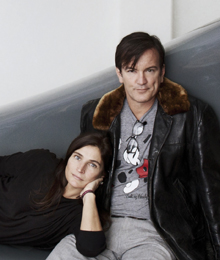 Before a basketball court on a roof of a five-storey home in Lower Manhattan could echo its first slam-dunk, a building in a parking lot was knocked down so that a crane could hoist the quadrangular concept onto the structure's crown. The ambitious project was coined by an eclectic pair of New York-based designers and lovebirds, who gutted the former gun-shop to make room for a renovation of rustic finds, Grecian floors, French doors and their fledging family of nine. Successfully flipping properties for exorbitant profits is nothing new for reality TV stars Robert and Cortney Novogratz, who have re-nested five times in seven years. They have since transformed a motorcycle garage into their new home, an über-hip yet kid-friendly townhouse that doubles as their office. While the lens of a camera has catapulted a family of unique proportion into the public eye, it has also captured the true essence Read more