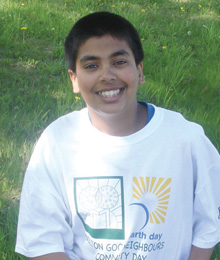 Putting in 1,000 hours of volunteer work may be 25 times the required amount for most high school students, but for 14-year-old Harnoor Gill, offering a helping hand is a pleasure. With a lengthy charity record ranging from environmental causes to welcoming young immigrants to Canada, this young activist from Georgetown, Ont. has gathered a collection of experience and wisdom that exceeds his years. "Sometimes it can be hard," he explains, "but I have my parents to support me. I believe volunteering is just a good thing to do, just reaching out to others."
Though he has a heart for all different forms of charity, Gill is particularly passionate about the environment. He is actively involved in P.O.W.E.R. (Protect Our Water and Environmental Resources), a not-for-profit environmental protection organization. During the 2011 Diwali Festival, he shared his earth-loving ideas through a collection of articles, inspiring others to think innovatively for the sake of our planet's health.
All this extracurricular commitment means an overload of work for this teen. When asked what energizes his philanthropic spirit, Gill says he hopes to motivate other young people to get involved, too. "My overall message to youth is that age is not a barrier," he says. As a volunteer who began his journey at the age of three, selling cookies door-to-door in his native Hong Kong town, Gill has certainly become an inspiration not only for youth, but for all ages.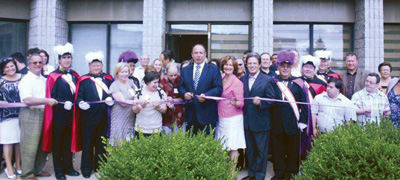 On Aug. 25, 2011, Alternatives Integrating People with Cognitive Challenges held a grand opening for its new office and day program space. Alternatives is a registered charitable organization that provides day support for adults with a developmental disability. Participants of the program are provided Read more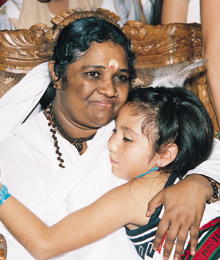 As I'm motioned towards the floor, pleasantly asked to kneel behind other huddling devotees, the overwhelming tempest of activity swirling around this single individual sparks mixed emotions of apprehension and exhilaration. Crowds of believers, both young and old, have descended on Toronto's Doubletree by Hilton hotel, all to bear witness to the worldwide spiritual leader now sitting before me. The woman known as "mother;" the woman now offering me her embrace: Amma.
It wasn't until I casually strolled into the congested lobby, however, that the scale of the night's event actually revealed its weight. A seemingly endless line of chatter and anxious anticipation filled the foyer: a mass congregation for Amma's Devi Bhava, and the final night of her 25th North American tour. Read more
On Oct. 2nd, 2009, Hospice Vaughan celebrated an evening dedicated to giving thanks at Le Parc Banquet Hall. Honourable guests included member of Parliament Maurizio Bevilaqua and councilor Read more