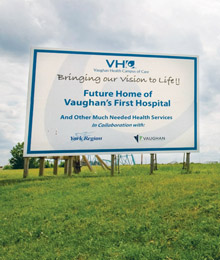 An enormous promise is entrenched in an otherwise vacant 35-hectare field at Major Mackenzie Drive and Jane Street. "Future Home of Vaughan's First Hospital" reads the conspicuous blue and white sign that's weathered a few more storms than expected. In the background, the vibrant colours of Canada's Wonderland offer a unique parallel to a far less amusing theme: for the City of Vaughan, it's been a roller-coaster ride to the realization of a premier health-care facility.
The ups and downs were set in motion in 2003, when Vaughan Council decided it was time Canada's largest municipality without a hospital finally built one. The city has swelled significantly since then, yet it's faced with an empty stretch of land, a recently relinquished health-care foundation, a contentious $10 million federal grant that's slipped out of grip and a sign that's getting stale. With a major player
Read more
Q: Is being mayor of Vaughan everything you expected after 22 years in federal politics?
A: Actually it's a lot more, it's more exciting than I thought it would be. The issues are issues that touch people in a very real way every day, whether they are related to seniors, recreation, or dealing with transit and traffic, and economic development. I think the most exciting part about politics today is the evolution of cities – they are becoming the magnets for investment, creating jobs, providing the quality of life and standard of living for the people – it's been a very fascinating experience. I'm really happy that I came back to the city of Vaughan to take on this role because this is a city where many things are happening. We have a new subway coming up, we have the future development of a downtown core, we're going to see many exciting things occur in the area of culture, sports, the arts, and it speaks to a dynamic process that is taking place in this Read more
We've scoured the city, chatted with prominent people and examined the evidence, all in our attempt to unearth the source of Vaughan's allure. This is what we found.
Green Initiatives
With numerous green initiatives in place such as the Greening Vaughan program and an impressive 740 hectares of parks and acres of land ensured by the Woodlot Protection Strategy, Vaughan is committed to painting the city green. "The woodlots that you see that are speckled through our subdivisions are going to be there through perpetuity. Vaughan is one of the first municipalities in the province of Ontario to do this," says Vaughan Mayor Linda Jackson. Read more