Live By Design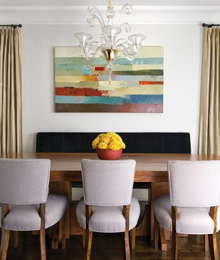 There are opportunities to experience unique design in every facet of your life. Discover the possibilities with the distinct products fashioned by these cooks, designers, artists and events from across the city. Add some flavour to your world.

Oliveri
Plump and vibrant, these stuffed chilli peppers are bursting with fixings and flavour. Prepared immediately after harvest to ensure freshness, these peppers are then cleaned, emptied, and filled to the brim with capers and anchovies. Available at Pusateri's Fine Foods: 1539 Avenue Road, Toronto.
www.luganofinefoods.ca
Paese Ristorante
Embracing the neighbourhood-restaurant mentality, Paese prepares traditional Italian cuisine with a distinct Canadian twist – and the result is nothing short of superb. A wine selection of over 500 brands provides variety, while in-house sommeliers ensure a complementing bottle accompanies your meal.
www.paeseristorante.com
Totera Fine Foods
Springtime is upon us and with that the sound of sizzling barbeques. If you prefer the finest meats to touch your grill, sink your teeth into the mouth-watering meats prepared at Totera Fine Foods.
905.879.8325 / 2414 Major Mackenzie Dr.
Lucky Strike
It isn't just about the bowling at Lucky Strike. From great food to lively parties, this new age alley revitalizes the once-stale bowling scene. Whether with friends or family, the good times are rolling at Lucky Strike.
www.bowlluckystrike.com
RingStix
A unique fusion of ring toss, Frisbee and fencing (kind of), RingStix might just be the ticket to getting your kids outdoors this summer. Easy and fun, this novel game is great for casual or competitive play. En garde!
www.ringstix.com
Gliding Shelf Solutions
Cluttered kitchen? Gliding Shelf Solutions can roll out the problem. These sturdy slide-out shelves organize everything from food products to pots and pans, maximizing space and providing easy access to all kitchenware.
www.glidingshelf.ca
Löwenbräu Original
Born and bred in Munich, Germany – considered by many to be the beer capital of the world – this Bavarian brew is celebrated across the globe for its refreshing taste and long-standing tradition.
www.lcbo.ca
Aria Ristorante
Under soaring ceilings, Aria's patrons dine beneath the magical glow of spherical chandeliers, savouring each succulent bite of authentic yet distinctly urban Italian cuisine, such as seared Provimi veal strip loin and homemade gnocchi.
www.ariaristorante.ca
Lisa Ferguson Interior Design
Through collaborative efforts with her clients, Lisa Ferguson has made a highly successful career fuelled mostly by word-of-mouth referral. Each home she designs reflects its owner's personality with warming results.
www.lisafergusoninteriordesign.com
Teak Monkey
Fashioned by the late Danish designer Kay Bojesen, this teak monkey's conception dates back to the 1950s. It's a whimsical reminder of the joys from a past era.
www.unicahome.com
Villa Julia House
This cartoony cardboard house is a blank canvas for your creative little one. Let them experience the delight of owning their first home, while also colouring its décor however they'd like to create a space that's all their own.
www.unicahome.com
Talisman Stool
Is it furniture or art? How about both. This unique, skillfully crafted stool is made from acacia wood for a solid foundation. It's a great conversation piece for any entertaining space.
www.anthropologie.com
Tear-Off Luncheon Napkins
Made from cotton and washable for up to eight uses, these durable tear-off napkins apply the convenience of paper towel with the esthetics of serviettes – colourful and disposable.
www.anthropologie.com
Woven Rattan Canoe Drink Cooler
The rustic charm of this handwoven drink cooler is as refreshing to behold as the beverages it chills are to sip. Its large size is ideal for afternoon drinks on the patio. Bottoms up!
www.potterybarn.com
Korhani Creative
Director Kirsten Korhani pulls from her experience in the fashion industry to weave chic into your living space. Using only quality material, Korhani curates décors that are functional and fashionable.
www.korhani.com
Tasting Room
Surrounded by rich wooden shelves that hold row after row of select vintages, the tasting rooms crafted by Tuscan Cellars are the ideal spaces for wine connoisseurs to experience the intricacies of each glass.
www.tuscancellars.ca
Blithe and Bonny
From candles to dish soap to body lotion, this eco-friendly range of products exudes the sweet, citrus scent of grapefruit – great for environmentally conscious consumers.
www.anthropologie.com
ROM
There's much to see at Toronto's Royal Ontario Museum. While ancient relics and cultural artifacts abound, the ROM houses over 75,000 fossilized specimens for a ferocious blast from the past.
www.rom.on.ca
Atypical Situation Dress
Nothing says spring like blossoming flowers, which makes this light silk dress the perfect match for the new season.
www.anthropologie.com
Trafa Shopper
A lively accent to spring attire, this vibrant handbag is an eye-catcher. Simple, stylish and functional, this accessory hits all the marks for city shoppers.
www.zara.com
The Amazing Absorbing Boy
A teenage Trinidadian is sent to live with his estranged father in Toronto after the passing of his mother. What follows is a tale of struggle and discovery in Rabindranath Maharaj's deep and witty read – the winner of the 2011 Toronto Book Awards.
www.chapters.indigo.ca
Calle Henzel Rugs
Swedish artist Calle Henzel takes his striking creations – filled with irregular colour palettes and graphic designs – and applies them to rugs. Ideal for those wholike to make bold statements.
www.unicahome.com
Friday After Five
Throughout the year, the Gardiner Museum and Jamie Kennedy Kitchens presents a series of evenings full of sensational food and stellar live entertainment, on you guessed it, Friday nights. From wine-tasting to soulful music, there's lots to enjoy.
www.gardinermuseum.on.ca
Jennifer Brouwer Design
With a sharp eye for detail and a staff that decorates around your needs, the team at Jennifer Brouwer Design is apt for whatever your style may be. Whether reserved or fearless, JBD brings rooms to life.
www.jenniferbrouwerdesign.com
Teatro Verde
Once purely focused on floral arrangements and gardening, Teatro Verde has blossomed into an all-encompassing home décor boutique. But they never forgot their roots, demonstrated by this verdant collection of tulips.
www.teatroverde.com
Pusateri's Fine Foods
A Toronto institution for decades, Pusateri's is a local success story that's built a trusted reputation for high-quality foods and exceptional service. With three locations across the city, this celebrated grocer is ready to serve.
www.pusateris.com
Detamble High Heel
Made from a synthetic, suede-like material, this fuchsia pump is one hot look. Make any outfit pop with these towering stunners.
www.aldoshoes.com